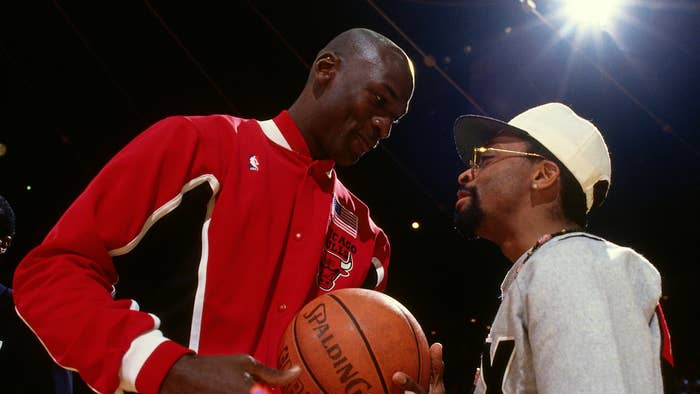 It's hard to imagine a world where Michael Jordan and Nike aren't inextricably linked. Jordan was so successful as an endorser that he was eventually able to branch off and head his own multi-billion dollar company under the Nike, Inc. umbrella. In fact, for fiscal 2016, Jordan Brand sales actually doubled those of the Nike Basketball category.
But according to Spike Lee, who was involved in the Air Jordan line early on, there was a time when some at Nike didn't think MJ was the right choice for the face of the company. The legendary director says people at the company questioned Jordan's potential in conversations with Nike co-founder and then-CEO Phil Knight.
"People don't know about this, but the truth is a lot of people were speaking in Mr. Knight's ear that it might not be too good for Nike to have Michael Jordan as the face of the company," Lee revealed to Sole Collector. He added that there were worries that Jordan "might not appeal to white America, or the general market as a whole."
While it may have been impossible to foresee the scope of his future influence at the time, Knight saw the potential in Jordan as Nike's standard-bearer. "Mr. Knight went ahead despite those naysayers, and said, 'I believe in Michael,' and the rest is history."
Lee has long enjoyed a close relationship with Jordan and Nike. He's appeared in countless Air Jordan ads over the years and several shoes bear the likeness of his "Mars Blackmon" character.
Knight reflected on his decision to move all-in on Jordan in a 2016 interview, telling the story of how he courted the young star.
"We were probably about $600 million in sales then, by about 1984," Knight told Fox Business. "And we really needed a boost, and we thought this young basketball player from North Carolina might be able to help us that way, and his name was Michael Jordan. He had worn Adidas in his high school games, and he liked it. But we came out and we sold him, and ultimately he believed in us."