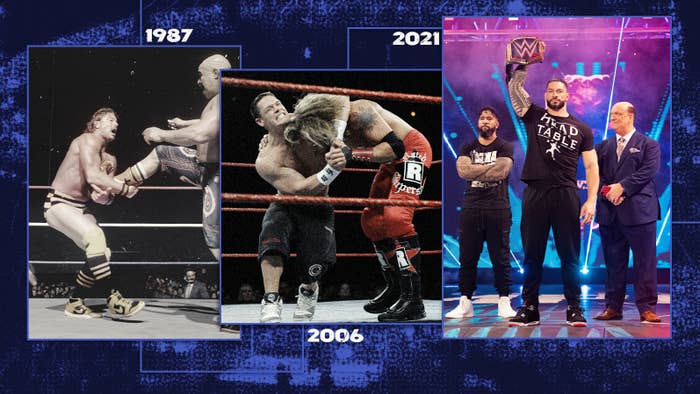 A professional wrestler's entrance done right is nothing short of captivating. Stone Cold's glass shattering. Undertaker's gong. The pyro shooting off as Shawn Michaels drops to his knees after dancing down the entrance ramp. Each provides an instant shot of adrenaline that fans cannot keep their eyes off of. These days, the catchy music and pyro is still important, but another element of the entrance has become just as important for certain superstars in recent years. What pair of sneakers are they wearing tonight?
Over the past decade or so, sneakers have continued to gain popularity within professional wrestling. Wrestlers aren't just walking down the ramp in traditional boots anymore. Now, more and more superstars are choosing to add a new layer to their character by wearing rare sneakers. In some cases, it's a classic Air Jordan, like the "Bred" 4s. In others, wrestlers like Kofi Kingston have laced up custom pairs from Mache for the biggest moments of their careers. In 2022, you even have some people wearing one-of-one hybrids. Liv Morgan's knee-high Air Jordan 1 customs by Mache are a perfect example. 
There's no denying that sneakers are bigger in pro wrestling right now than they have ever been before. But despite the Young Bucks claiming they started the whole sneakers in wrestling trend, that doesn't mean this is all new. We know you probably remember John Cena wearing Reebok Pumps throughout the 2000s. But how about Jim Ross interviewing Stone Cold in some Air Jordan 12s or the Killer Bees wearing "Iowa" Dunk Highs back in 1987?
Ahead of the Royal Rumble this weekend, which is sure to feature its fair share of memorable sneakers, we decided to take a deeper look at the history of sneakers in pro wrestling.
Killer Bees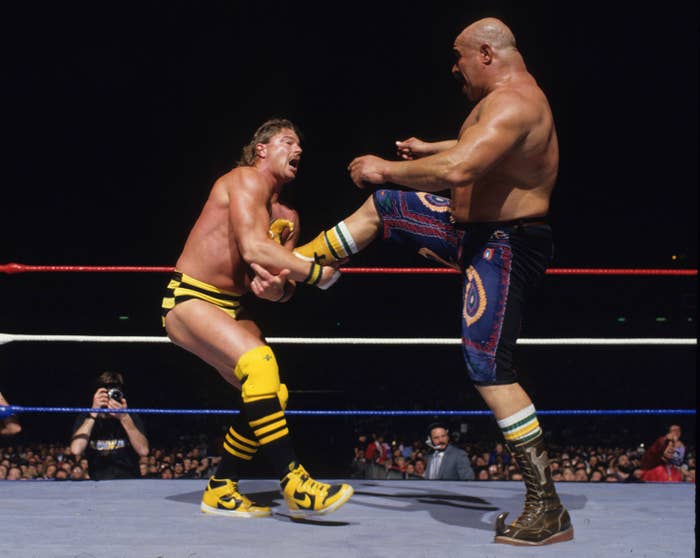 Years: 2000-2002

Best Pair: Air Jordan 11 "Bred"
Kevin Nash may not be the first wrestler that you think of when you think about the guys who have been known for lacing up great sneakers in the ring. Part of the reason is that the 7-footer never actually competed in his pairs. The wrestling boots still got put on when Nash needed to hit a jackknife powerbomb or two. But if Nash had no match, there was a chance you would see him break out some pretty great pairs from time to time. Grainy screengrabs have stayed floating around the internet that show Nash pairing his black and white NWO T-shirt with a pair of "Bred" Air Jordan 11s or "Infrared" Air Jordan 6s in the 2000s. He even wore the Black Infrared when the NWO made their official debut in the WWE at No Way Out 2002. It wasn't just the OG Jordans though. In 2000, he got a bit more obscure with a pair of black and blue Nike Air Garnett 3s. Nash's out-of-ring style was getting slept on back then. Not only was he staying laced in the best Air Jordans, look at this Coogi sweater. Or this FUBU baseball jersey. Put some respect on his name. —Mike DeStefano
John Cena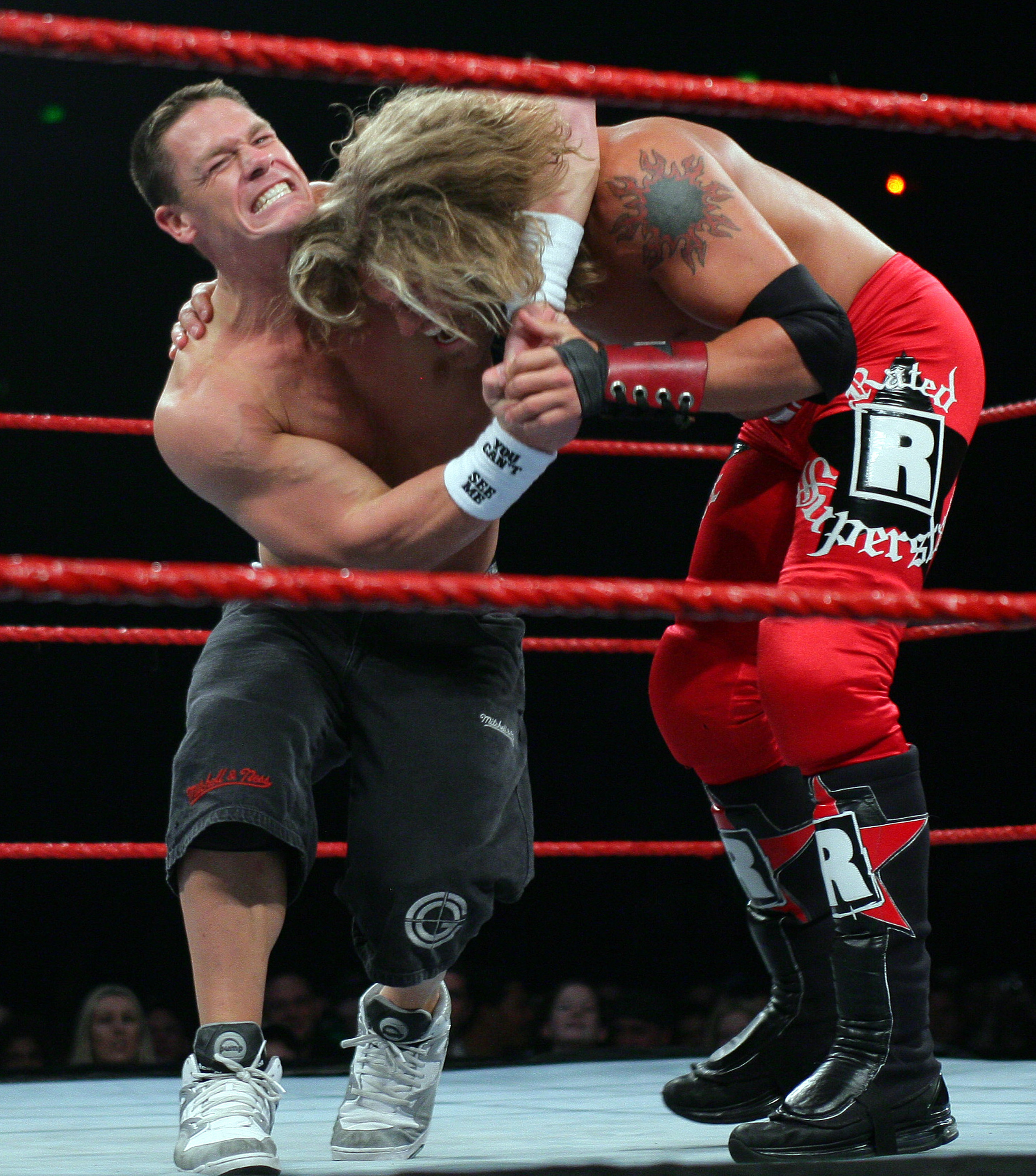 Shane McMahon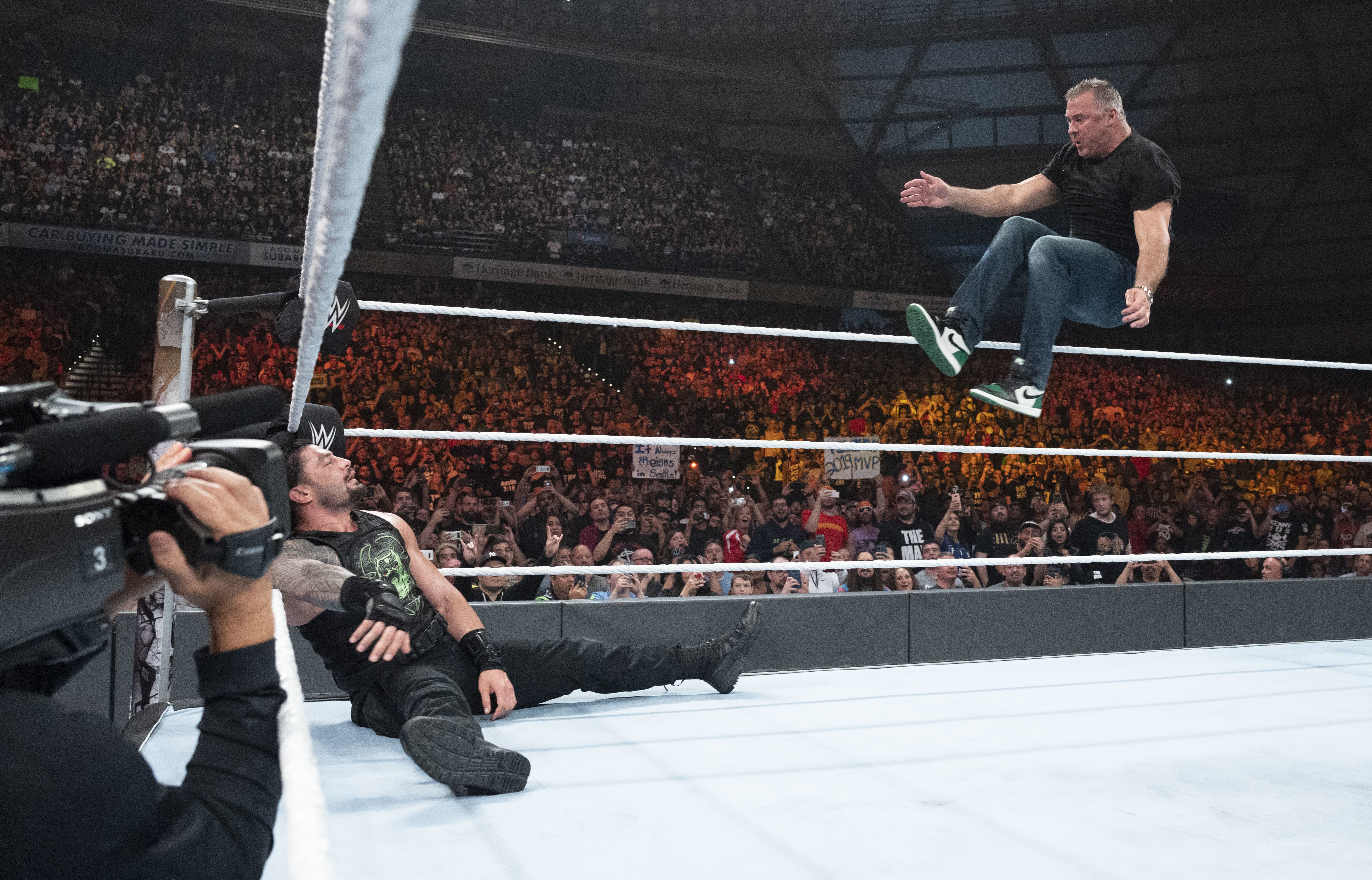 Kofi Kingston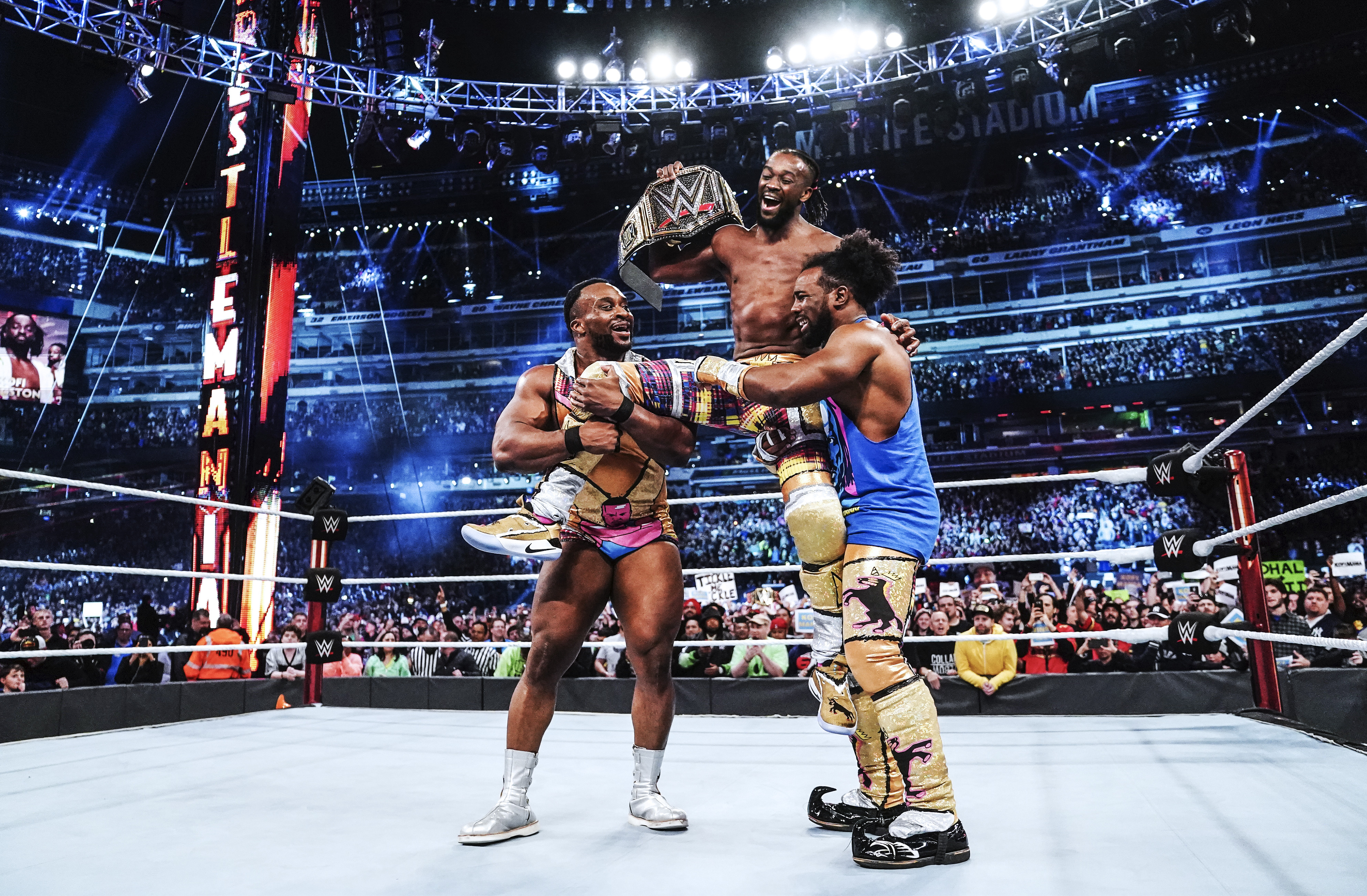 Years: 2013-2014

Best Pair: Air Jordan 3 "Crimson"
Hulkamaniacs from the '80s will remember Hulk Hogan for his signature red and yellow attire and telling them to eat their vitamins. But for anyone who grew up watching wrestling in the 2000s, they may more quickly remember Hogan's infatuation with Air Jordans. Seemingly out of nowhere in 2013, it felt like Hogan was getting every single new pair of Air Jordan retros. Apparently, the collection was started with the help of noted sneakerhead Fat Joe and Macho of the Terror Squad. Pairs like the "Bel-Air" Air Jordan 5s and "Gamma" Air Jordan 11s got photographed beside his 24-inch pythons and posted to Twitter. For his hosting duties at WrestleMania 30, he even decided to wear the "Crimson" Air Jordan 3s in the ring. —Mike DeStefano
Batista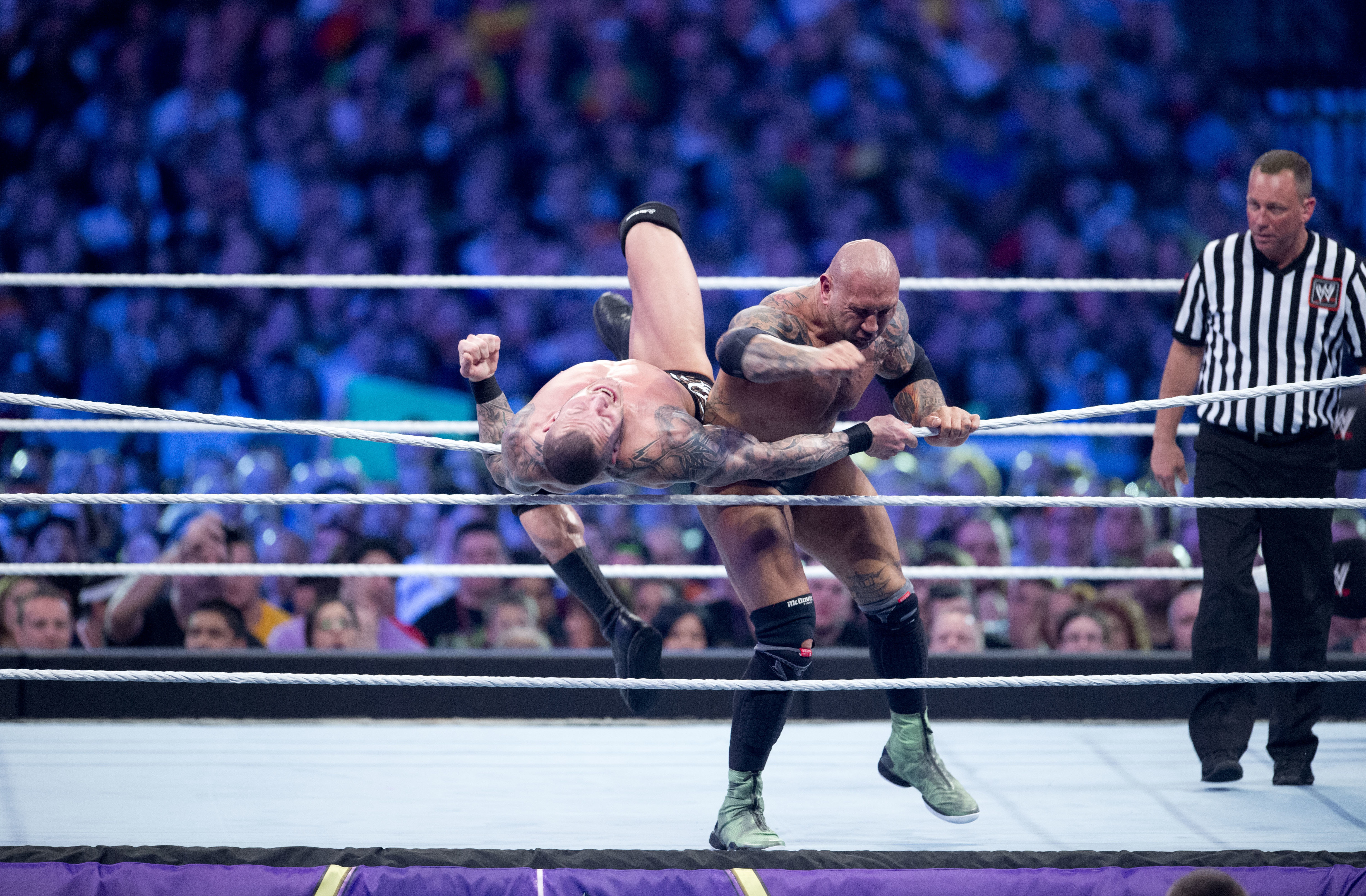 Year: 2014-Present

Best Pair: Air Jordan 14 "Ferrari"
Enzo Amore had an unceremonious departure from the WWE, but during his time with the company he was a fan-favorite known for his entertaining promos, energetic dance moves, and giant sneaker collection. Enzo wrestled his matches in numerous pairs of Air Jordans to match his ring gear during his tenure. The first time he ever laced up a pair in the ring was during his days in NXT, it was a pair of red suede "Ferrari" 14s. He initially made the switch from traditional wrestling boots to sneakers after suffering a broken leg. In his appearance on Sneaker Shopping back in 2017 he said, "After that day I swore I would never wear wrestling boots again because I snapped [my leg] in some boots." The decision seemed to pay off for Enzo Amore. His penchant for sneakers became a signature element of his character. —Mike DeStefano
Year: 2014-2019

Best Pair: Nike Dunk High (Mache Custom)
Nikki Bella deserves credit for her accolades in the ring. She's the longest reigning Divas Champion of all time and helped usher in the era of women's wrestling we see today. But she also needs credit for introducing custom sneakers to the WWE. In 2015, Nikki Bella made her way to the ring in a pair of Dunk Highs customized by Mache that featured her logo on the tongue tags and side panels. Nowadays, it seems like half of the locker room has been delivered their own one-of-one customs by the noted sneaker designer. Nikki Bella also wore Dunk Highs in the ring before debuting her various Mache customs. Most notably, she would frequently wear the "Red Devil" SB Dunk High to match her signature red and black ring gear in 2014. 
She made her love for the Dunks known on a 2018 episode of Sneaker Shopping. "The Dunks are sexy," she said. "That's the sexy sneaker in my eyes." —Mike DeStefano
Year: 2015-Present

Best Pair: Nike Adapt BB custom for Kofi Kingston
Since Nikki Bella debuted her custom Dunks in 2015, Mache has developed a tightknit relationship with plenty of WWE superstars. It's impossible to tell the story of sneakers in pro wrestling without acknowledging his work. He's made countless customs for Becky Lynch, Seth Rollins, Kofi Kingston, Sasha Banks, Carmella, Alexa Bliss, and plenty more since 2015. Usually, Mache's go-to sneakers to customize are Dunks and Jordan 1s, but occasionally he has put his twist on performance models for Kofi Kingston like the Adapt BB or LeBron Solider 10. When speaking to Complex about Mache, Bliss said: "He's made a lot of cool sneakers for everyone. We were at Madison Square Garden and he was hanging out backstage and he just said, 'Hey, I want to design a pair of shoes for you.' I didn't think anything of it and he brings me this pair of custom Vans that have my logo hand-painted on them. The scratch writing was really cool and I wear them all the time for appearances. I just told him to do whatever he wanted, and he over-delivered." —Mike DeStefano
Usos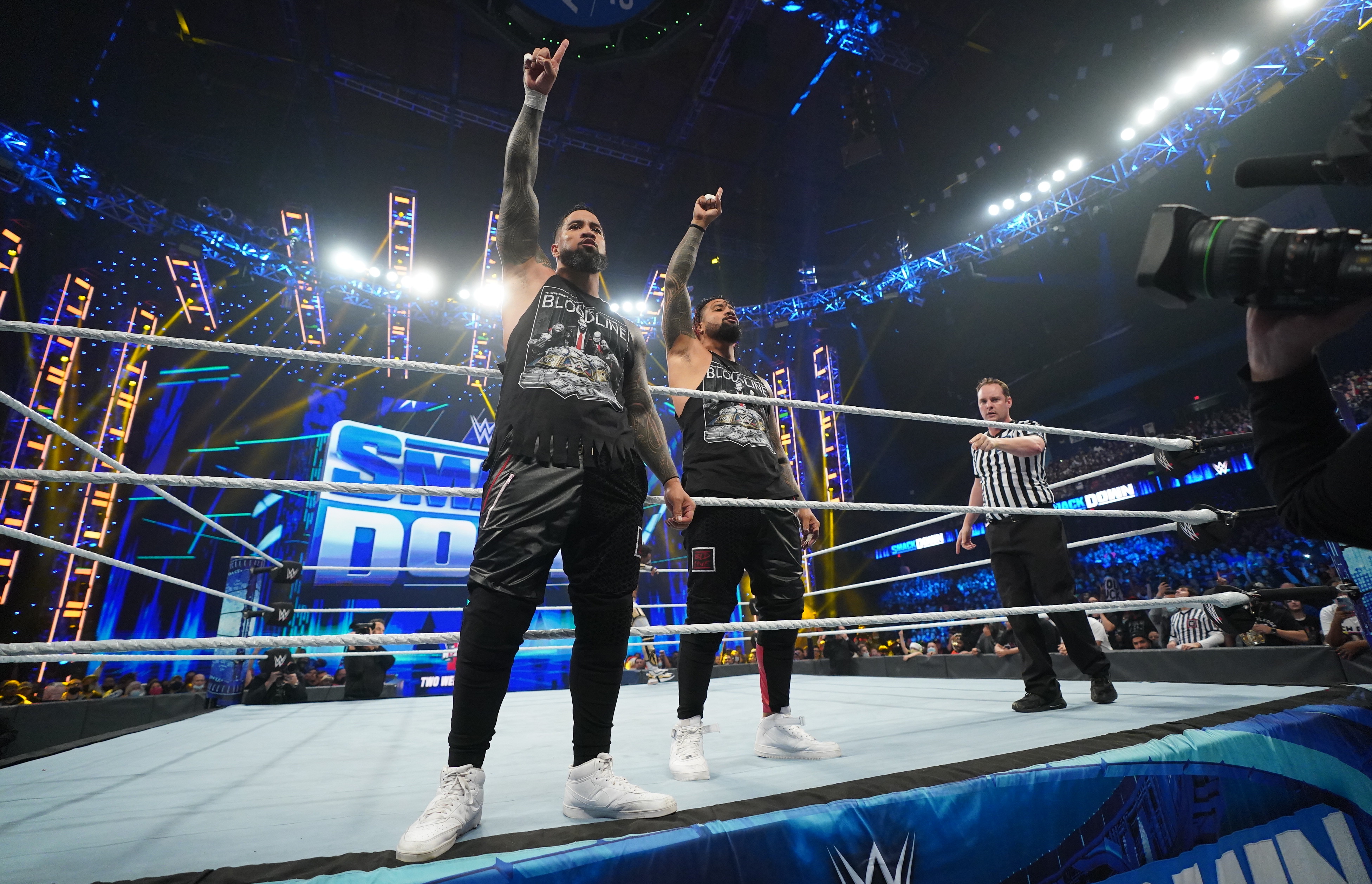 The Rock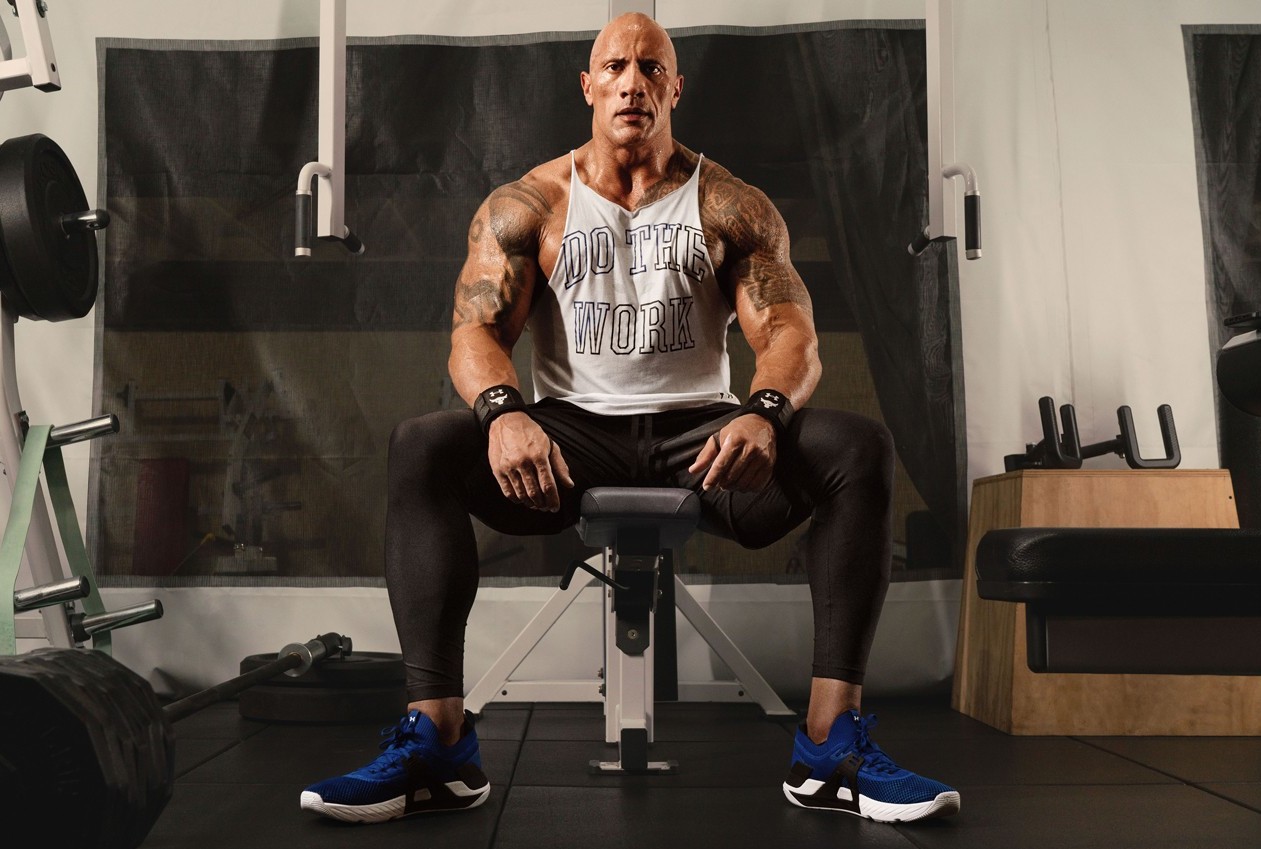 WWE Sneaker Collabs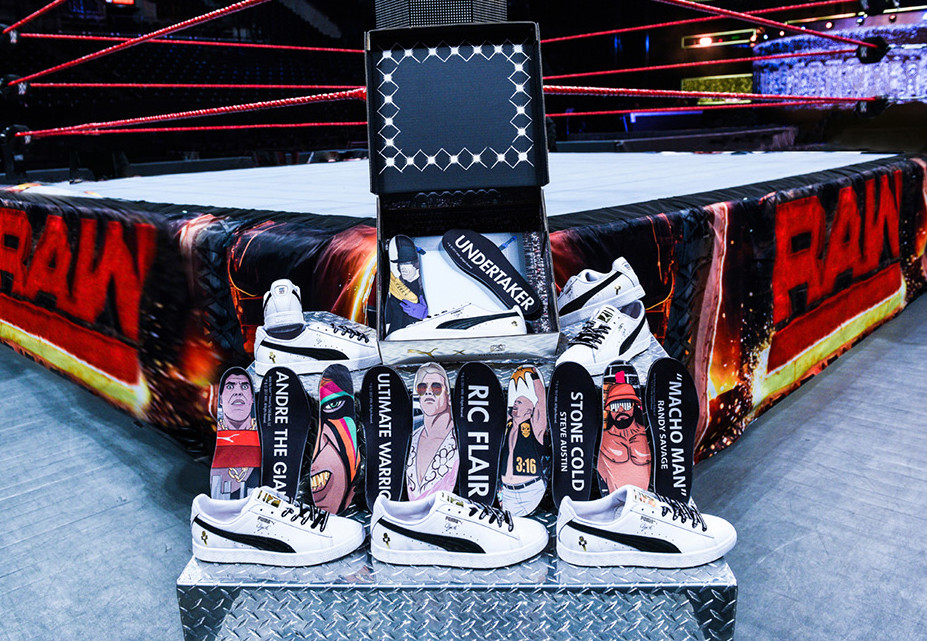 Roman Reigns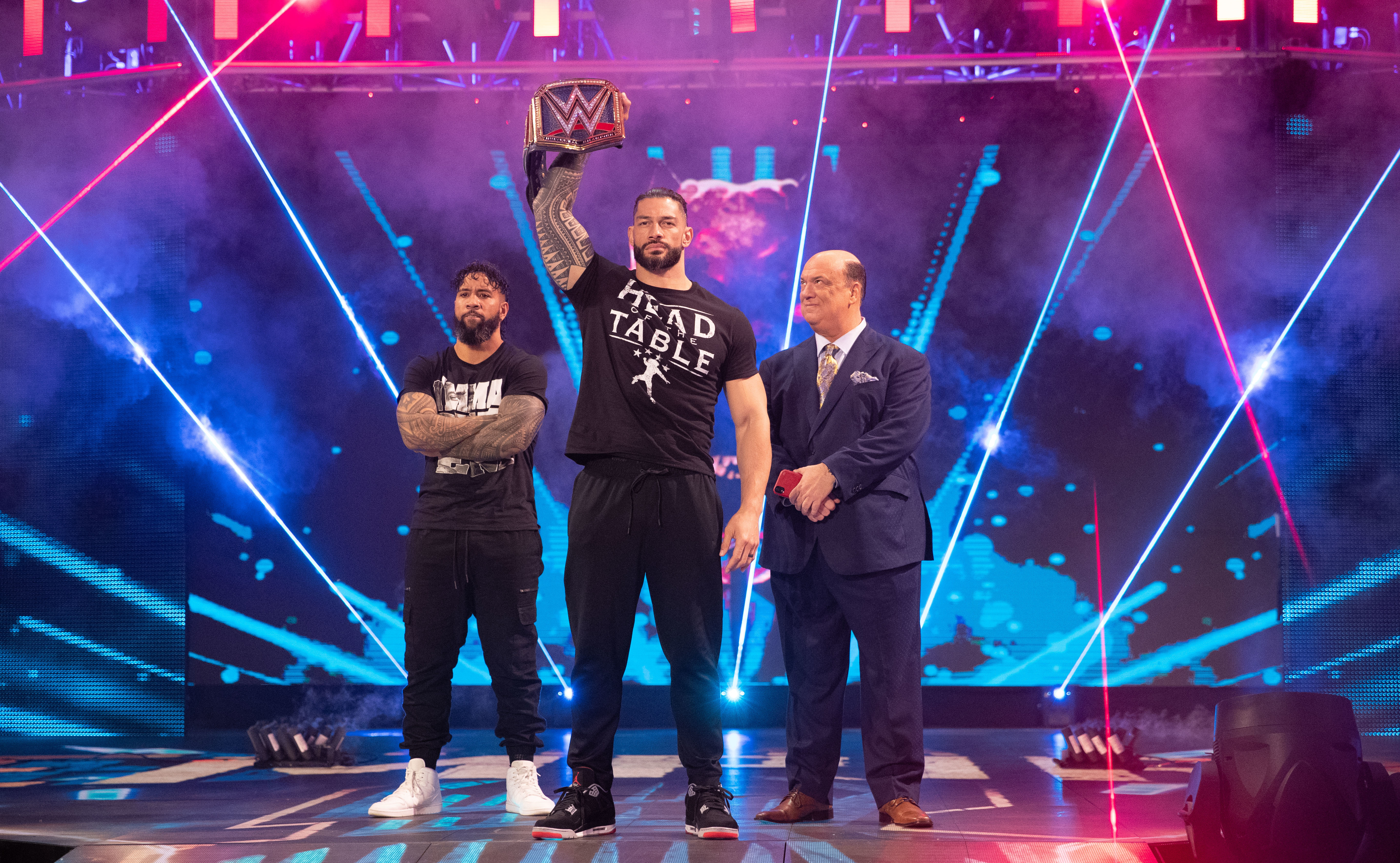 Edge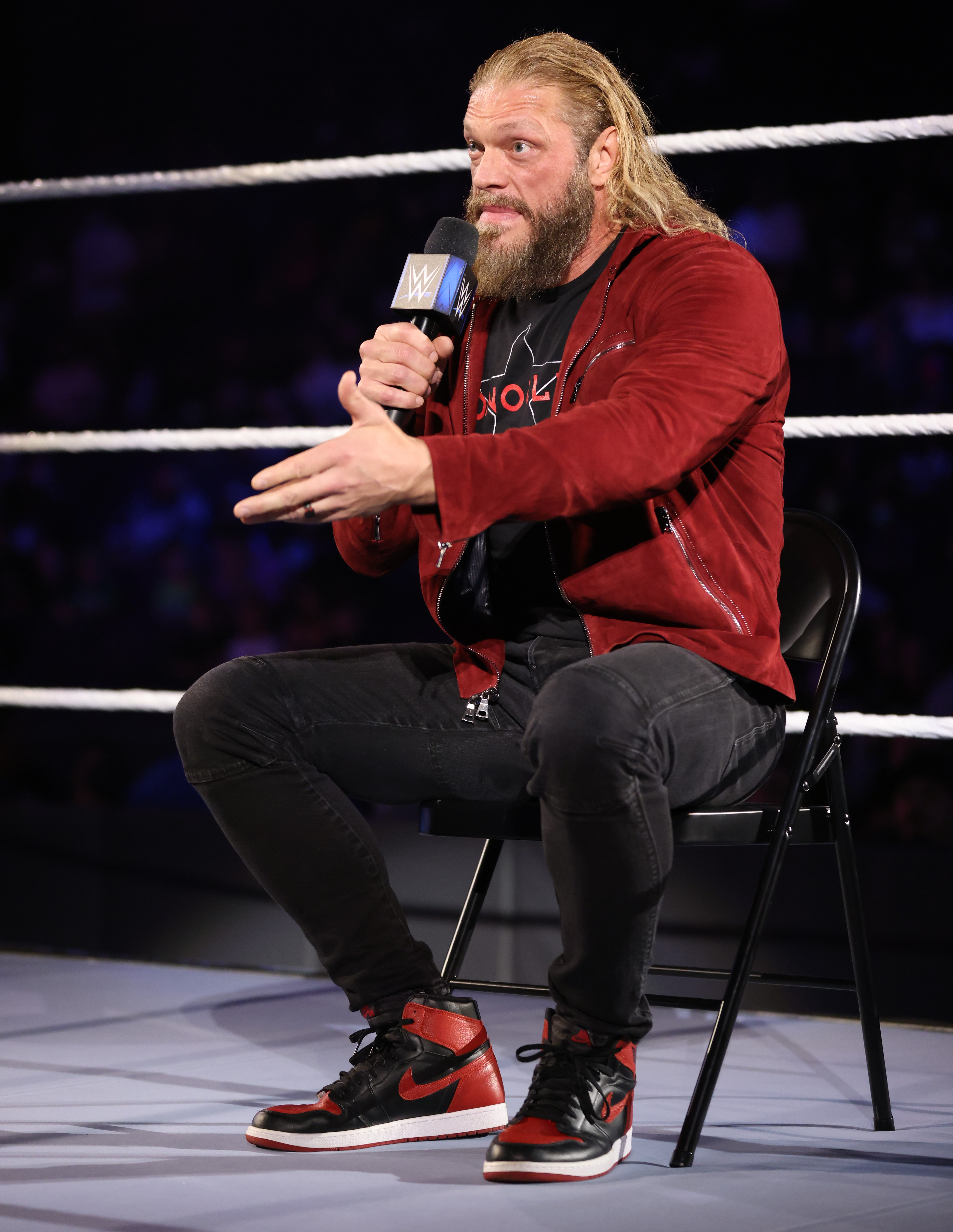 Years: 2021-Present

Best Pair: Air Jordan 1 '85 "Black/Red"
Sneakers aren't just limited to WWE these days. In fact, some of the biggest sneaker-related wrestling headlines as of late have been coming from AEW. Most of the time, it has to do with the pairs being worn by the Young Bucks tag team. They have been seen in questionably authentic pairs of Dior x Air Jordan 1s and Fragment x Travis Scott x Air Jordan 1s to name a few. The latter pair was even modified by them during a match by sticking thumbtacks to the soles. When discussing the critics who are saying they were fakes on Sneaker Shopping, Young Bucks member Matt Jackson said, "We're bad guys. So, if you're going to accuse us of wearing replicas or fakes, bring it. That actually adds to our personalities. Believe what you want to believe, but I'm spending a lot of money on these." 
The Young Bucks may not have been the first wrestlers to wear sneakers during matches, but they seem to have started a trend in the locker room over at AEW. Other stars like Kenny Omega and Adam Cole have worn Air Jordan 1s in the ring for promos in recent months. One of the more wholesome sneaker moments in AEW came when CM Punk decided to give a pair of Air Jordan 1 Mids to a lucky fan sitting ringside. —Mike DeStefano
Liv Morgan