 Kendrick Lamar doesn't need a sneaker endorsement to solidify himself as the most relevant rapper right now—his Grammys do the talking. But, still, his collaboration with Reebok has been wildly successful. The shoes, which have a theme of gang unity between bloods and crips in Kendrick's hometown of Compton, have been hot sellers and helped to re-establish Reebok's hip-hop credibility. Getting an artist of Kendrick's stature to sign to a footwear brand isn't easy, and it took an extended effort to solidify the partnership between him and the company.
Damion Presson, Reebok's Director of Entertainment Marketing, is the man who inked the deal between Reebok and Kendrick. At a recent for the brand in Manchester, England, where Kendrick fielded questions from the media and gave a private performance, we were given the chance to talk to Presson. Not only did he explain the strenuous process of actually tracking Kendrick down, but he also gave a hint at what's next for the collaboration between the two partners, and whether Kendrick vowing to only wear Nike Cortez ever thwarted his hopes of getting the West Coast rapper aligned with Reebok.
What was the creative process like, sitting down with Kendrick, brainstorming things, trying to get the idea out?
For the actual deal, it's funny, I basically chased [Kendrick] for about two years. It took about two years to get them to call me back. I was constantly calling, calling, and calling, and finally we met out in Vegas and had a great meeting. They were ready to do a partnership, and then we actually made it happen. For the creative process of the footwear, it was sitting with Kendrick, hearing his ideas and thought process and things he wanted to do. His music has a message, and we wanted to make sure we were taking into consideration the things that were important to him. That pretty was much it, sitting down with some designers, hearing things he wanted to do, picking out materials, letting him go through the whole material swatch book. As far as the shoe goes, the Ventilator was a shoe that he loved, and it was one of the shoes we were promoting for our campaign.
Did you ever have a fear that Kendrick and Reebok would seem like a forced connection, that he'd be just another rapper with a shoe?
I don't think so, because Kendrick is such an authentic artist. Everything he does is real and from the heart, so we weren't worried or concerned about how it would look to the kids and the public. Reebok is something Kendrick has worn since his early childhood, so I think the partnership was organic and natural. The shoes had a message to them, so it was more than just Reebok putting out a shoe with another artist. These shoes are speaking to the youth in a different way, as opposed to how the other artists are putting out footwear. No knock to the other artists putting out footwear, but I think that [Kendrick] has a message behind his shoes. I think it's a bigger message to what Kendrick is trying to do in terms of just changing the culture and having people think. You get the shoes and there's a message, you kind of look at the shoes and you see unity on the shoes, you see red and blue, but it goes bigger than just red and blue. This is about unity of everything that's going on with the world—that we all are one. It's not a Black thing or a White thing or an Asian thing, it's a humanity thing.
Was there ever any pushback from Reebok on doing a gang-themed shoe?
No, I don't think there was any initial pushback, because it's about authenticity and this is where Kendrick comes from. Kendrick is from Compton, that's what he grew up in and something he wanted to raise awareness about. Reebok stood behind him and the messages that he wanted to push. Also it's a positive message, there's nothing negative about it. So there was no initial pushback once we explained what we wanted to do.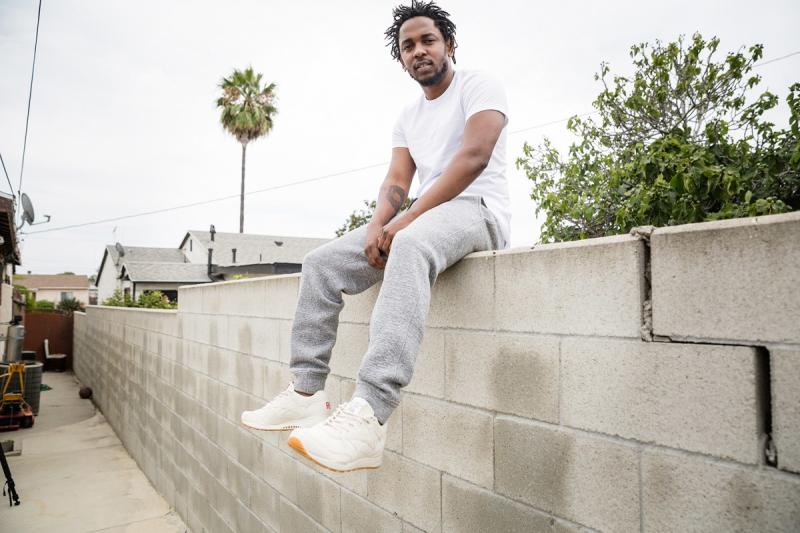 As far as going forward, are you going to continue that same theme or are you going to do other things that represent him as an artist?
We'll sit down for his next capsule, and we'll think about some things and wherever Kendrick decides to go in terms of how he's thinking and what his mood is. I know that he doesn't want to be too political. Obviously he wants to show a light-hearted side and have fun. So it'll be up to Kendrick when we sit down and start the creative process for his next collection. That'll dictate the direction we go in. I'm sure there'll be some sort of message, it'll definitely change from the red-and-blue thing. Maybe [we'll] open it up to something the world can relate to, as he's becoming a bigger artist globally—something that touches the globe as opposed to something that's U.S.-centric, bloods and crips, red and blue.
Were you with the brand during the RBK days?
I was. I've been with Reebok for 12 years.
So what changed from then to now? I know you guys had all those rapper shoes and then you were like, "No we're not doing that anymore, shut it down."
That was in the beginning of my career. I was the little man on the totem pole at the time. I was working in New York as a field marketing rep, so I wasn't necessarily as close to the RBK things that were happening, but my boss, Todd Krinsky, was very much influential in all those Jay Z, 50 Cent, and Pharrell deals. I think it's a space that was natural to us, in terms of the music space, and things go in cycles. At the time, Jay Z, 50 Cent, and Pharrell were at the height of their careers, so it made sense. Then we changed business models in terms of having artists stand by shoes and holding shoes in their hands. After a while, I think that it got oversaturated in the marketplace, and we kind of stepped away from the music space. We were acquired by adidas, and we took on just a whole different lane. Now, music is back. You can see other brands are doing music endorsement deals, and I think music and footwear goes hand in hand. It's just one of those things, and you decide to get back into it and [work with] special artists. We want to do things with people that are special, and Kendrick is a special artist.