TURN THE PAGE
---
When Kendrick Lamar delivered a classic with good kid, m.A.A.d city, nobody saw it coming. Now that the whole world is watching, Can he outdo himself?

WRITTEN BY INSANUL AHMED
PHOTOGRAPHY BY COLEMAN AND B+ FOR MOCHILLA.COM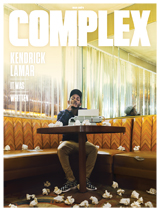 This feature appears
in the August/September
2014 issue of COMPLEX.
On the dull gray door to Studio 2 of the L.A. soundlab where Top Dawg Entertainment makes the magic happen, two warnings are posted. The first one, printed on TDE letterhead and titled "Studio Rules, Bitch!!" reads like ScHoolboy Q wrote it, mostly because rule No. 3 is "Don't touch, ask, or reach for Q's weed." The second sheet, also on TDE letterhead, is more serious. At the top, in black capital letters, it reads: "IF YOU NOT THE HOMIE, DON'T COME IN HERE." At the bottom, in red letters: "DISREGARD THIS AND GET THE TIPS PUT ON YOU, HOMIE."
The reason for the caution: On any given day, Kendrick Lamar might be in deep concentration working on the follow-up to his 2012 major label debut, good kid, m.A.A.d city. GKMC was more than a great album; it was a landmark event, a modern masterpiece to rival Illmatic, Reasonable Doubt, and Doggystyle. It's an artistically ambitious, highly personal piece of work: a day in the young artist's life, encompassing gang culture in his Compton hometown, alcohol, drugs, life, death, God, family, and the pursuit of a girl named Sherane, a "concept album" that managed to sell over 1.2 million copies while making zero creative concessions. It transformed Kendrick from an Internet sensation into an A-list rap star.
The success of GKMC in 2012, along with Ab-Soul's Control System and ScHoolboy Q's Habits & Contradictions, made TDE—launched in 1997 out of Anthony "Top Dawg" Tiffith's home studio in Carson, Calif.—the hottest new rap label around. With TDE, Odd Future, YG, DJ Mustard, Nipsey Hussle, and others all popping, L.A. has been reestablished as a vibrant rap city. The renaissance shows no signs of slowing this year, with acclaimed releases like YG's My Krazy Life, ScHoolboy Q's Oxymoron, and Ab-Soul's These Days.... Still, GKMC remains the crowning achievement.
"When I went back to my old high school, all these kids looking at me like I'm the real big homie, the same way I look at Jay Z, Nas, or Dr. Dre," says Kendrick with a laugh, sitting in his luxury trailer at his Complex cover shoot. "You would've thought Michael Jackson walked through that joint off the excitement that they had."
But now that Kendrick, 27, is a hysteria-inducing star, the world is waiting to see if he can deliver twice. Expectations are high. After good kid, good simply won't be good enough. Unlike GKMC, which Kendrick planned years in advance, there's no cover art in mind for the follow-up. As for a title, Kendrick says he's "flirting with ideas." He's been working primarily with TDE's in-house producers, Tae Beast and Sounwave of Digi+Phonics, but has also gotten in the studio with Dr. Dre. He's still just "getting his ideas down," but so far Kendrick's recorded 30 to 40 new songs for the album (he recorded 60 to 70 songs for GKMC). He says he'll be ready for a fourth quarter release.
"Good kid set the bar," says Terrence "Punch" Henderson, president of TDE and the crew's resident rap history buff. "Today, that's the album that you gotta compare your album to. Illmatic would be the comparison—it didn't sell the most records, but that was the standard."
It's the cornerstone of Nas' legacy, but Illmatic was both a gift and a curse. Critics and fans alike compare all of Nas' subsequent albums to his 1994 debut and are never quite satisfied. Ditto for Snoop Dogg, 50 Cent, DMX, Slick Rick, and other rap greats who burst out of the gate with classic albums. Although other legends—including Ice Cube, LL Cool J, and Kendrick's Interscope labelmate Eminem—delivered strong second albums that arguably surpassed their first efforts, creating a worthy follow-up is one of rap's greatest challenges.
"Kendrick shook up the rap game, so anticipation for his second offering is through the roof," says Nas. "Kendrick's an album guy and the album artist has a whole different kind of value. Kendrick is going to be one of the most important writers of our time; dude's a rhyming animal. Whatever he does will be appreciated, but at the same time he knows he has to bring it."
Kendrick says there's less pressure on him now than there was right before good kid came out, when he was admittedly "super nervous." "I was on the tour bus going back and forth on the text with Pharrell," says Kendrick. "I asked him, 'You think they gon' get it?' And he told me, 'Don't ever doubt yourself again. Always be aware but don't ever mistake your first mind, your input of where your heart is at.'"
Today Kendrick trusts that his creative process will lead him where he needs to go. "If I keep focusing on, 'I need to make something better than good kid,' it's going to be just that," says Kendrick. "That's not challenging yourself. I don't want to become that person reflecting on what has been done. What I'm doing now is the question. I'm only as good as my last word, my last hook, my last bridge."
To fully appreciate the impact of GKMC, consider the context it was released in. Of the 10 biggest rap hits of 2012, two were by Flo Rida, two featured Nicki Minaj rapping over EDM-style production (including "Starships"), and one was "Gangnam Style." For better or worse, Kendrick's Interscope labelmate Chief Keef had become a scapegoat for a perceived decline in rap lyrics and the fetishizing of ghetto violence by the media. Weeks before GKMC dropped, rap news was dominated by fights between G-Unit and MMG's camps at the BET Awards.
Once GKMC sold 242,122 copies its first week, became the best reviewed rap album on Metacritic since Kanye West's My Beautiful Dark Twisted Fantasy, and discussions about the classic status of the album hit a fevered pitch, Kendrick morphed from a promising rapper to the face of "real hip-hop." Not just because of his artistic achievement, but because his celebrity relied solely on his musical output—not beef, fashion choices, business ventures, or the other gimmicks that have seemingly become part of the standard package for nearly every rapper.
After the album's release, Kendrick's life was a whirlwind of tour dates and unexpected controversies. He toured non-stop in 2013, playing college campuses, festivals, opening for Kanye West on the Yeezus tour, and going on the good kid, m.A.A.d city world tour. During his tour, as he traveled from Sweden to Belgium with little Internet connection, Kendrick Lamar unintentionally set the rap world on fire.
On the night of August 12, 2013, Big Sean released the Kendrick Lamar and Jay Electronica–assisted "Control"—a song meant for Sean's album, Hall of Fame, but left off due to sample clearance issues. On Lamar's earth-shattering verse he called himself the King of New York, a claim he shies away from now: "I feel B.I.G. and Jay will always be the King of New York." More important, Lamar called out nearly every rapper in his generation—from A$AP Rocky to J. Cole and even Big Sean and Jay Electronica—and claimed, "I got love for you all but I'm tryna murder you niggas."
By the next day, "Control" had taken on a life of its own. Instagram was overrun with "Control" memes, storm clouds of rap debates gathered, and thinkpieces poured out—even legendary NBA coach Phil Jackson, who was mentioned in the verse, got in the mix, tweeting at Kendrick. Just about every rapper, whether they were mentioned in the song or not, commented on the verse or dropped a response track. TMZ ran up on any rapper they could find, trying to goad them into responding. The week of the song's release, Kendrick picked up 208,000 new Twitter followers.
Rappers are supposed to want to best each other—"I'm better than him" sums up rap's competitive mantra. But "Control" proved something contemporary philosopher Slavoj Žižek once argued about Wikileaks, what he calls "the paradox of public space": "Even if everyone knows an unpleasant fact, saying it in public changes everything." By naming names, Kendrick's verse was the moment he asserted his dominance in rap. Earlier that year MTV had named Lamar the Hottest MC and Complex declared him the Best Rapper Alive; "Control" was when Lamar's status as the best coalesced.
One rapper Kendrick didn't mention in his "Control" verse was Macklemore. At the 56th Annual Grammy Awards, Macklemore's The Heist beat Kendrick's GKMC for Best Rap Album. Although Kendrick was nominated for seven awards, he went home empty handed, while Macklemore won Best New Artist, Best Rap Album, Best Rap Song, and Best Rap Performance. For fans on Twitter and members of the media (including Complex), Macklemore's wins and Kendrick's snubs served as a watershed moment for cultural appropriation in rap. To make matters worse, Macklemore Instagramed an apologetic text he sent to Kendrick after the awards that read, "I robbed you."
"It wasn't really a huge deal for me," says Kendrick, who's known Macklemore for over a year. "Macklemore deserves the accolades. That's still my partner regardless. He probably didn't need to Instagram the text. But what's done is done."
Like Macklemore's success, Kendrick's comes after years on the independent grind. In 2003, when he was 16, Kendrick dropped his first mixtape under the moniker K-Dot. He released three more mixtapes before reverting to his government name (omitting his last name, Duckworth) and dropping the Kendrick Lamar EP in 2009. Over the next two years, with his mixtape Overly Dedicated and his independently released first album, Section.80, he found the voice that made GKMC a classic. But Kendrick's acuity with words predates his musical output.
"My first-grade teacher flipped out because I wrote the word 'audacity' in a story," he recalls. "I knew the word only because I heard my auntie and uncles arguing, saying, 'You got the audacity to take my motherfucking drink and pour it out?!' I learned all my words like that, so when I went to school it was in my head."
Kendrick's perspective on life always comes back to his Compton roots. His upbringing provides him with a treasure trove of traumatic experiences that give his music a sense of purpose. On the lyrical blackout "m.A.A.d city," he describes seeing a "light-skin nigga with his brains blown out." Around age 5, he witnessed his uncle's murder. In conversation, he casually recalls yet another murder, when he called his friend Yo to the barbershop just before someone shot up the block, killing one of their homeboys.
GKMC apparently only scratched the surface of the stories Kendrick has to tell. "There were so many things I thought he was gonna talk about in good kid that he didn't," says Kendrick's manager Dave Free, who remembers the days when K-Dot couldn't be spotted with a backpack, lest he be labeled a conscious rapper. "All these other stories, shit that will blow your brain, have never been heard before because they're just too personal. There's still so much to be said. The question is, is he gonna say it?"
Whether or not Kendrick tells those stories could go a long way toward determining if he'll be able to top his major label debut. "I got a greater purpose," he says. "God put something in my heart to get across and that's what I'm going to focus on, using my voice as an instrument and doing what needs to be done." The only place to do that is back in the studio.
For a few hours, Kendrick can forget about his next album. He's back in Studio 2 working on a guest verse for Jay Rock's upcoming album. According to Dave, a typical Kendrick guest verse costs $250,000. They once charged $400,000. He's had some of his best moments on other people's songs: trading bars with Eminem on "Love Game," introducing an R&B flow on Robin Thicke's "Give It 2 U," stealing the show on A$AP Rocky's star-studded "Fuckin' Problems"—a song originally made for GKMC but given away because it didn't fit the narrative arc of the album.
Kendrick gets to the studio at 3 p.m. and sits on a black couch in the lounge area playing Jay Rock tracks on his MacBook. He sports a navy blue Detroit Tigers hat, white T, gray sweats, and, for the third day in a row, a pair of blue Nike Roshe Runs with white polka dots. A gold and black painting of Snoop Dogg, with the lyrics to "Murder Was the Case" inscribed in cursive, hangs behind him. He turns the TV to an episode of South Park but keeps the volume down and doesn't even glance at the screen. Eyes fixed upon his computer, he listens to the music with his elbows on his thighs and his fingers interlocked. He rarely blinks.
After about 15 minutes in the lounge, he moves into the studio and connects his laptop to the speakers, playing Jay Rock's verse over and over, flipping around tracks, and sipping from a bottle of water. Later he'll chomp on an order of volcano salmon sushi. He tends to eat healthy—salads, baked chicken, lots of water. He plays basketball twice a week because, as Jay Z once said, rapping is "like an exercise." And unlike many rappers—including his TDE labelmates ScHoolboy Q and Ab-Soul—he rarely drinks and doesn't smoke or sip lean. All the homies know not to bother him when he's busy in the lab. Sometimes he kicks everyone out of the studio so he can play instrumentals all night long, alone. He's been known to cut off his phone for months at a time.
Punch describes Kendrick as a "mad scientist" in the studio, but watching him at work, nothing seems erratic. If anything, he's supremely calculating; the song slowly builds as his process unfolds. Kendrick stands around mumble-rapping to himself with his right index finger extended, like he's pointing out each syllable as if it passes by on an imaginary teleprompter. He scribbles his verse on a small notepad that sits above a mic compressor. After about an hour, his verse is written. He takes a break, checks his email, and chats in the studio a bit before grabbing a studio engineer and getting to work. The engineer dims the lights and starts looping up the beat. Kendrick hums the verse to himself a few more times before he's ready to rock. Then he heads around the corner to the booth.
In the booth, Kendrick is a case study in precision. He raps with his eyes closed and his hands out as if he's casting a spell, rapping about "restricted territories" and "Percocet headaches." On the first few takes, his voice sounds closer to his normal speaking voice than his agitated extraterrestrial rapping voice. He's rhyming slower than usual, taking his time to enunciate each line. After about five takes, he steps out of the booth and returns to the pad and paper he left on the compressor. He edits the verse on paper, scratching out some lines and writing new ones. But when he goes back to the booth, he leaves the paper behind.
"In the past, he never wrote down anything," explains Sounwave, who produced "Bitch, Don't Kill My Vibe." "Every now and then he'll write down stuff, just for insurance purposes. He rehearses the song over and over in his head so he can get the full feeling."
Kendrick returns to the booth and slams the door shut. He does a couple more takes but keeps flubbing one line halfway through the verse. He steps back and paces around the booth, repeating the lines over and over as he internalizes the verse's structure. Then he looks up and says, "All right, let's get it." That's when Derek "MixedByAli" Ali, Kendrick's regular engineer, walks in and takes over.
"Watching Kendrick is like watching a master chess player playing five games at one time," says Ali. "He can do five songs in one day. He'll start one song, then he'll be like, 'I'ma start on this.' 'I'ma go back to the old song.' 'I'ma start on this.' There's just so much going on in his head."
Back in the booth, Kendrick is close to his 10th take. He hasn't perfected it yet—some takes have better cadence, others have better breath control. He repeats the process over and over to pinpoint exactly what he wants. "Keep that one," he tells Ali, "I'ma do one more." After about a dozen takes, his voice opens up and his words start to crackle. He blurts the word "bitch" into the mic with the spontaneity and violence of a sneeze.
"It's not like, 'Watch me get it in one take,'" says Sounwave. "It's like, 'Watch me get the best take.' Sometimes we have a song complete and he's like, 'Nah, my tone on that.... Redo the whole thing.' He redoes it and it's like a different song now just because of the tone that he switched up."
After 30 minutes and 15 takes, Kendrick proclaims that the mic is "hot," ready to catch his voice perfectly. Having used a light mix for reference initially while he figured out his vision, he asks Ali to give him a live mix, which sounds closer to the completed version, in his headphones.
Kendrick's idea of what this verse should be is coming to fruition. Each take is sharper. He's getting more animated in the booth, his head jerking as he screeches past each word. After about the 20th take, he's satisfied enough to hop out of the booth to review. He keeps editing the paper but casually remarks that he's done. It's 5 p.m. and he's on to the next.
Like the human distractions Kendrick keeps out with a sign on the studio door, he doesn't let fear enter his creative space. "This is truly a blessing from a higher power," Kendrick says, "and as long as I understand that there's really no limitations to what I can do. Everything is forward with me. When I'm in the studio I'm looking for creativity I haven't matched yet, a feeling I haven't felt. It's a high. When you look at people like Jay Z, Nas, Dr. Dre, these people are established, but they love music and they love that high. You always want that feeling of creativity." And with that, Kendrick Lamar politely excuses himself. He's got work to do.