Kanye West wasn't content with just taking over the music, sneaker, and fashion worlds, he had to venture into sports, too. No, he's not trying out for a professional team or becoming an owner—at least not anytime soon—but his Yeezy shoes for Adidas have been made into cleats for the NFL, and it's all people have been talking about.
It's no secret that Kanye loves sports—whether he's playing pickup basketball at the Staples Center for his birthday or inviting Kobe Bryant to the studio—and his transcendent cool is something that athletes want to align themselves with. It's also drawn Adidas to allow Kanye to work within the brand's sporting categories, but no one expected it to come this soon.
Roughly two and a half months ago, on June 29, Adidas announced that it would be expanding the Yeezy line to retail stores and let Kanye work in other divisions of the company, mainly hinting that he'd be able to collaborate with the brand's signature and sponsored athletes. And that's exactly what happened when Denver Broncos linebacker Von Miller debuted a cleated version of the Yeezy 750 against the Carolina Panthers last Thursday night. He was followed by Houston Texans wide receiver DeAndre Hopkins, Minnesota Vikings running back Adrian Peterson and Kansas City Chiefs safety Eric Berry, who all wore a cleated Yeezy 350.
This strategy of integrating Kanye West's footwear designs into the NFL is exactly what Adidas Chief Marketing Officer Eric Liedtke was hinting to when he announced that West would be expanding his role with the brand. "Our industry is so ready for disruption," he told The Wall Street Journal. "The same signature lines have X player, Y player, Z player, so of course we're going to have Kanye work with our guys to challenge that as well."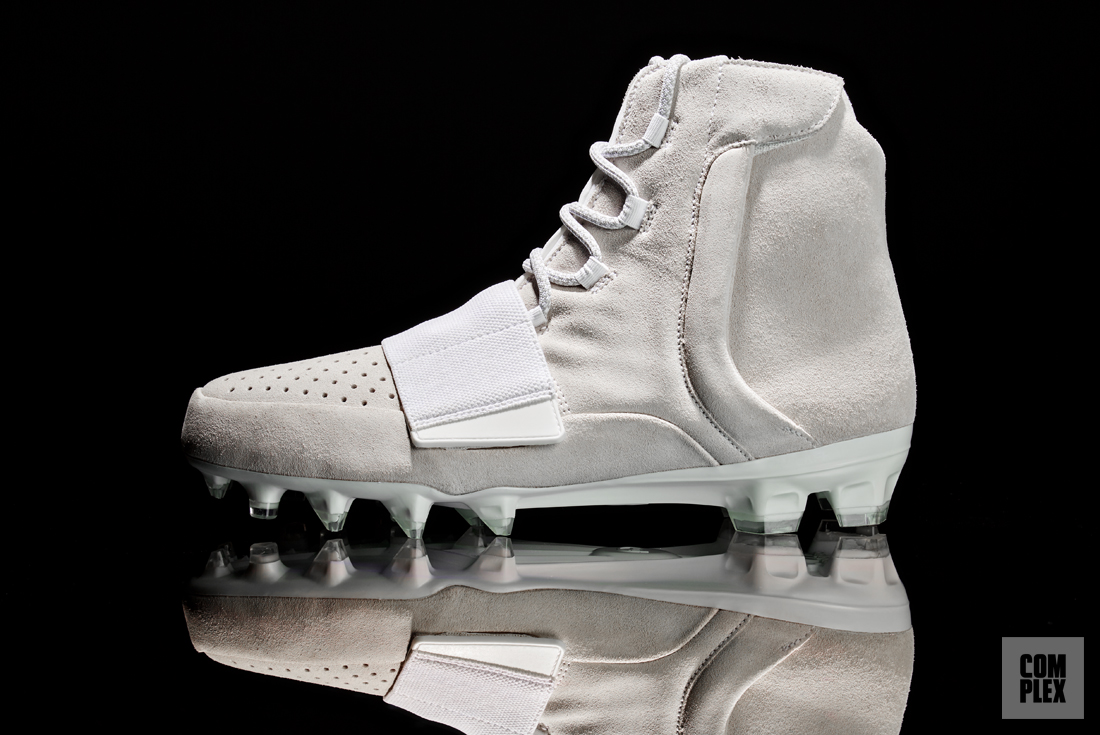 This is a massive look for Adidas and its football program. It's not just about putting players in Yeezy cleats and  making it the core of the brand, but it makes the company more attractive to incoming athletes or impressionable children who play football and don't know what brand they want to go with. Think about the impact this will have on college football recruiting, too. Coaches such as Mississippi State's Dan Mullen have worn Yeezy Boosts, and it's not inconceivable to think that the possibility of getting Yeezy cleats will draw recent high school graduates to Adidas-sponsored schools. That's the magic and power of Kanye.
There's a line of thinking that a brand has to excel in both performance and lifestyle, but Adidas is finding a way to bring its non-athletic cool factor into an arena it has no business being a part of it, and it's working.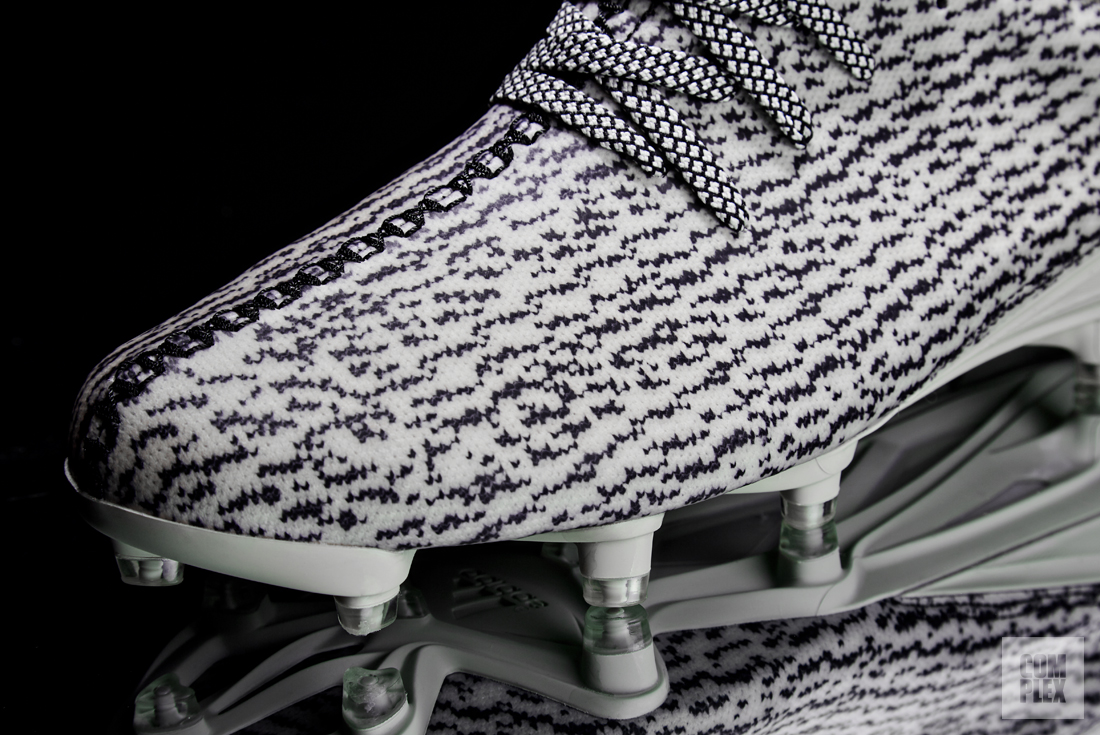 Before the Yeezy cleats, NBA players such as Nick Young wore the 750 Boost in games, and he said the brand's "wave" is the reason why he decided to end his sneaker free agency and sign with the German sportswear company.
The cleats themselves aren't just a pair of Primeknit Yeezys with a cleated bottom, either. The 350 pair has a Yeezy Primeknit upper that's layered with SPRINTSKIN technology, which would hold up to the rigors of a competitive game with its 5-Star Frame. The 750 reinforces the shoe's boot-like structure, making it more of something to be worn for pre-game warmups. But it still features technology, and according to Adidas, "[It has a] QUICKFRAME plate with a combination of SPRINTSTUDS and QUICKSTUDS in the forefoot delivers improved cutback ability and ideal toe-off traction, while BLADESTUDS in the heel provide enhanced stopping ability."​
As of now, there are no plans to release the cleats to the public, but Adidas will have more information in the future.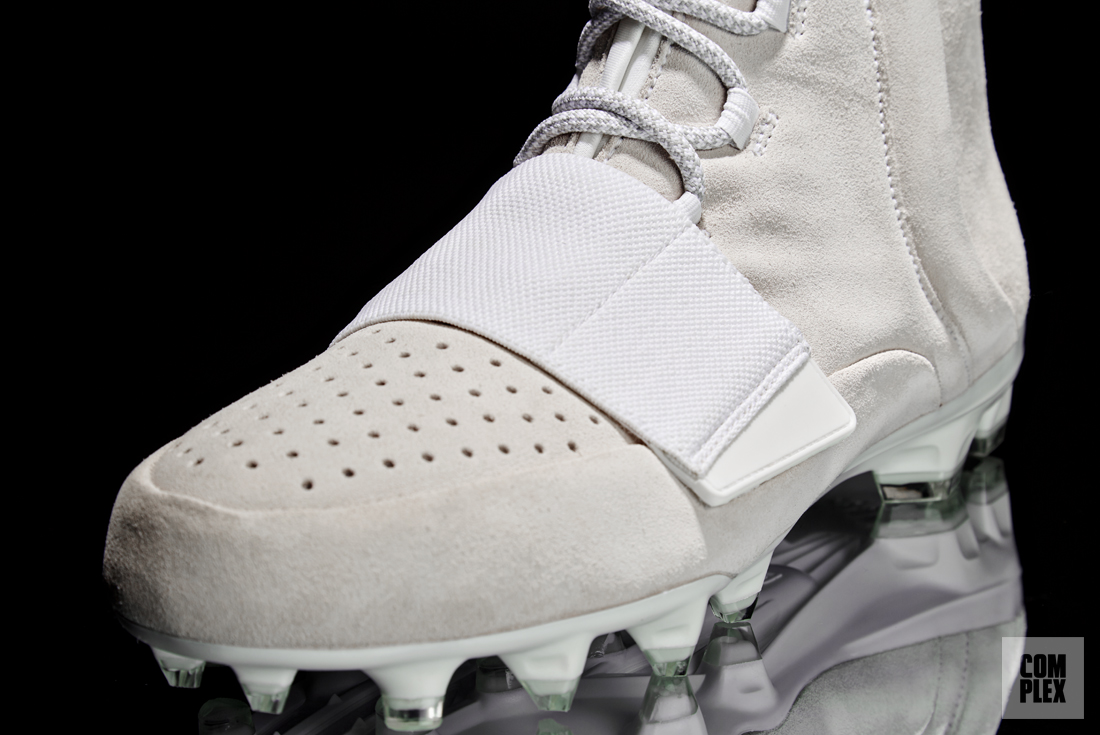 Adidas isn't the first brand to dig into its archive of coveted sneakers to turn them into the hottest cleats on Any Given Sunday. Jordan Brand has routinely done this in the past, too, first giving cleats to the likes of Randy Moss, Warren Sapp, and Deion Sanders, and these days making sure that Dez Bryant is dancing in the end zone in special makeups of Michael Jordan's shoes.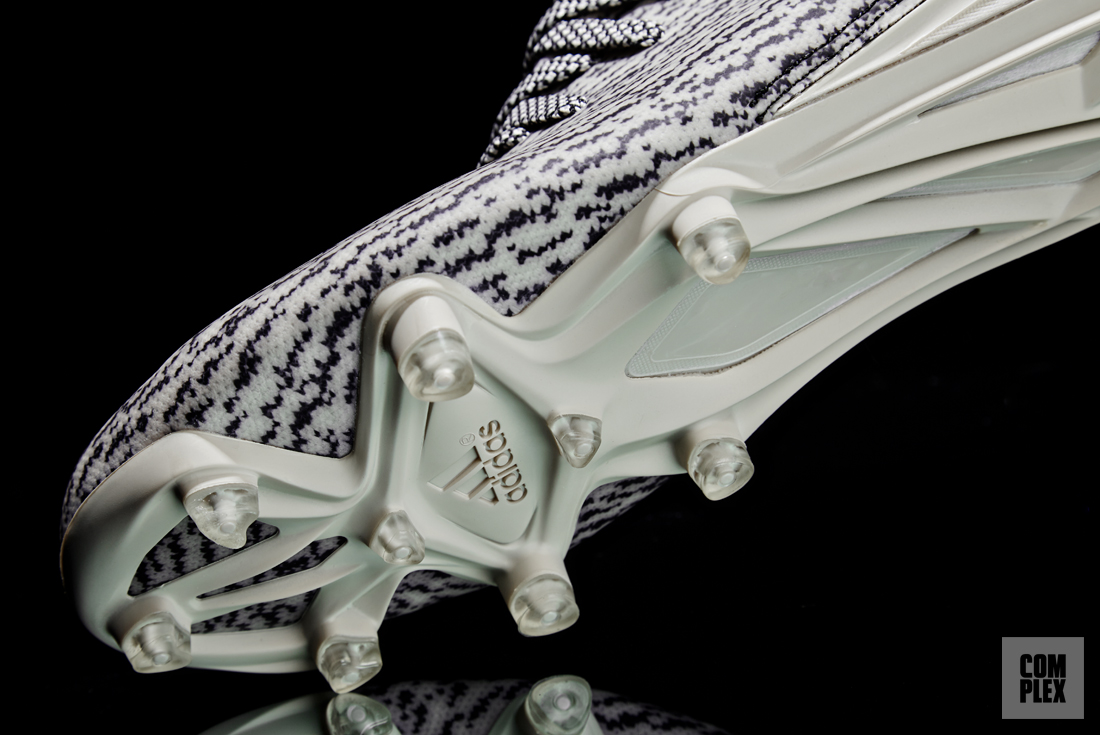 But Adidas is the brand with all the eyes on it right now, and Kanye getting involved in spaces that involve serious, sporting product, can only help Adidas on its journey to try and dethrone Nike, who it currently trails in the race to be the biggest sportswear brand in the world.
But if kids start camping out for cleats—yes, cleats—then anything is possible.