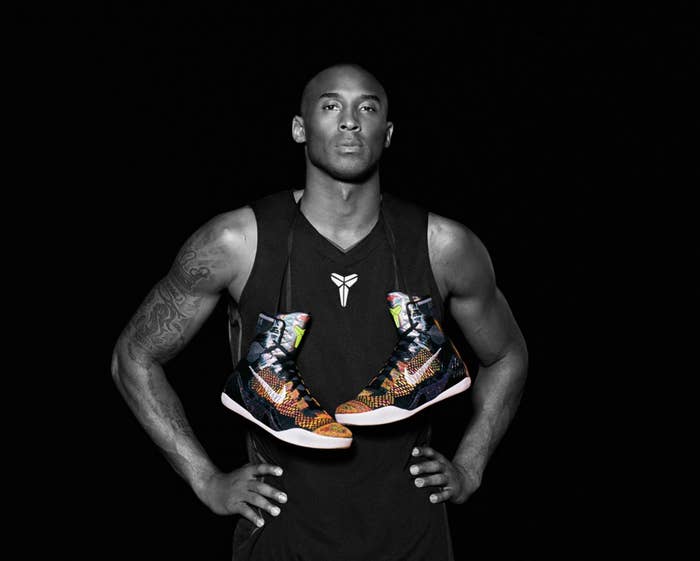 This week's biggest sneaker release is a collaboration with a rapper. That's not much of a surprise to anyone who's been following the partnership between Kanye West and adidas, which has integrated the brand's Boost technology and made a lifestyle sneaker that's aptly broke the Internet. This is, in part, thanks to limited distribution and celebrities, such as the Kardashian clan, pushing the shoes on social media. But it brings up a bigger question at hand: Who's more important to the footwear world these days, athletes or rappers?
Popular opinion, at least for those who are obsessed with celebrities and form their opinions off of Twitter facts only, is that nothing can make a sneaker more lust-worthy than one designed with an artist's input. The center of this debate, however, is exactly what caused West to leave Nike back in 2013 and is the creative difference that erupted the tension between him and the brand's CEO, Mark Parker.
Parker fully believes that running a sportswear and footwear brand is all about athletic innovation and focusing Nike's attention to giving West a complete line is a divergence from the brand's direction. Both Yeezy sneakers designed by Nike, no matter how popular they were, borrowed their technology from previous sneakers — most notably the sole units from the Air Jordan III and Air Tech Challenge II — so that wasn't aligned with Nike's attitude of pushing forward.
That didn't sit well with West. He openly mentioned about how Parker "talked shit" about his sneakers and didn't understand what people saw in them. It's easy to take West's side on this issue from the outside looking in. His shoes generated a huge hype for Nike and every pair released was a huge success, even if they were made in limited quantities. But a recent interview with Parker on Hypebeast gave a better view of how he values the celebrity cachet added to a shoe versus creating product for athletes.
"Let's start with the athlete, Nike's original and most important collaborator," Parker said. "To us, everything starts with the insight. That's why we work with the deepest roster of athletes, to gain the most profound understanding of what's needed to perform. I always say that as an innovation company, we're privileged to work in the world of sports because our source of inspiration – the athlete – never stops progressing."
This means that the brand is more focused on developing Flyknit, or putting Defender, a waterproof technology, onto sneakers, or even making Kobe Bryant's signature sneaker instead of finding a celebrity to align itself with. And this has paid off for not only Nike, who's the biggest sportswear and footwear brand in the world, but also upstart brands such as Under Armour, who recently saw a 754 percent spike in basketball shoes sales thanks to its partnership with Golden State Warriors guard Steph Curry.
This is why some people think James Harden going to adidas was bigger than West. The brand knows it needs to compete in basketball to boost its slumping U.S. sales, and that's something an entertainer, no matter what they're wearing, can't truly help. That's why they're giving Harden $200M.
Nearly every popular sneaker since the dawn of time has served an athletic purpose prior to being adopted for style reasons. That's the way the footwear industry works. Remember, sneakers are there to make our feet comfortable, and that's often aided by the foresight of footwear designs that take their cues from the athletes they serve.
Does Michael Jordan's name ring a bell? He's made more money off the Jordan line in the last year than he did his entire NBA career, and that's because he was able to link with some of the best sneaker designers, mainly Tinker Hatfield and Peter Moore, and create shoes that filled a void in the athletic market. The Air Jordan III had an Air unit and tumbled leather. The Air Jordan V had a 3M tongue, while later models used innovations such as the Flight Plate. It didn't hurt that the sneakers looked good, too, but the core of their creation was centered around striving in the world of sports. And the streets respected that. They wanted a sneaker that was good enough for the greatest basketball player in the world, and they still do.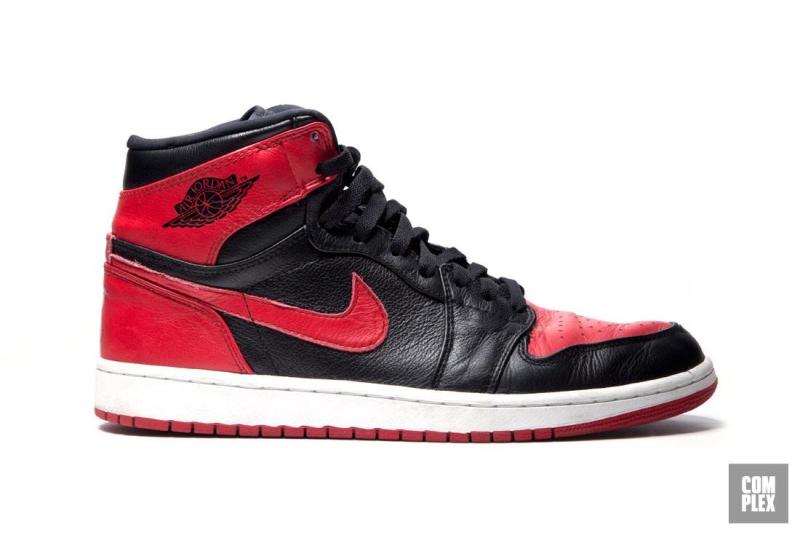 But Jordan's line isn't the only example of this. There's Bo Jackson, Andre Agassi, and Allen Iverson who all had sneakers made for their specific sporting needs, whether it was crosstraining or a basketball sneaker with a ton of cushioning. People didn't wear them because they thought they were actually going to workout in them all the time, they wanted to align themselves with the people who were performing the most impressive physical feats in front of the world.
Then there's the Stan Smith, which was a state-of-the-art tennis shoe first designed in the '60s and later became the style sneaker that it is now. The Nike Air Force 1 made its name on the basketball court, before trickling onto the streets of New York City and Baltimore. The same can be said for the Converse Chuck Taylor All-Star and the Nike Air Max 90 and even the Flyknit Racer. They were all designed for athletes, whether marquee or nameless, and they've served as financial strongholds for the brands that made them.
Of course rappers, celebrities, and cool guys all have worn the aforementioned shoes, but that only furthers their appeal. It's hard to create a new shoe for a musician and ensure that it has the same lasting power. West, for all that he's said about brands not giving him the right support in the past, remains the anomaly in the field of rappers getting signature sneakers that actually pan out. In the past, artists such as Pharrell, De La Soul, Pusha T, and more all have been given collaborations on pre-existing shoes from a handful of brands, and the idea, for the most part, has worked in the projects' favor. That's because they reworked an athletic silhouette and re-engineered it for their audience's taste level.
But there's something about designing a new shoe strictly for a rapper, from start to finish, that lacks resonance and staying power. Even West's Yeezy Boosts borrow the comfortable sole technology, first developed in a laboratory by BASF and used on serious running shoes, like the Ultra Boost, which have sold well, in part thanks to West's co-sign. The shoe also sports a Primeknit upper, that, once again, was first built for performance shoes.
For every Yeezy Boost, though, there's Will.i.am's new sneaker line or Tyga's T-Raww lines with LA Gear and Reebok. And as West and adidas succeed, it's going to lead more brands to chase this formula. Which, sadly, I don't think is going to work in the long run.
It's not just because the sneaker are sub par, but none of these rappers have the same cross-cultural power as West. That's the truth. He's a one-off that can't be recreated by lesser brands and lesser artists.
There are high-fashion shoes that aren't made for sport, which often borrow their designs from sportswear companies' most tried-and-true models, but they're more reactive to sneaker trends than trailblazing. There's also the Nike Roshe Run, one of the brand's best-sellers, that was inspired by running but not actually made for it — completely showing that it's possible to create a sneaker that's not actually created for an athlete, although that's where its DNA lies.
That business model is working for adidas, too, with the brand's Tubular line or SL Loop, which play off of past adidas sneakers and have been able to sell to a new generation of consumers. Reebok's done this as well with its Pumpfury Lite that modernizes the Instapump Fury, a groundbreaking running shoe from 1994.
In the world of athleisure, where we want to look like we work out, but actually don't, maybe this trend is here to stay. But at its pulse is the pursuit of something athletic.
As the whole world tries to get its Yeezy Boosts today, there's still a much larger portion — believe it or not — that still wants a pair of sneakers from a sportswear company that were made for, you guessed it, sports. That doesn't go to say that there isn't a place for rapper-designed sneakers in the marketplace, but footwear companies lose focus of what they're about when this is their number-one priority.
Call me crazy, but I'd rather have a pair of performance shoes that a rapper made cool just by wearing them then hedging my bets that they can design the latest and greatest sneaker. Not to pigeonhole any artist by any means, but I'd rather put my money on trained professionals to decide to future of the sneaker industry rather than a rapper with a hot single, Kanye excluded, of course.