 Hiroki Nakamura's obsession with hard-wearing footwear began in the mid-1980s at age 14, while looking at two similar pairs of boots. The teenage vintage clothing neophyte was entranced by the inherent toughness held by one pair that the other lacked. Or as Nakamura put it in a previous interview: "One boot had a really strong power, and one didn't. I wanted to know why."
Nearly 30 years later, Nakamura is still working towards that answer. He founded visvim in 2000, a time when the Urahara movement of unassuming, sub rosa Japanese men's brands and shops was in full swing. The name stemmed from a predilection towards v-lettered logos, A Latin Dictionary, and the pleasant assonance of those two particular syllables, though it doesn't hurt that the Latin words "vis" and "vim" both translate into "power."
visvim's experimental nature skewed part-mad sartorial science and part-modern pioneering spirit. The shop was labeled as a "Free International Laboratory" (F.I.L. for short), and fit in alongside labels like Jun Takahashi's Undercover and Tetsu Nishiyama's WTAPS, a surplus-infused offshoot of his previous line, Forty Percent Against Rights. Nakamura's eight-year tenure at Burton Snowboards, where he often traveled with team riders, is felt through products like GORE-TEX outerwear and slalom-ready Ballistic backpacks combining durable CORDURA with wrinkled Horween Bison leather.
The visvim FBT, arguably the line's most famous footwear silhouette, takes a fringed moccasin-inspired upper and places it on an EVA Phylon midsole, a synthetic footbed more commonly associated with sneakers. It came about when Japanese streetwear pioneer Hiroshi Fujiwara showed Hiroki Nakamura the cover of Fun Boy Three's The Best of Fun Boy Three album, a compilation that was released in 1984, roughly a year after the splinter group founded by The Specials alums Neville Staple, Lynval Golding, and Terry Hall had disbanded.
Fujiwara pointed out the dark brown suede moccasins worn on the cover by Terry Hall, and suggested Nakamura make something similar. The shoes made their debut in visvim's second collection in 2001, made of the primitive Elk leather that was commonly used in American Indian moccasins.
"One of life's daily tools is a pair of shoes. We rely on them everyday, so they should perform comfortably, be made of the nicest and high-tech materials available today and still look great," says Nakamura in a 2004 interview.
Since its inception, the FBT has seen many iterations and developed a unique nomenclature. Classifications are derived from the materials the shoe is made of (FBT Elk and FBT Corduroy), the type of sole (FBT Lhamo and FBT Bear Foot), to the types of flaps or fringes surrounding the upper (FBT Shaman, FBT Lattice, and FBT Sashiko).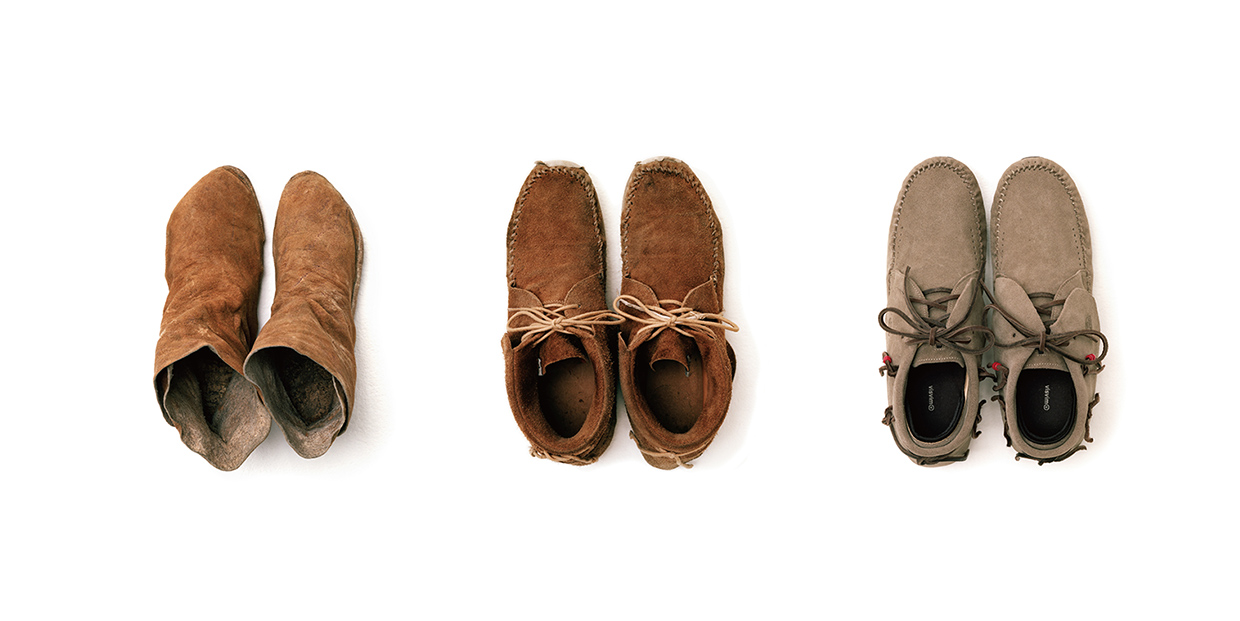 "The basic concept was fairly simple: to keep the raw appearance of Native American moccasins, but with the added functionality of being wearable in the city," explains Nakamura in his 2014 dissertation on the FBT. ​"Being suitable for city life entailed more than just adding a sneaker sole; I was also concerned with the styling of the shoe, and the ability to mix and match with different outfits. This is where the idea of a removable fringe was born.​"
In 2008, Nakamura introduced the FOLK series, a line characterized by chemical-free materials and bare-bones construction. The FOLK line was inspired by a trip he made to Finland's Lapland region, where Nakamura discovered that a pair of hay-stuffed reindeer hide boots made by a local Sami tribeswoman battled the elements—and were objectively more comfortable than—the prototype pair of sheepskin boots he initially wore. It also turns out Nakamura, who doesn't wear socks, is allergic to synthetic dyes.
"I wanted to make shoes that breathed so well that socks wouldn't be necessary," Nakamura tells 032c.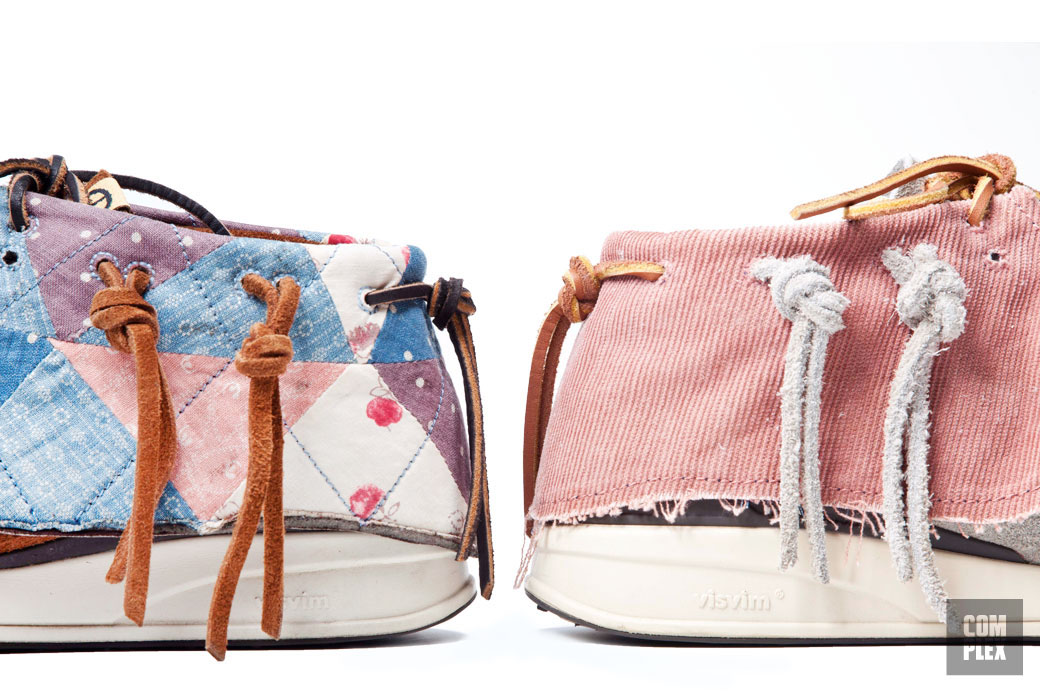 For a time in the mid-2000s, when the popularity of patent leather BAPEstas, pigeon-inspired Nike SBs, and ostritch leather Stüssy Dunks led to a resurgence in sneaker collecting, the FBT went on hiatus. According to one fanboy blogger, this led to the introduction of the FBT Ancestor, a low-top take on the FBT with a 3M triangular motif named after the Nez Perce tribe of the Pacific Northwest. The reintroduction of the FBT Classic was a welcome one for purists everywhere.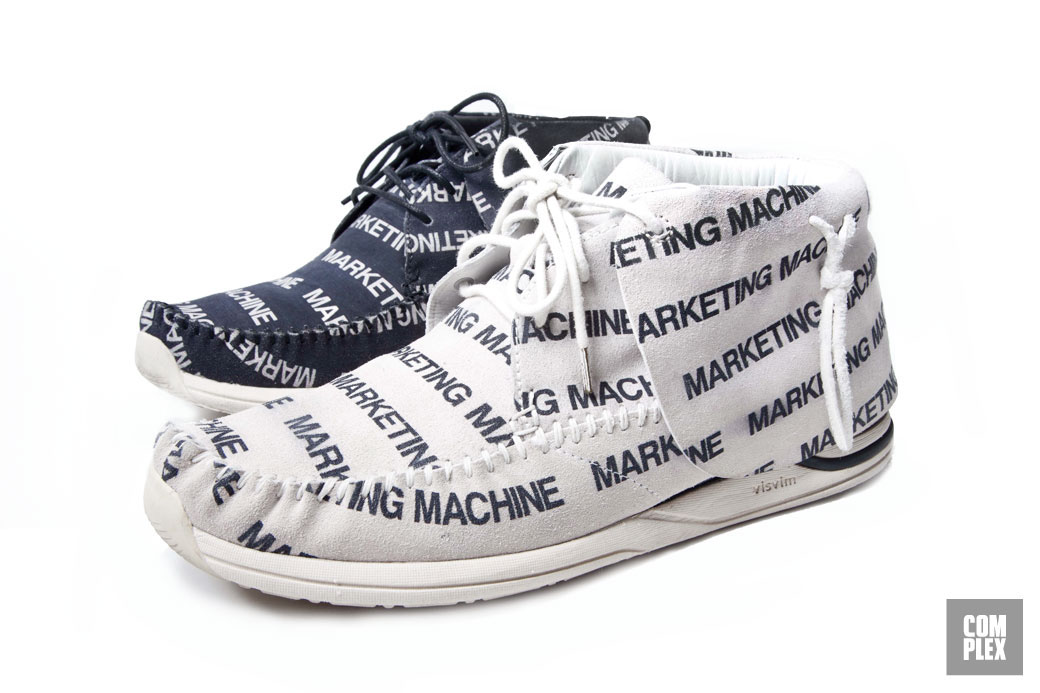 visvim is no stranger to collaborations, and there are a few FBTs worthy of grail status amongst sneakerheads. In the early 2000s, visvim collaborated with Fragment Design and Undercover on a pair of fringed black FBTs, and in 2008, visvim collaborated with COMME des GARÇONS and venerable Japanese department store Isetan for a special collection celebrating—of all things—the 150th anniversary of the Anglo-Japanese Treaty of Amity and Commerce, a series of agreements that opened up trade between Japan, the United States, and European countries like England. The FBT Folk was done up in an all-over print that read "Marketing Machine," a self-aware nod to collab culture.
Ultra-rare FBTs include the Goro's collaboration, in which Fujiwara customized three pairs with silver medallions from late Japanese jeweler Goro Takahashi, and were only available at Goro's stores, and the exclusive colorfully studded Elk FBTs available at the Kanazawa F.I.L. last year, when that store hosted a retrospective on the cult hybrid sneaker.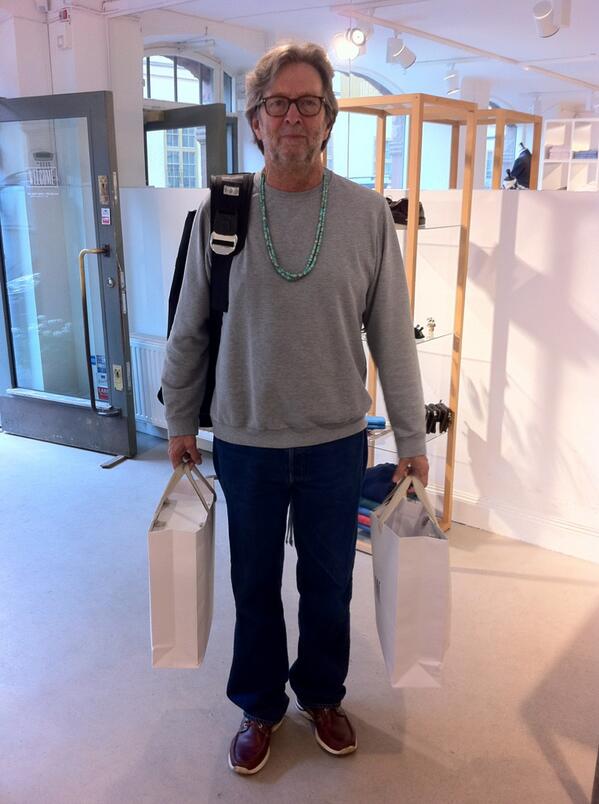 The cult nature of visvim and the instantly recognizable FBT silhouette has given celebrities seen in the sneakers a specific kind of credibility. John Mayer, who reportedly owns $55,000 worth of visvim according to MR PORTER, once claimed he got into the cult brand by way of equally discerning celebrity oniomaniac Eric Clapton, a longtime supporter of streetwear stalwarts like Stüssy and in-the-know men's shops like Trés Bien.
How did Clapton get into visvim? Most likely through Hiroshi Fujiwara, whom he's been friends with since 1999, when Clapton bought one of Fujiwara's clothing items at a London store, and was so impressed that he sought out the designer during his next trip to Japan. In his 2007 autobiography, he thanks Fujiwara for putting him up on the best shops in Shanghai, and calls visvim his "favorite shoe."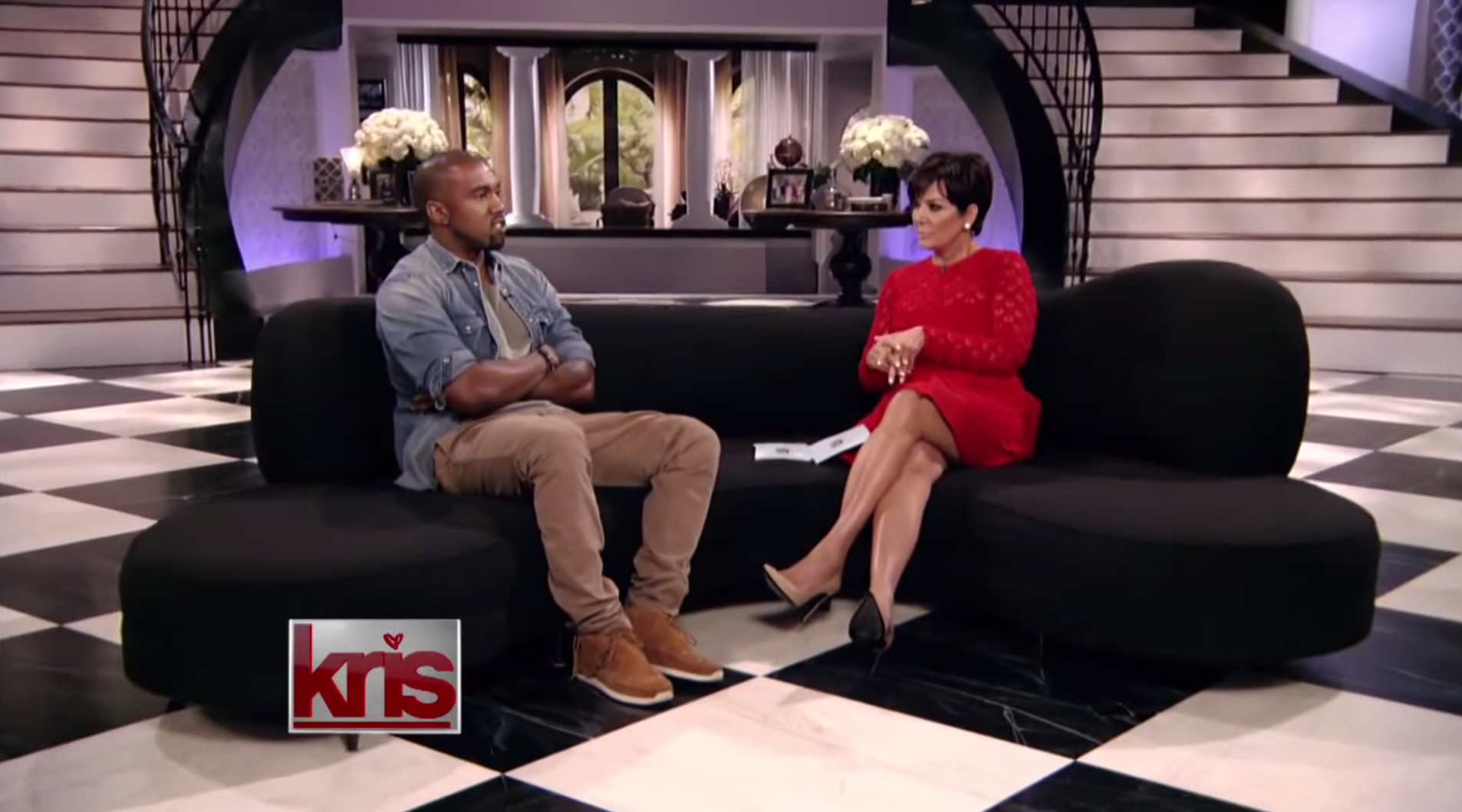 Drake wears a black pair of FBT Sashikos with a pair of certified #NTDenim in Nicki Minaj's 2010 "Moment 4 Life" music video, and the sneakers returned to pop culture prominence on the feet of Kanye West, who had been wearing the shoes for a long, long time, but apparently decided to un-deadstock his pairs in 2013. He even wore them during a 2013 interview on his mother-in-law's short-lived daytime talk show, where he revealed the first photo of North West to the general public.
These days, FBTs are much more accessible than when visvim launched its site in 2009 with a notoriously prohibitive online sale process (you had to e-mail to express your interest in buying the shoes, and if approved, were granted the opportunity to blow your money on a pair). Not only can you find them in multiple stores online, but models like the adidas Tubular Moc Runner, adidas SL Loop Moc, and Nike Solarsoft Moccasin Woven trickle the FBT's future vintage appeal to the masses at prices much easier to swallow.
The iconic model sat out the Spring/Summer 2015 collection—likely due to the increased, post-Kanye West hyperawareness, but returns for Fall/Winter 2015 in three colorways made of the luxe Elk it was initially inspired by. Upcoming models introduce a new vegetable-tanned suede sourced from Sweden and a new EVA sole that incorporates an indigo linen triangle. The reintroduction of the Elk leather isn't the only way FBT has come full circle—the silhouette is now roughly as old as Hiroki Nakamura when he first fell in love with well-crafted footwear. Good thing the FBT is as powerful as ever.