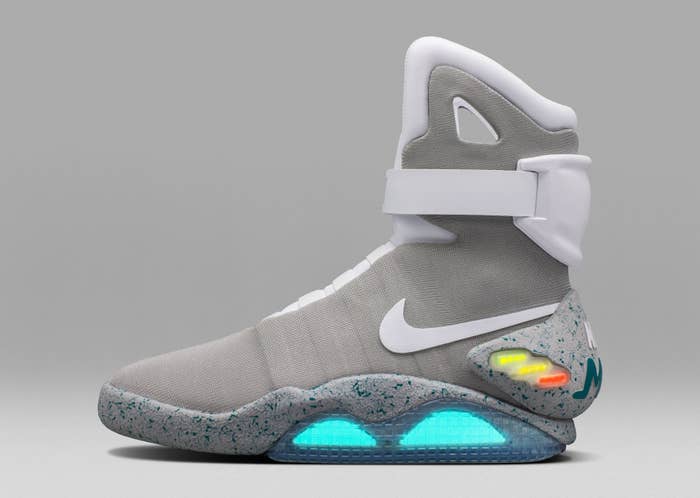 Talk about a feel-good sneaker moment.
Yesterday, Alfredo Villa, who's better known as Prettyboyfredo, went on Instagram to share a story of gifting one of the most coveted sneakers ever, the Nike Mag, to a kid named Jay who was being bullied in school. It turns out, however, that wasn't the original idea. Fredo told Complex that he had plans of surprising Jay at his school with an entire collection of sneakers due to the bullying incident, but was stopped by the authorities, leading to those involved being detained for trespassing—including Fredo himself. They were later released thanks to the positive nature of the deed. Check out the video below.
Fredo explained that Jay is a kid that he mentors, who'd recently been bullied over his size and the clothing that he wears. "As a kid, I grew up in very tough circumstances, from being in foster care to being bullied myself ... So I know what it feels like to practically have nothing," he said. "I could relate to [Jay's] pain from my past experience, and I knew giving him something special like the Mags would give him the confidence to push forward and through the bullying."
The Nike Mags were acquired at Fredo's local sneaker consignment shop, Vault813, for around $15,000, rather than its asking price of $30,000 after he told the store about his intentions of giving the shoes to his friend Jay. The Nike Mag was featured in the film Back to the Future Part II. Only 1,500 pairs of a light-up Nike Mag were made available in 2011 through auction, followed by a launch of 89 pairs for a self-lacing version in 2016.
"Fredo came to us with how Jay was getting bullied and told us his idea to help him out," Vault813 tells Complex. "We felt for what he was going through, cause I have been through that and I think a lot of people have growing up. That's why I started collecting shoes, back in 7th grade, because it gave me confidence going to school everyday with Jordans on. We're in the position now with us having our own store that we can give back to people that are like us. Were blessed to be where we're at."
Fredo recognizes that there will be those who question his motivations. and accuse him of only doing this for the attention, but according to him gestures like this aren't anything new. "If you been a fan of my work and look at my body of work, you would see everything I do revolves around positivity and giving back. This is honestly just another day," he said.
According to Fredo, a video regarding the situation is expected to go live on his YouTube channel tomorrow.