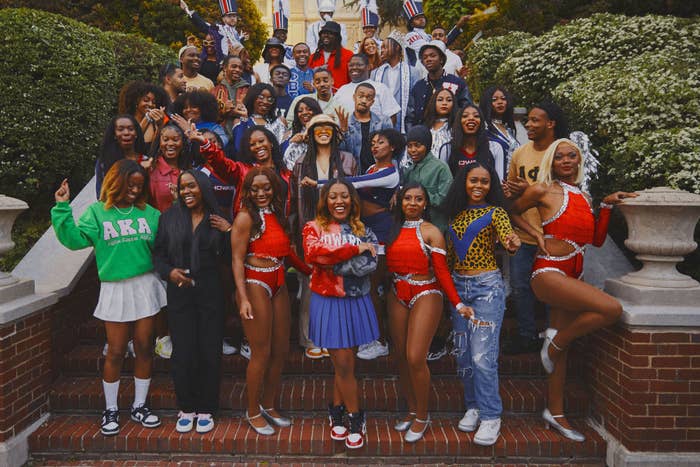 It appears that Anthony Anderson's exclusive "Howard University" Air Jordan 4 that was gifted to him for graduating last weekend was just a teaser of what's to come between the Jordan Brand and the HBCU. 
According to Boardroom, Jordan Brand will become the next sponsor of Howard University. The HBCU is currently sponsored by Under Armour's Curry Brand, a deal that is set to expire sometime this summer.
Per Boardroom, the new sponsorship deal will not affect the ongoing partnership between the Curry Brand and the school's golf program. This will mark the first time since 1997 that an HBCU has become a Jordan Brand-sponsored school when the brand first started signing collegiate endorsement deals 25 years ago.
Howard University will be joining a stacked roster of schools repping Jordan Brand including UNC,UCLA, Michigan, Georgetown, Marquette, San Diego State, Houston, Oklahoma, and Florida.
At the time of writing, the reported endorsement deal has not yet been confirmed by Jordan Brand and Howard University.
UPDATE (08/11): The rumored partnership between Howard University and Jordan Brand was confirmed today. 
The 20-year endorsement deal will seek to elevate Howard's athletic department, with the university's first Jordan uniforms set to be unveiled later this month on Aug. 27.
While athletics will be the primary focus of the deal, Jordan Brand also hopes to create new recruiting opportunities on the academic side. 
"Howard University and Jordan Brand share a legacy of excellence and deep commitment to the Black Community. As a HBCU graduate, I understand the educational impact an institution like Howard University has," said Jordan Brand president Craig Williams. 
"Partnering with Jordan Brand is another signal of our ambitions as a university to become an even brighter beacon for Black Excellence," says Dr. Wayne A.I. Frederick, Howard University president. "We are thrilled to work on that vision of greatness together."
Readers can find more details on Michael Jordan and the Jordan Brand's 10-year $100M commitment to the Black community here.