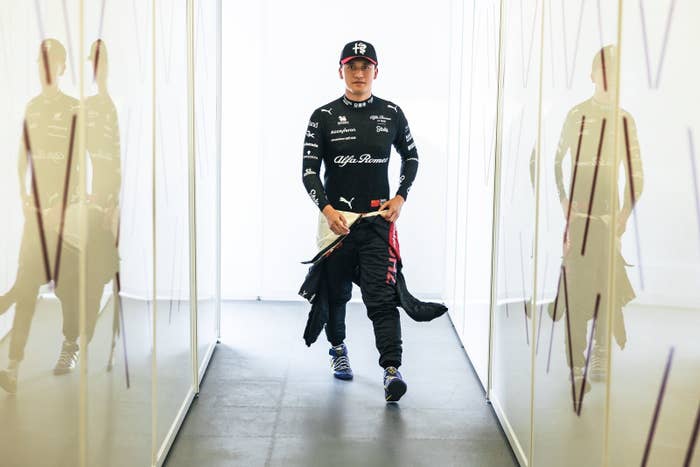 F1 driver Zhou Guanyu has always had his eyes on sneakers. Growing up in Shanghai, he collected pivotal models in Kobe Bryant's Nike signature line, like the Kobe 4 and Kobe 5. When his karting career brought him around the world, he continued to hunt, spending some of his downtime during 2013's Rotax Max Challenge Grand Finals in New Orleans seeking out shoes he couldn't find elsewhere. And when the Formula One World Championship pulled up to Miami over the past two years, Guanyu pulled himself away from his duties with his Alfa Romeo team just long enough to fit a trip to Kith into a packed schedule.
His appreciation for sneakers manifests both on and off the grid during Grands Prix. Guanyu picked 24 for his car number in reference to Bryant, the sporting hero who gave him his earliest footwear memories. He is selective in the sneakers he brings to races—the ubiquitous "Panda" Nike Dunk Low, for example, might be appropriate for a quick trip to the supermarket but does not make the cut when he arrives at the paddock. (Too risky, given how many people have them at this point.)
"The one pair I hate to wear is the 'Panda' Dunks," says the 24-year-old Guanyu, speaking from the Alfa Romeo Museum in Italy ahead of last weekend's Grand Prix in Monza. "I loved it when I bought it three years ago, but [now] I absolutely hate it. I've never worn it for the last year and a half. Because everybody walking on the street, in any country you go to, any city, so many people have them."
Guanyu generally prefers Dunks over Jordans for regular wear, though, the latter being more precious to him. His Air Jordans, he says, mostly stay on the shelf for display like Bearbricks. He's worked some Kobe flavor into the Pumas he wears, dressing them in purple and gold.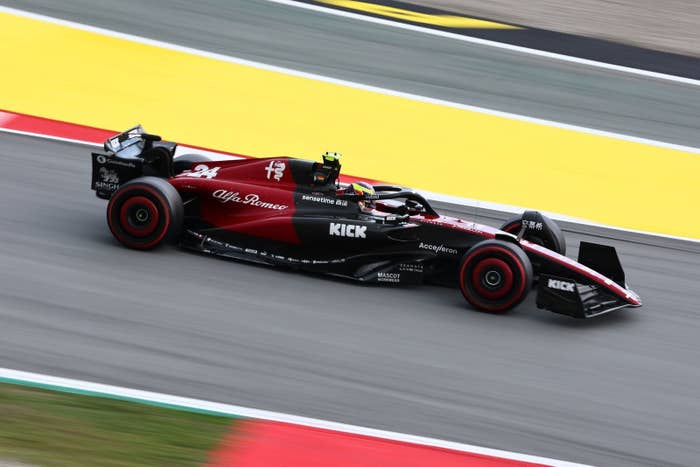 His level of care around what shoes he wears where might make Guanyu an outlier in F1, a sport that hasn't produced many iconic sneaker moments. Puma's deal with the league means that current drivers are hampered in their ability to wear diverse sneakers. Yes, Michael Schumacher's Ferrari-red Nikes were memorable, and the 1990s project from Asics and McLaren deserves to be revisited, but it's hard to make sneakers shine in a sporting event where they remain hidden for the duration of the competition.
Still, the driver aspires to work on a sneaker collaboration.
"I really want to make my own sneakers," says Guanyu. "I don't want racing boot sneakers; I want something that can really represent a little bit of me with my colorway and be also a little bit together with the design, because I love designing."
Guanyu is known as a sneaker consumer to family (who got him a cake in the shape of an Amiri sneaker for his birthday in May 2022) and fans (who will gift him custom shoes) alike. Here, Alfa Romeo's sophomore driver talks about his love for Nike Kobes, his difficulties getting shoes, and the restrictions around what he's allowed to wear. The conversation has been edited for clarity.
How did you first get into sneakers?
As a kid, I was just really into these things. When I was going to school, we have sports day of course, but we were wearing sports—let's say normal shoes, sneakers—in daily life. It's not like, for example, when I lived in the UK, you have to wear blazers, boots in school. In China, we can just wear sneakers casually. Sneakers are what you represent. That's really what I love. At the time, I was wearing Kobes for daily life, it was the Kobe 4, Kobe 5s, so that was really cool.
Where were you getting sneakers at that point?
As a kid, obviously I wasn't able to afford all the sneakers I really wanted. So I know every time when there's a birthday or there's a present that's given by my family, I always wanted shoes at that time, which were mainly Kobe Bryant's, because he was kind of my all-time sports hero.
So I was just wearing his. I have a collection of all different colorways, and, as you can see, these days, my racing boots I'm wearing are purple and yellow.
How did you get into Kobe? I know Kobe was very big in China.
Yeah, I mean, he's just a huge athlete, also a sporting hero for people in China. His fan base is crazy out there and in general in China, you know, we love watching basketball. Especially from maybe like 10–20 years ago, because Formula 1 [became popular there in] recent years, 20 years ago was the first race [in China], but basketball started way earlier than that. For me, I was just watching his game. I just really find it inspired me because at the time I was also racing, just go-kart, just starting my career at the very beginning. I'd just see his moves on the court and his time, effort. He put in the work behind the scenes.
When you moved to the UK when you were 12, did that change your sneaker habits at all? Were you able to get more stuff? Was it harder, or because you had more of a uniform in school, you couldn't wear them as much?
I didn't really change much my hobby or my interest in sneakers, but it definitely made my life difficult to get these sneakers. Because in the States, in China, it's much easier to get. When I moved to the UK, I didn't go to like, London. I mean, in London it's easy to get them.
I went to live in Sheffield, which is up north. Sheffield is kind of like, there's not much hypebeast or very fashionable stuff you can get in that little town. It's more like a very classical laid-back town, so I didn't really get much chance, but every time I knew I had a trip back home or, I remember I had a race in New Orleans for the grand final of karting. I really just went into these shops, sneaker shops, to get loads of basketball [sneakers], limited-edition ones, collaborations—that's what I really love. And so, of course, the hobby is getting bigger the older I get. Because some of them I can actually afford now, compared to when you're young.
There were no good stores in Sheffield? There was no JD Sports or a Size? or anything like that?
You get a Size? or JD or Foot Locker, but in these shops, it's difficult to get these very unique pieces like collaborations, limited editions. Because I love sneakers, but at the time I was trying to wear these but other times I wanted to wear, besides Kobe shoes, which is very impossible to get in the UK already—unless you go to the big Niketown in Oxford Street. It was tricky to get. So JD Sports is more just, you have a lot of other things, which was quite popular at the time, you know, Adidas, Nike, and obviously Puma is stepping up as well. But yeah, since I was a young kid, I think I was already into the very limited pairs, which were very difficult to get while I was living in Sheffield.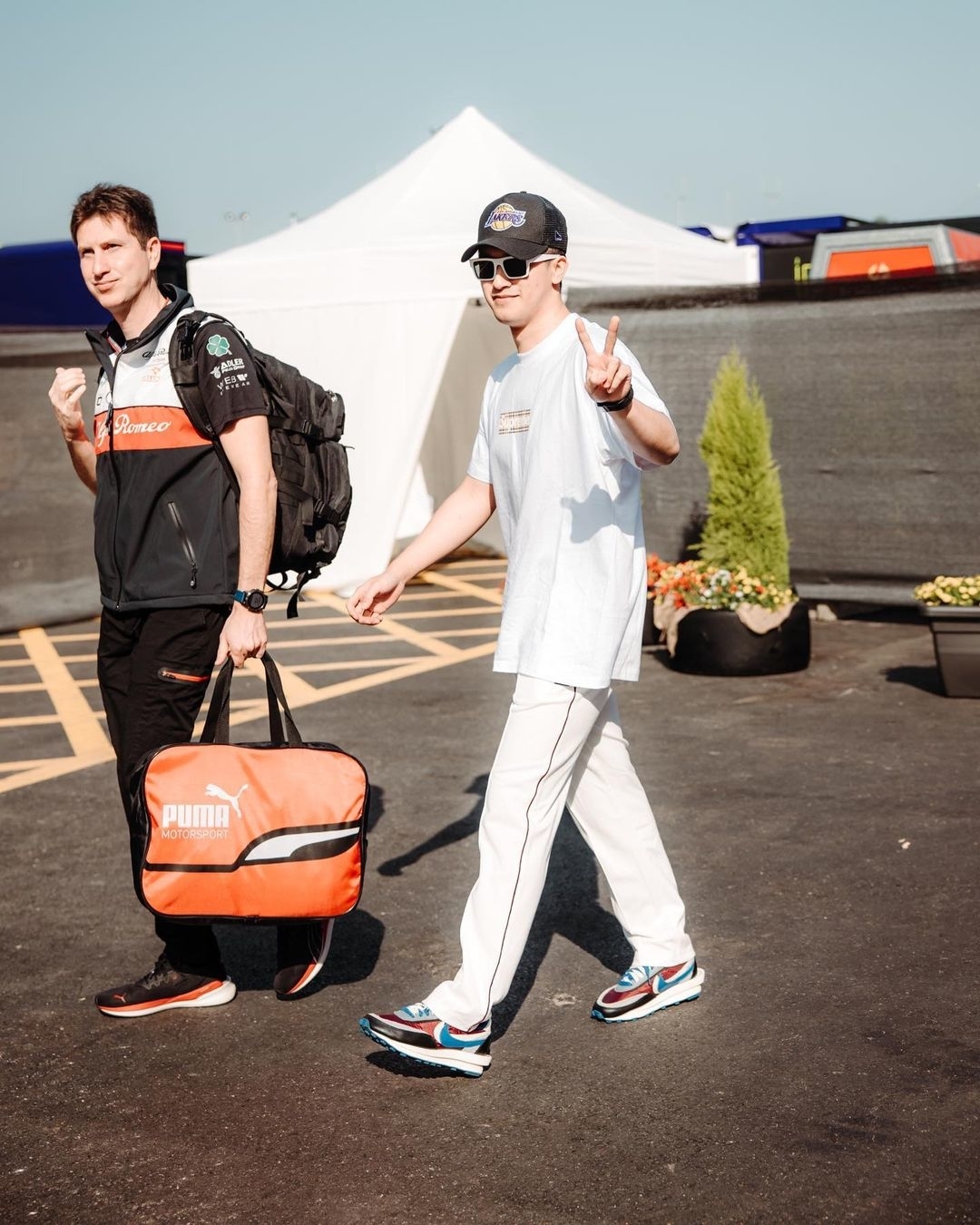 Were you buying stuff online at all? Were you going online right when the drop was happening and refreshing the page and trying to hit on them?
Yeah, I've been on it since quite young, but actually last year was the first year I managed to. You know, when they pick the draw. And I was actually quite lucky, I got the shoes for normal retail price.
What was it? What did you hit on?
It was a Vans collaboration with Mastermind, the new collaboration. I'm really into Mastermind because I love all these Japanese artists. I find it quite cool, that collaboration.
Have you had a chance to shop for sneakers out in Japan? I was in Tokyo this year and the sneaker stores out there are really amazing.
Yeah, I'm going there this year. I'm actually going there before the race, so it'll be very cool. I've actually never been to Tokyo before, I've only been to Osaka, but while I was in Osaka, I can tell you I was just researching all of these things. It was really cool. Not just the sneaker shops, I think more the culture of old-school stuff. Vintage, that's what's popular there, which I find quite cool.
Japan is the best for vintage. Every block you walk on there's another vintage store. When I was there it was just old Comme des Garçons, Yohji Yamamoto, stuff that you couldn't find anywhere else.
Yeah, exactly. The US and China are quite similar the way you have big malls, big streets, you find these. But Japan, it's just like walking on the smallest streets, you just find in the smallest shop, some of the coolest stuff.
Talking more about the Kobes, have you bought any in the past couple years now that they're coming back to the market? Last month was the "Halo" Kobe 8 Proto, the all-white pair.
I actually haven't bought the recent, the new drops coming back, yet. But one I really want to get is the black/white pair with Gigi and Kobe's name on the back. That's something I would like, just to keep it just for memory, you know, because I bought early stage Kobes to wear daily.
Do you still have all your old pairs that you've worn a bunch?
Yeah, I do. I need to find them. I know it's in my old house, back home in Shanghai, but it's there. But also I had some recent years, I'm talking about when I was here, like maybe 17, 16-ish, these pairs, I still got them in the house with me. But yeah, my apartment is pretty cool. I have a little living room, just a wardrobe of just shoes. And then, obviously I don't have these boxes they have, I don't have that in England because the house is smaller, but in China I just have a whole wardrobe. It's like, rather than having clothes, it's just a shoes showroom.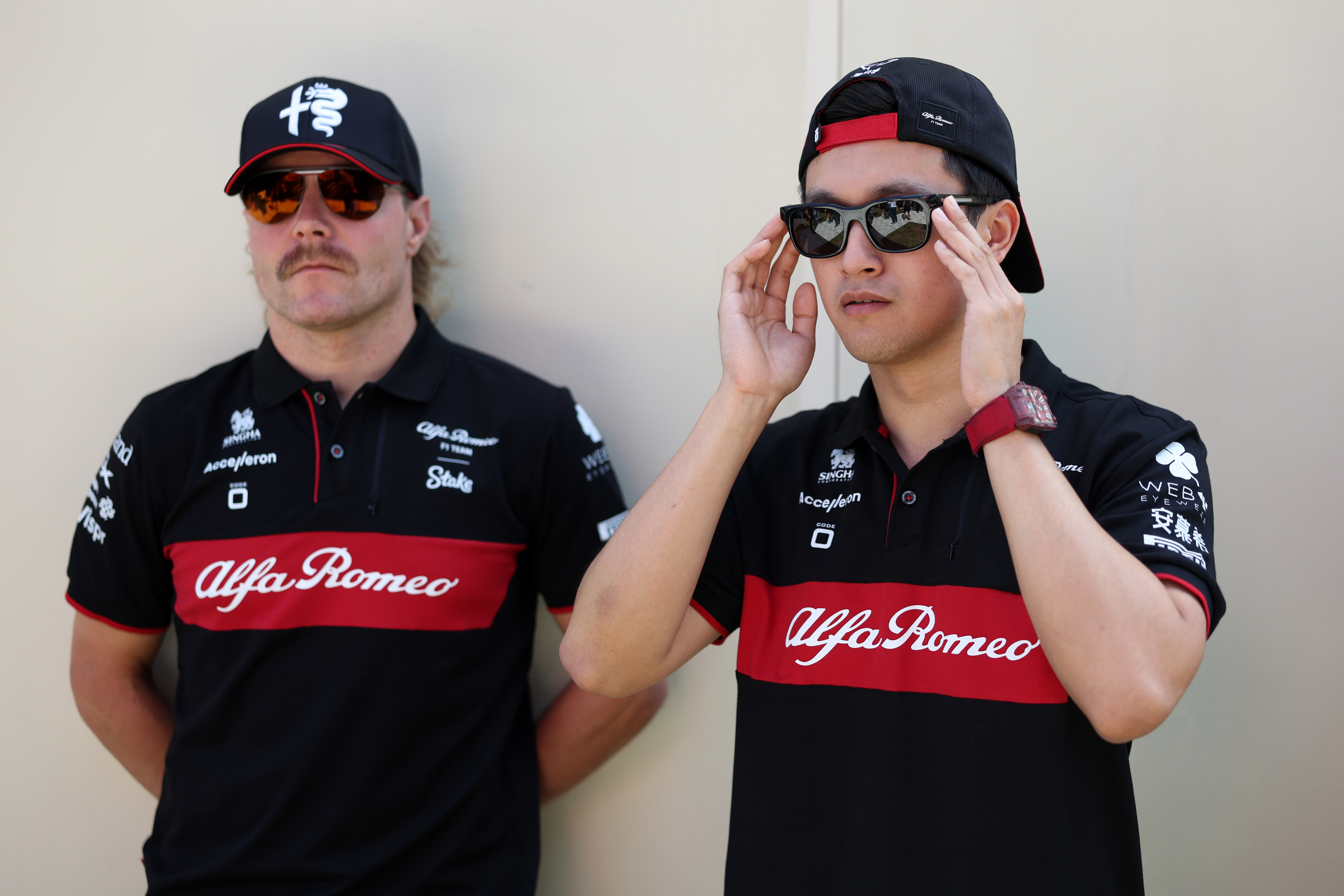 You gotta be careful how you store them, though. These things will crumble if the temperature isn't right and you're holding onto them for 10 or 20 years.
Yeah, exactly. Hopefully, I still know where they are after years. They still aren't that old yet.
That's the worst part too is thinking about one particular shoe and you know you own it but then you have to dig through every box to find where that exact shoe is.
Yeah, exactly.
I want to know how intentional you are about the shoes you wear when you're driving. As you were getting into karting and now that you're on an F1 team, how much do you think about your footwear?
When we come to the paddock Thursday, Formula 1 now it's a little bit like the NBA, people wear their casual clothes walking into the paddock, which I find quite cool. Because you either pick your outfit or you just pick your shoes first, normally I'm the kind of guy that I pick my shoes for the day and then I pick the outfit to go along alongside it.
Obviously we have racing boots, which is very important footwear for us because it's not about just the colorway. It's more about the comfort, how it feels. Because wearing a hundred—not a hundred pairs—but maybe over 20, different manufacturers of racing boots makes a bad race. And so, yeah, I really feel the ones I'm wearing, the Puma one, is really one of the most comfortable ones.
The only downside of that is that we need a new pair every week. So 23 races, 22 races, so minimum we need like 26 pairs a year just to make sure we have enough, or 30 pairs. But yeah, the thing is that the team let me have my own colorway, so I was able to match my helmet this year, purple with yellow stripes, which, it's me. And that's also how I all started everything.
You talked about it being like a fashion show when you arrive on Thursday, much like the NBA tunnel. Do you talk to other drivers about sneakers at all? I feel like I don't see many unique pairs that other people wear.
We don't talk about sneakers, but we talk about just fashion in general. Let's say Lewis was the guy who made this coming on Thursday [tradition]. Last year was my first year, I would just be myself, wearing fashionable clothes or most likely the clothes I wear daily and got really good credit for that from the fans, all the people.
So there's more people going into fashion in that way but of course I think, I do feel like footwear is kind of still maybe the quality is not that good compared to the clothes people are bringing out. But still, it's tough. We have a lot of brands that we can't wear. So like some stuff I have at my home, maybe I wear daily, maybe I just keep them there. They are a lot more special compared to maybe something I wear at the track. Because it has to be a brand that's represented together with you.
I'm glad to see more people getting fits off because, and I won't name any names, but I feel like so much of the F1 fashion is so bad where it's still the same European skinny jeans.
Yeah, I don't wear skinny jeans, so you don't see me in that.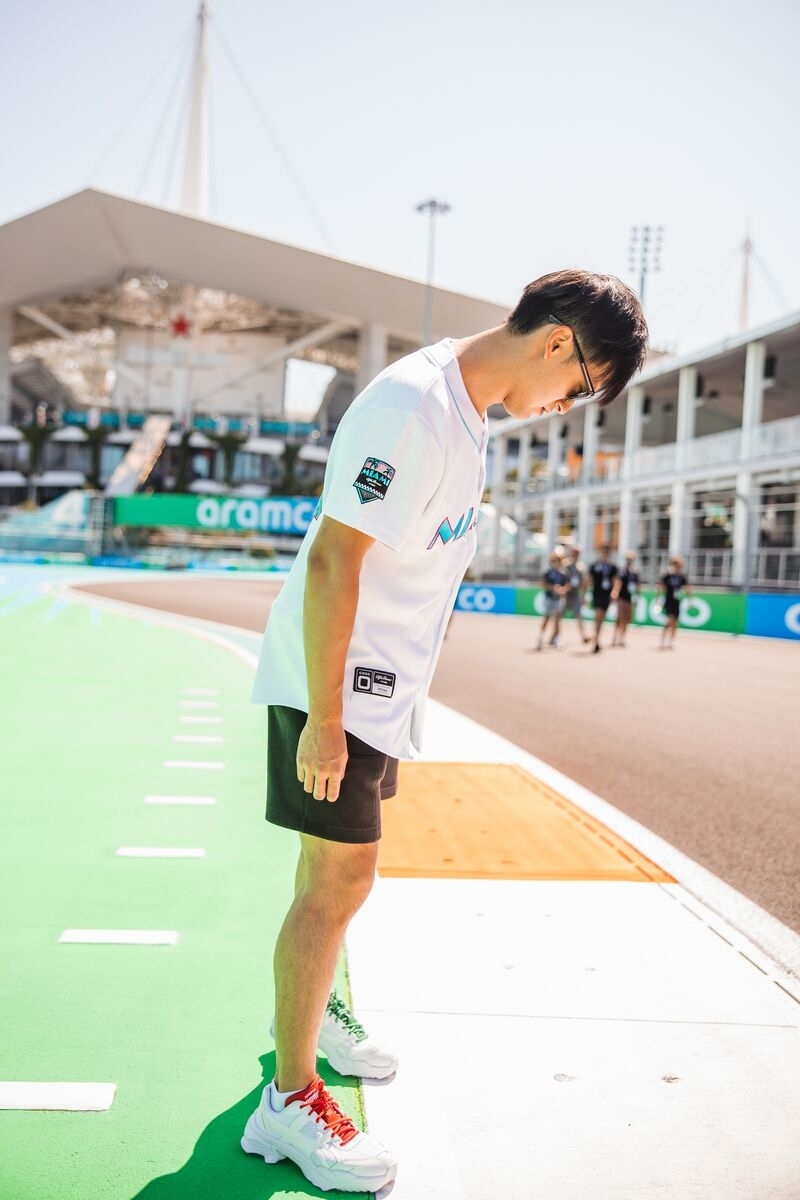 I know that Puma has a relationship with F1 as the official supplier. Do you ever wish you had more freedom in the shoes you could wear just in terms of being able to express yourself more and bringing out the Kobes you have and things like that?
Yeah, I mean, it's both sides. I think every athlete, it doesn't matter what sport you are in, I think it's good that you have a brand that can represent you and a brand that has a partnership with you because that means you're doing something right, you're making more history together.
But then on the other hand, you're limited basically [against] a whole bunch of that scenario of sports brands. Of course, we like to have freedom, but on the other hand, I'm more than happy just to have somebody I can represent for a long time, because that means that, who knows, in the future you can have maybe your own kind of collaboration, you know? Because we're not talking about boots, but I think for drivers, you can either have racing boots or just a normal, classic shoe for an outfit that you can wear daily.
Have you talked to any of the sneaker brands? Is it your aspiration to have a deal with Nike or have a deal with Adidas?
I mean, I have talked with these brands already, but it's about who can give you the best deal and a different marketing perspective. I've had a few years with Puma already, plus the deal when I was in F2, that was really good for them and also for myself to be able to express also the potential they saw in me to Formula 1, because who knows, I'll be here one day or not.
I might be just slipping through my way and not making the dream happen. But yeah, at the moment I'm obviously at Puma for my motorsports and now I have my daily [wear] with with Lululemon. We don't have a lot of sneakers, so we can wear Pumas, but then on the sports kit, I'm just wearing them. So that's the deal I have.