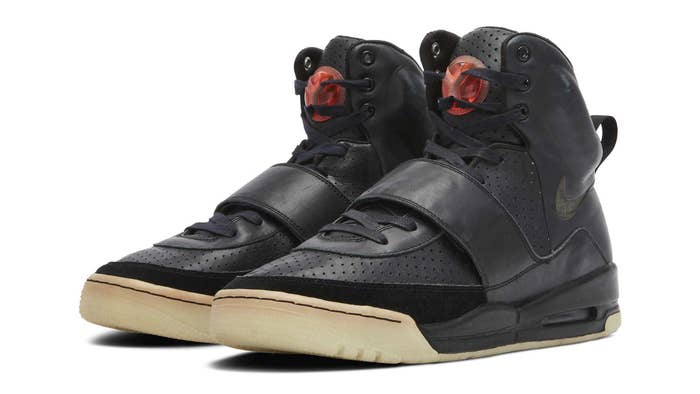 The most astronomically priced pair of sneakers on public record has come crashing back down to Earth. The one-of-one pair of Kanye West's Nike Air Yeezy 1s that he wore to the Grammys in 2008 broke the record for the most expensive sneakers ever sold when they went for $1.8 million at Sotheby's in April 2021. This month, the Grammy Yeezys sold for just $180,000.
The shoes' fall coincided with that of their namesake rapper, who now goes by Ye. The glow-in-the-dark Air Yeezy 1 samples were once an example of how far the high-end sneaker market could go; their glow is now radioactive. In the span of two years, the record-setting Yeezy became a spectacular failure of an investment and a pesky outlier for sellers eager to trade ultra-rare sneakers in the same channels as fine art.
The buyer behind the $1.8 million private sale at Sotheby's was Rares, a company that wanted to make sneakers financial assets by selling fractional shares in them. Investors could own a small percentage of a shoe, which would go up for initial public offering just like a publicly traded company, and then potentially benefit from a higher sale later on. (Rares put the Yeezy on IPO in 2021 at ComplexCon, an event run by Complex.)
After buying them, Rares co-founder and former NFL safety Gerome Sapp said that his company believed it could profit off the Grammy Yeezys and that Sotheby's was asking even more for them.
"The price we landed on is way below where they wanted it, just so you know that," Sapp told Complex in 2021. "And it was a price point that we felt comfortable—I felt comfortable—with, in terms of, this properly represents not only where that shoe is now from a financial standpoint, but where we think that shoe's value will go in the next year or so."
Ye wearing the shoes at the 2008 Grammys marked the public debut of the Nike Air Yeezy 1, his first signature shoe and a design that set a new benchmark for hype around footwear drops. The pair differs in colorway from the retail versions that were released in 2009, which gives them a physical appearance distinct from any other Nike Air Yeezy to add to their historical significance. Those factors, along with frenzied pandemic-era investment in alternative assets like NFTs and collectibles, contributed to the Grammy Yeezys becoming the most valuable sneakers ever traded.
Rares planned to sell the shoes at Christie's in September 2022. The auction house told Complex then that it was anticipating a price in excess of $2.5 million. Rares believed it was time to turn a profit from the sneakers.
The timing could not have been worse. That fall, Ye destroyed his public image with an unrelenting and unapologetic run of antisemitic comments. He waged erratic battles against adversaries on social media. He went to war with Adidas, his longtime sneaker partner after Nike, and the brand cut ties with him, sacrificing the lucrative Adidas Yeezy business. Ye was toxic, and selling products connected to him became risky.
Christie's pulled the Yeezy sale, scrubbed the sneakers from its website, and appeared to have even moved away from the new department under which the Ye sneakers were meant to launch. One former Rares employee says the cancellation of the Yeezy sale at Christie's came without notice.
"We didn't find out it was canceled until we read their public statement canceling it," says Jordan Silver, who worked on the inventory team at Rares. "After that, nobody wanted to touch it for obvious reasons."
The sneakers weren't publicly listed for sale again until a year later, when they surfaced at sports collectibles company Goldin this month. Ye did not earn back any goodwill in the interim and remains a pop culture outcast.
Rares sold the Grammy Yeezys at Goldin in September 2023 for $150,000, the auction total price coming to $180,000 after fees. Goldin declined to comment on the sale, and would not provide information about the buyer. Sotheby's, no doubt glad to be rid of the shoes, did not respond to requests for comment on their low price.
Why did Rares sell the Yeezys at the nadir of Ye's popularity for a mere 10 percent of the shoes' peak value? Sapp tells Complex that his company ran out of money and is liquidating its assets in hopes of providing payouts to the people who invested in the shoes.
"Rares started the process of winding down business operations a few months ago," says Sapp. "We gave this business our best effort with a great group of investors, but with unfortunate ubiquitous changes in the VC investing and national/global banking industries, we were unable to raise the necessary capital to fund business operations any longer."
The Nike Air Yeezy 1 sample from Ye's Grammy performance in 2008 changed hands a number of times before arriving at the world's most prestigious auction houses. It was first offered for sale in an Ebay charity auction put on by sneaker media company Sole Collector in 2009. (Complex acquired Sole Collector in 2013.) Sneaker collector and reseller Justin Ashby acquired the Grammy Yeezys in the summer of 2015 and unveiled them at the opening of his store, The Heat Check, in Lancaster, Pennsylvania, that August. His asking price was $75,000.
Ashby says he received an offer from the Grammy Museum, which wanted to buy them for $20,000, that same week. Chris Brown offered the same, he says. Ashby held on to the shoes, budging a little after a year and bringing their price down to $50,000. Still, no offers near there arrived.
Ashby says that in November 2017 he sold the Grammy Yeezy to a collector from England who wired him a $10,000 deposit and flew out the next week to pick up the shoes. They agreed to a final price between $20,000 and $25,000.
"The only reason I ended up accepting his offer was because I assumed it was going to a good home of a collector," Ashby says. "He showed me a handful of rare shoes he had and told me he had no interest in selling. To add to that, I had no offers for months."
The next week, the pair popped up for sale at Flight Club, the New York City resale shop that jump-started sneaker reselling in the 2000s. The buyer from England had acquired the Yeezys for less than $25,000; they promptly went up for sale at Flight Club for $130,000. The shoes sat at Flight Club for almost a year before being withdrawn by their seller in August 2018.
By the time the sneakers were offered for sale at Sotheby's in 2021, they'd changed owners again. Sotheby's sold the Grammy Nike Air Yeezy 1 sample on behalf of Ryan Chang, a New York-based power seller who's been described by auction houses as a "renowned sneaker collector" and "one of the most prolific sneaker collectors in the world." Chang said last year that he bought the Grammy Yeezys from a private collector and held onto them for three or four years before bringing them to Sotheby's.
Renowned though he may be by people who work hard on behalf of companies battling to set the highest possible sale prices for rare shoes, Chang is little known in the wider sneaker world and is seldom mentioned outside of auction house press releases. He has, through third parties, declined my requests for interviews and comments around his sales for three years.
Chang talked about his sneaker history in a 2022 episode of the Smart Humans podcast, saying that he started collecting sneakers around 2010 and never really wore the limited-edition shoes he accrued. He has about 65 pairs total and started to sell them three or four years ago.
Chang's main gig, he said, is a tutoring business he started out of college. He is the founder of Applied Arts, which Sotheby's says is "a media company that celebrates sneakers as fine-art objects," but doesn't have much of an imprint beyond this Instagram account.
One auction house says that Chang has both bought and sold sneakers for over $1 million. Chang listed a different, less unique pair of Nike Air Yeezy 1 samples for sale at Sotheby's in July 2020 that sold for $17,500. Earlier that year, Sotheby's said, he sold a pair of the "Paris" SB Dunks on StockX for $51,950 and set what was then a record for the biggest-ever sale on the platform.
Given his history of selling increasingly expensive sneakers, Chang is understandably confident about the future of the market. Plus, few could have predicted the self-destruction of Ye.
"My best comparison is that sneakers are like really aggressive bonds on steroids," said Chang on Smart Humans in 2022. "They tend to just go up—the right ones, and it's not too hard to figure out which ones are the right ones these days—about 25 percent a year, and they just don't go down."
The sharp fall-off in price for the Grammy Yeezys hasn't slowed Chang, who this week listed a super-rare set of sample Nike SB Dunk Highs that were produced for Supreme in 2003 but never released. The scrapped Supreme x Nike SB Dunk Highs are on offer from Joopiter, the digital-first auction house founded by Pharrell Williams last year. Their sale is being facilitated by Caitlin Donovan, who is the head of global sales at Joopiter.
Donovan previously worked at Christie's and led its short-lived Department X, where the ill-fated Yeezy Grammy samples were to be sold in 2022. She declined to discuss the sale of the Grammy Yeezys in the wake of their low price at Goldin, but did say she does not see that event as indicative of the overall strength of the sneaker market.
Jordan Geller, a collector who had a whole museum dedicated to sneakers and set records of his own through Sotheby sales, is also doubtful that the Goldin Yeezy auction means sneakers in general are down.
"I think the price they went for is more of a reflection of what Kanye said than it is about the sneaker/collectible market as a whole," Geller explains.
Ye's Grammy samples are not the only collectible sneakers to go on discount recently, though. A Michael Jordan-worn pair of Nike Air Ships sold at Goldin this month for a post-premium price of $624,000 after fetching $1.5 million at Sotheby's in October 2021. Geller thinks the Goldin price was a steal.
The sneaker resale market looks more stable many tiers below the one occupied by record-setting shoes like those worn by Jordan and Ye. The resale platform StockX has seen relatively flat value across sneaker trades above the $3,000 mark since 2020. There may not be as much energy around collectibles now as there was in the pandemic-charged environment of a few years ago, but people are still very much willing to spend huge amounts of money on hard-to-find sneakers.
It could be a number of years before they are willing to spend the same amounts of money on the most collectible Yeezys. Ye's shoes still sell well at retail—Adidas released its leftover stock in waves this year—but the auction houses aren't likely to want to be involved without some sincere act of contrition from him. The $180,000 precedent set by the sale of the Grammy Yeezys this month and the literal decimation of their worth make any big investment in his sneakers potentially hazardous.
Could they go even lower? Ashby, who owned the Grammy Yeezys from 2015 to 2017, doesn't see a world in which the shoes' value will shoot back up. Prices, Ashby says, have come back to reality post-pandemic. He believes that if the latest buyer of the Yeezys purchased them as an investment, they overpaid at $180,000.
"I think, after what Kanye did to his name and brand over the last year, that it's still too high," Ashby says.