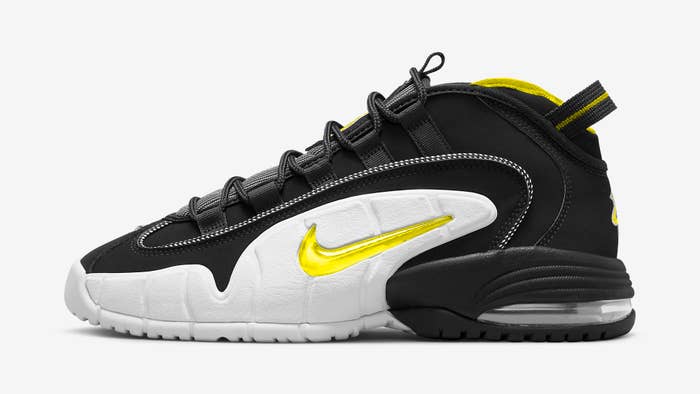 Nike will continue its retro treatment of the Air Max Penny 1 this year with a black and yellow pair that's inspired by Penny Hardaway's middle school alma mater, a sneaker industry source tells Complex. The Lester Middle School-themed Penny 1 (style code FN6884-100) is scheduled to be released in the brand's Fall 2023 collection for $180, per the source.
The image shown here is a mockup of the sneakers based on an internal Nike presentation on the shoe and not an actual photo of the finished product.
In addition to playing there, Hardaway coached at Lester Middle in the 2010s. While this upcoming retro draws inspiration from the school's colors, it will not be an actual collaboration with the school.
In response to a request for comment, a Nike spokesperson said that the shoe will just be referred to as an Air Max Penny. The sneaker will not officially be called the "Lester" Air Max Penny 1.
The Penny 1 originally released in 1995 as Hardaway's first signature shoe with Nike. The model was designed by Eric Avar, a longtime Nike footwear designer who later worked on Kobe Bryant's signature line of Nike basketball sneakers. The Penny 1 first returned as a retro in 2000. 
The upcoming black and yellow Penny 1 was at one point slated to arrive in August, but it could release later. Many sneaker release dates have shifted before their launch in recent years on account of global supply chain issues.
The Lester Middle School-inspired Penny 1 will be available in sizes 6 to 15.
UPDATE (05/19): Confirming our initial report and the associated mock-up, official images of the forthcoming (and unofficially nicknamed) "Lester Middle School" Nike Air Max Penny 1 have surfaced via Nike. As of now, the shoe is expected to release in the coming months, but an official date has not yet been announced.