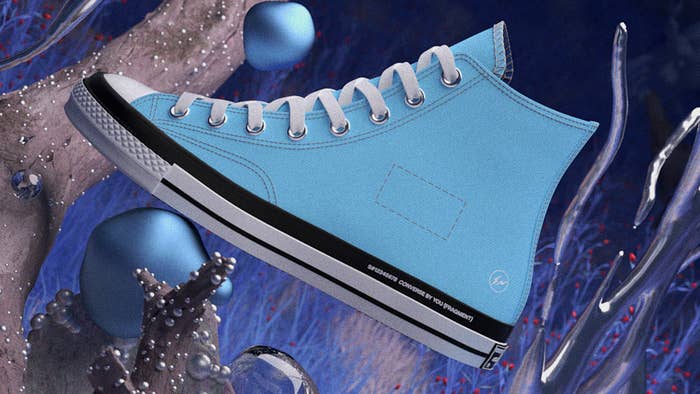 Japanese streetwear icon and longtime Converse collaborator Hiroshi Fujiwara is expanding his footwear catalog this week through the sneaker brand's By You program, where shoppers can design their own customs. Starting this Thursday at 10 a.m. ET, Converse By You will offer a custom version of the Chuck 70 in collaboration with Fujiwara's brand Fragment.
Fujiwara can't pinpoint when he first saw a pair of Converse growing up in Japan, but he's been aware of them for decades.
"I don't remember exactly, but the first time I acknowledged Converse shoes must be in the '70s," Fujiwara said in a brief email interview. "I don't recall who was wearing it at the time, and back then it was not really about 'who was wearing the sneaker.' I feel it was more so the cultural movement to wear Converse."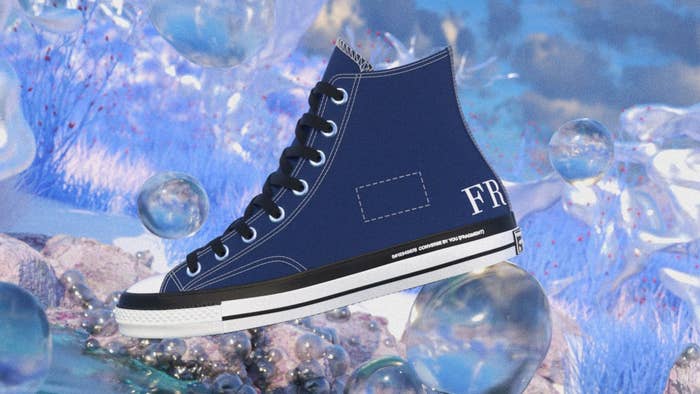 Design options for his Converse By You program include the Fragment lightning bolt logo, houndstooth prints, six different colorways, and two different Chuck Taylor patches. Converse says that the Fragment options on the custom program reference the streetwear label's previous work Converse, which stretches back to 2007. According to Fujiwara, there is no deep meaning or inspiration behind the colors and prints.
"The palettes were put together based on what I liked at the time of designing," Fujiwara said. "The colors and the patterns I thought would look good on the Converse Chuck 70."
The custom Converse are something of a departure for Fragment and Fujiwara, whose names are usually associated with limited edition sneakers that require a decent amount of effort to procure. The Fragment x Air Jordan 1, for example, sold out immediately upon its release in 2014 and now fetches over $3,000 on resale markets. By contrast, the Converse sneakers will be available for anyone to design themselves for a full week.
According to Fujiwara, the scarcity of his work is not something he's orchestrated himself. It's difficult to imagine that the godfather of Japanese streetwear hasn't played a large part in keeping his sneakers rare, but he insists that's not the goal.
"The fact is that I have never decided on the quantity or how the products should be distributed in any of my past projects," Fujiwara said, "and I have never intended to deliver 'limited collectible products.'"