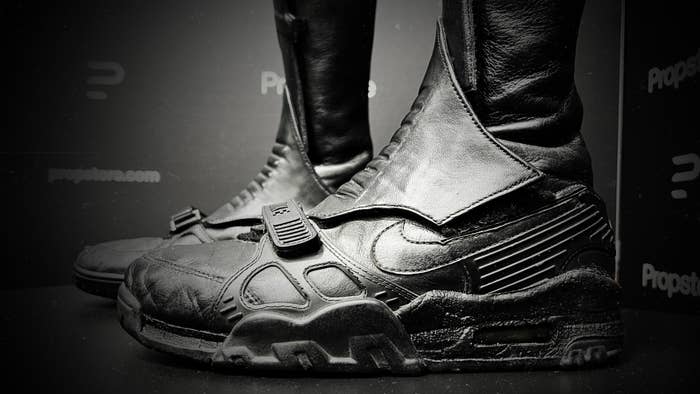 Why did Batman wear Nikes? Did the Air Sole technology in his shoes allow Michael Keaton's version of that character to soar more nimbly through the Gotham night? When he arrived in 1989 onscreen in Batman and returned in 1992, why did that Bruce Wayne don Swoosh footwear? It depends on who you ask.
Graham Churchyard, assistant costume designer on the 1989 Batman, remembers that wily producer Jon Peters arranged to have the sneakers appear in the movie. 
"He wanted all the background, all the actors to be wearing Nike sneakers," Churchyard says. "And we said, 'Jon, it doesn't fit with our 1940s wingtips and double-breasted suits and fedoras and the trenchcoats and all of that.' It didn't fit in with that Gotham City."
But Peters needed Nikes in the movie, according to Churchyard, in order to satisfy a product deal he'd struck. So rather than dress the entire fictional world in sneakers, the costumers settled on outfitting the leading (Bat) man with a pair.
Bob Ringwood, the lead costume designer on the same movie, remembers the Batman sneakers as a welcome product subsidy from Nike. His recollection, which is hazy by his own admission, does not include Peters or any official deal between Nike and Warner Bros. He was just happy to accept the shoes given the meager budget he had to work with.
"They didn't want any commercial tie-in at all. They just agreed to do it," Ringwood says. "And they made all the Batboots for free."
For Batman, Nike made custom versions of its Air Trainer 3 sneaker, and for Batman Returns, a similar style based on the Air Jordan 6. The shoes extend up the hero's calves with thick greaves. They feature early in the first movie, opposite a criminal's suspended creepers, during a walloping that culminates in Batman disappearing off a rooftop.
As with every special sneaker, no matter its rarity, both have circulated among collectors. Los Angeles–based memorabilia company Propstore is auctioning off a pair of Batman's Air Trainer 3s, its estimate for the lot set between $20,000 and $30,000. More than just fodder for comic book obsessives, the Nike sneakers are artifacts that represent how the brand became enmeshed with Hollywood and how that contributed to its visibility in pop culture.
Tinker Hatfield, the celebrated Nike designer who made the sneakers, still has his personal pair. He watches its slow decay in his studio, foam chunks crumbling off like pebbles shed by a neglected ruin. In addition to creating a good number of Nike's most important sneakers in the '80s and '90s, Hatfield was occasionally pulled into the company's efforts to make sneakers for movies.
His most famous cinematic shoe is the Nike Mag, the auto-lacing wonder pair worn by Marty McFly in Back to the Future Part II. The Batman shoes do not feature as prominently as the Mags and are nowhere near them in terms of cultural weight. Their creation was simpler. Both Batman pairs were based on existing Hatfield designs that merely needed to be modified. This sped up the timeline, which was crucial for Ringwood, who'd joined the production of Batman late, replacing another costumer. A significant portion of the movie's budget had already been spent. He says his total allowance for costumes was just $45,000—at that point, he was calling in favors and getting tailors to work for free.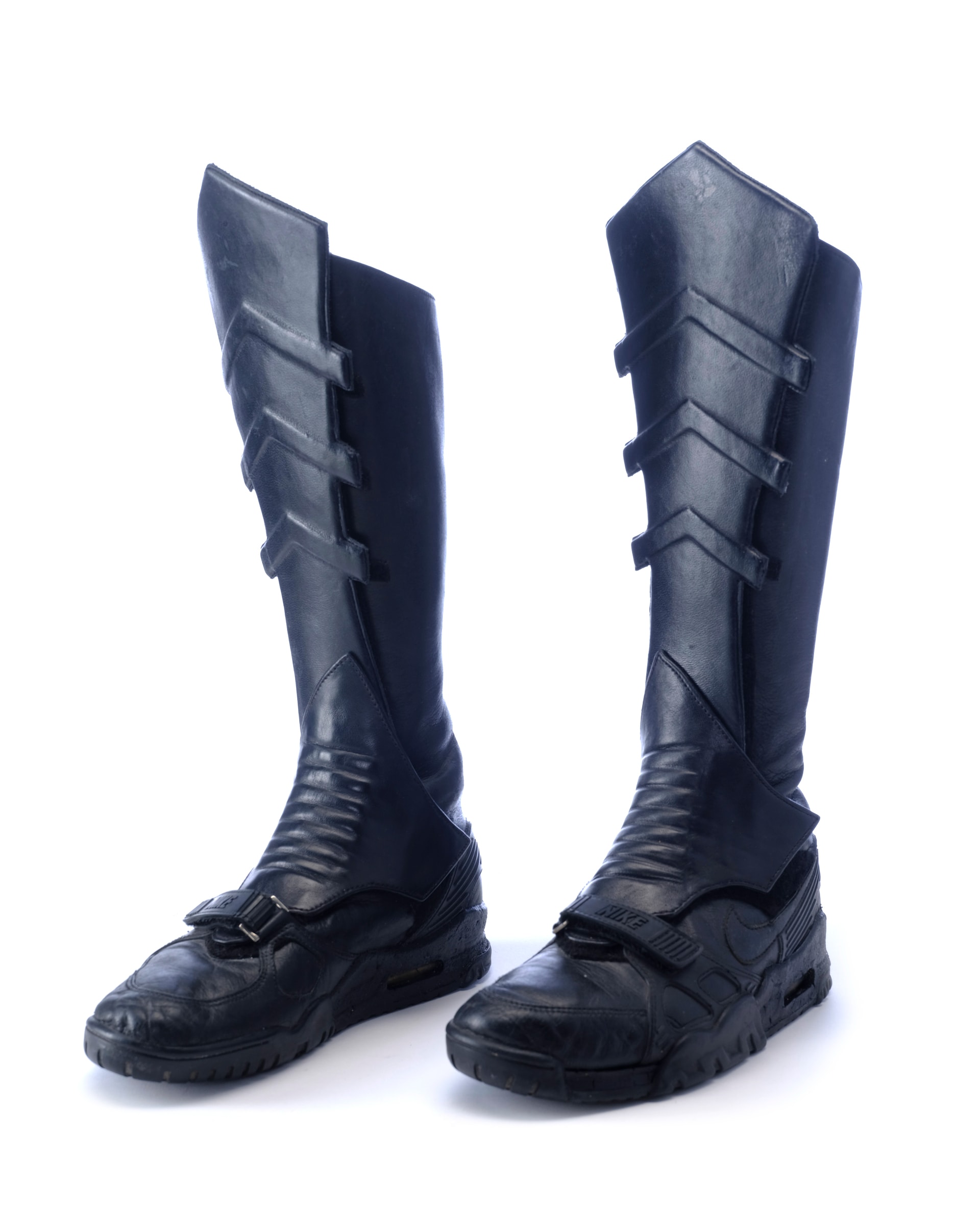 The costume designer managed to phone Nike's headquarters from the UK after seeing a pair of its bold, muscular trainers gleaming in a sportswear shop window. The entertainment marketing department introduced him to Hatfield, who was aligned on the vision of creating a Batsuit that was newly muscular and athletic. Best of all, Nike didn't want anything in return.
"They offered to do it for free," Ringwood says, "and, of course, it was a great bonus because we desperately needed the money elsewhere on the movie."
Ringwood faxed sketches of the suit over so the Nike designer would have a reference for how Batman should look. He connected Hatfield with Keaton, setting up a meeting at the actor's house in Los Angeles.
"That's when we had this substantive conversation about this vision for Batman," Hatfield says of the visit. "He was also speaking for Tim Burton, because Tim Burton was not in the meeting at that time. He said that Tim wants to bring modernity and athleticism to the Batman character."
Hatfield felt that the sneakers could be functional. They may not have generated more force for Keaton as he kicked down a door or mashed the Batmobile's pedal to the floor, but real people were using them.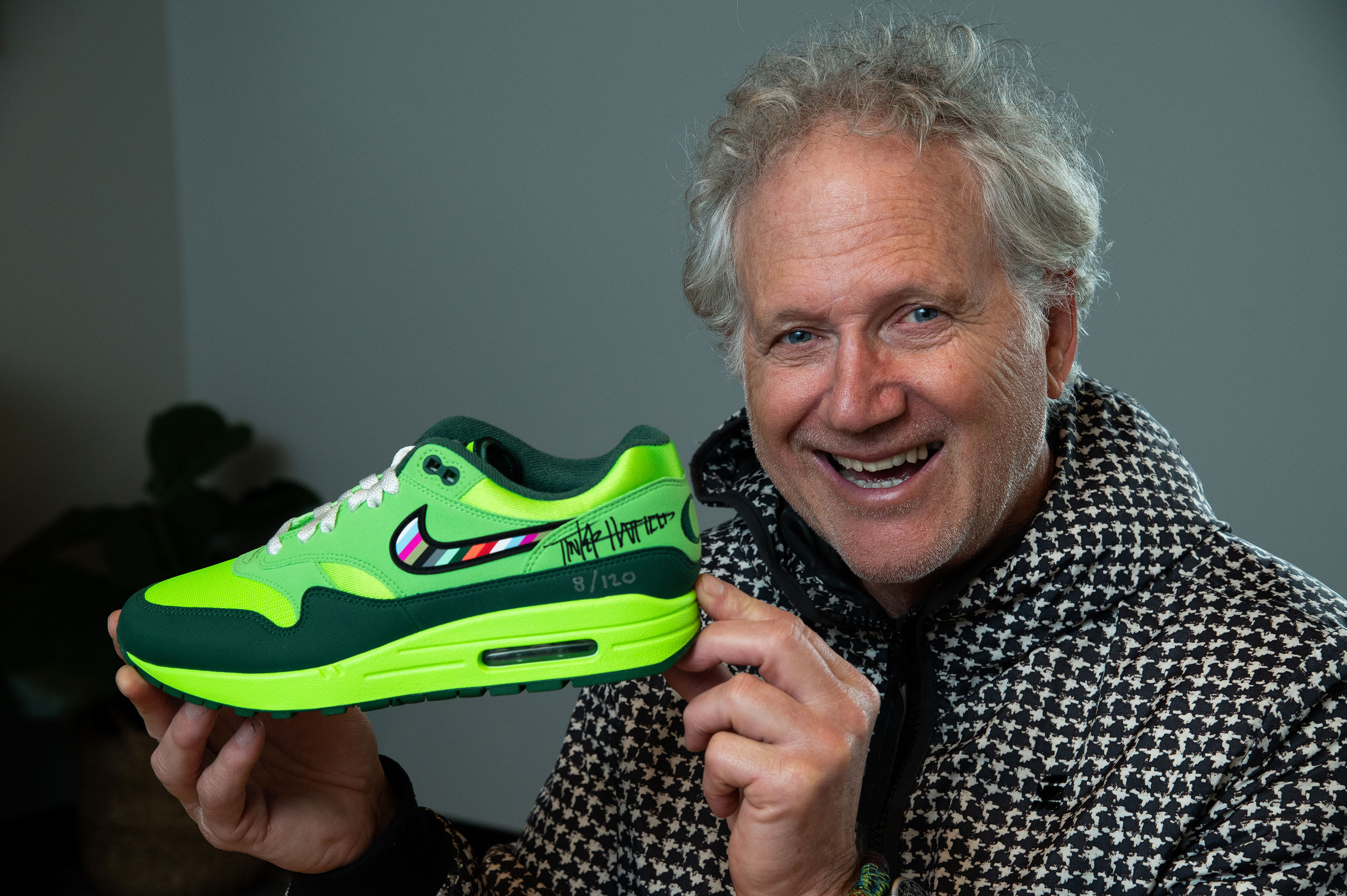 "They were really speaking my language about being edgy and athletic, and actually being able to perform stunts in the very product," Hatfield says. "In other words, it wasn't just a prop. It was also a performance shoe because Michael Keaton had to—and his stunt doubles had to—really do a fair amount of stuff in that actual product."
The designer returned to Oregon after his Hollywood research trip and got to work on the shoes. Maybe the geography helped, with Oregon's gloom being not so unlike Gotham's. Batman's sneakers were made at a Nike model shop in Portland, which meant they wouldn't lose weeks shipping them back and forth from Asia. About eight pairs were made in total for the first movie—some for Keaton and some for his stunt doubles.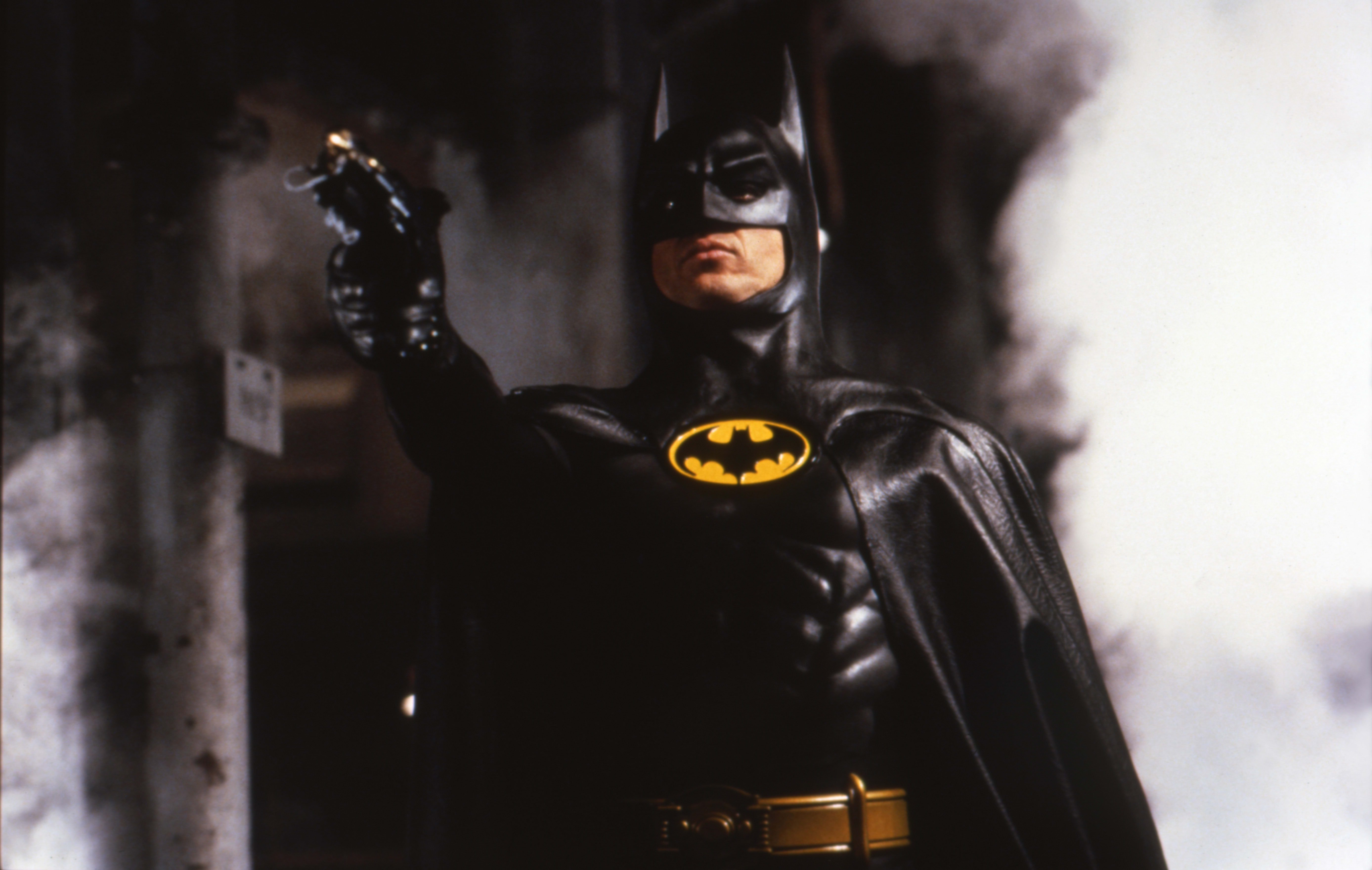 "I had all the drawings, and they just basically created molds and poured urethane parts, and then were able to take an existing shoe that I had selected," Hatfield says, "and make it in all black and then put the extension, the knee-boot extension, on top."
The Nike shoes that appeared in both Batman and Batman Returns are all black, although there's a version of the Trainer 3 for the first movie floating around that has a sharp yellow Swoosh on it. Hatfield remembers painting the logo but doesn't know who from the production vetoed it. That level of branding—a crisp, fluorescent tick in dreary Gotham—was maybe too conspicuous a rupture in the world Burton built. (However, in Batman, a thief does celebrate snatching an American Express card, so clearly the universe was not too sacred for commercial interruption.)
When Hatfield finished altering the Air Trainer 3, he visited Keaton again for a fitting. Future Nike CEO Mark Parker, an ally who's brought many Hatfield projects to fruition, was there when he delivered the shoes. Years later, the two of them watched from behind the scenes during the filming of a few scenes for Batman Returns, Hatfield says.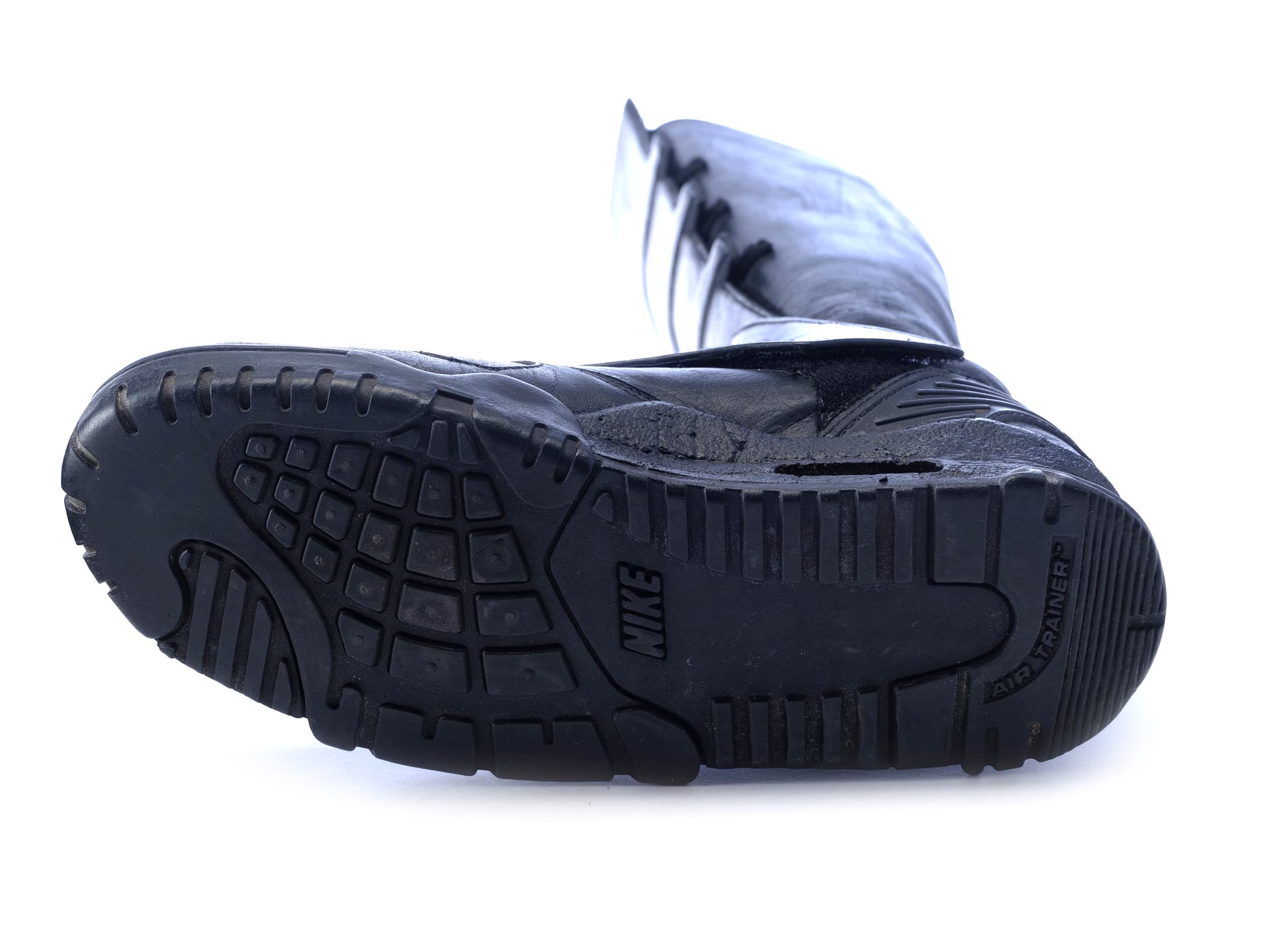 Better than any sneaker designer, Hatfield has the ability to endow his work with a magic that exists deep in the wearer's psyche as much as it does on their feet. His resume made him the right designer to bring Nike to Hollywood, but his connections made him a recurring character there.
Churchyard, the assistant costume designer, introduced him to Joanna Johnston, the costume designer on Back to the Future Part II, around the same time Hatfield was working on Batman. Pam McConnell, an entertainment marketing executive at Nike, was close with producers Kathleen Kennedy and Frank Marshall, who co-founded Amblin Entertainment with Steven Spielberg. In the 90s, Hatfield made a pair of dinosaur shoes for Spielberg's Jurassic Park that were never used in the movie. He met the alien E.T. at Stan Winston's creature workshop. He contributed to Jodie Foster's footwear in Contact, reuniting in 1997 with Back to the Future director Robert Zemeckis.
Through those projects, Hatfield remained agnostic, happily ignorant of any business dealings that went into Nike crossover moments. It's possible his and Nike's work on the Batman movies wasn't overt enough to constitute a legitimate product placement deal, but they brought the sneaker maker closer to a powerful film studio. Their work for Batman earned the company some loyalty on future Batman movies, at least according to its costume designer.
"Warner Bros. tried to do a tie-in with Reebok, and we had a meeting, I think it was [Batman Forever]," remembers Ringwood. "We had a meeting and I said that it was wrong to dump Nike when they'd been so kind making all those things all those years."
So appreciative was Ringwood that he sent Hatfield back a pair of the Batman Air Trainer 3s signed by Keaton, along with a cowl used in the 1989 movie. It's a tortured garment, worn by Batman as he emerges from the rubble of a Batwing crash after Jack Nicholson's Joker shoots him out of the air. More affecting than the manufactured wear, though, is the natural creep of time.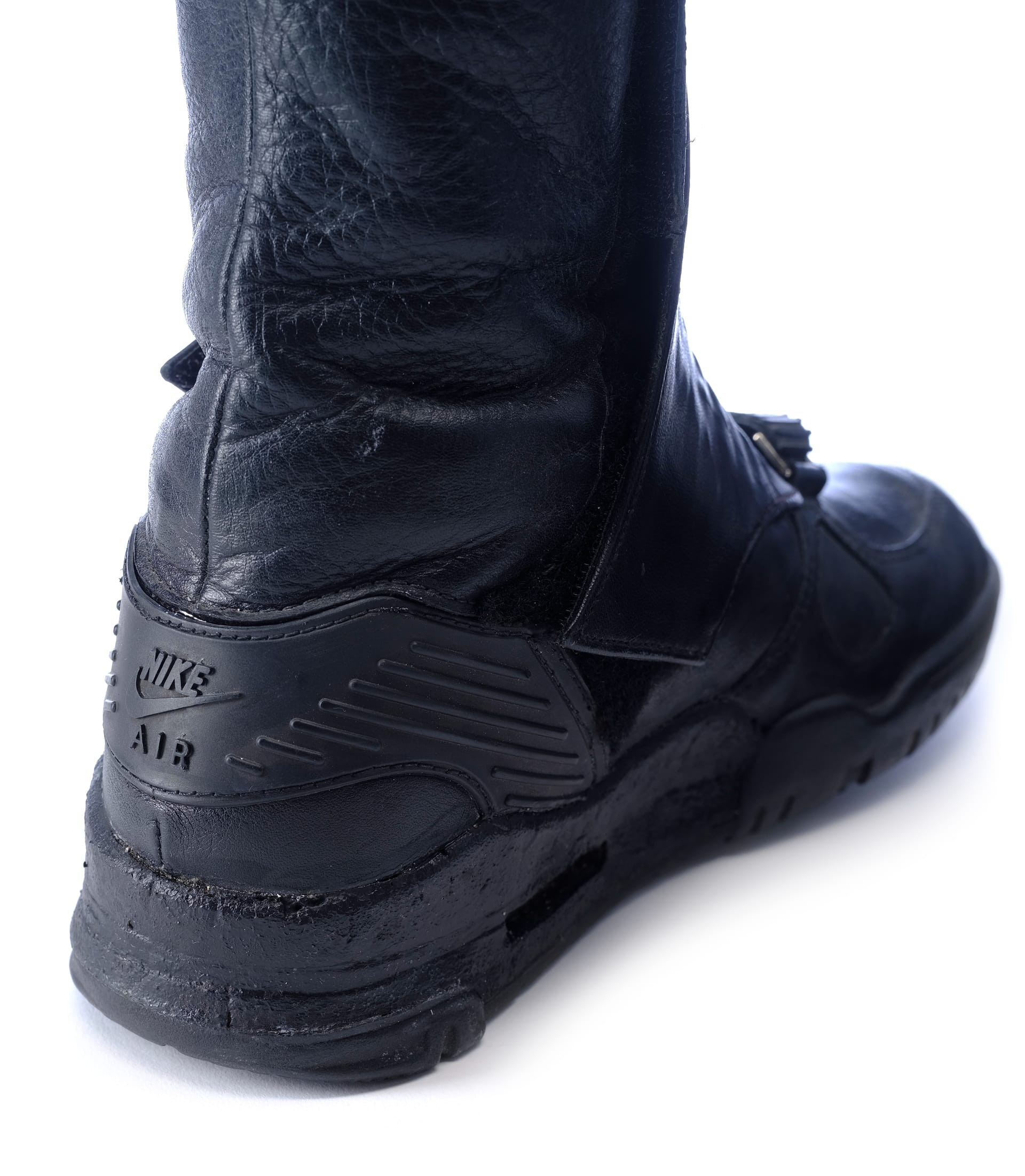 The Batman shoes in his office continue to dry out and degrade, their open-cell urethane foam withering in the decades since their use in the movie. Is it better to reconstruct fading, historically meaningful pieces like this pair or let them succumb?
"It's a difficult decision," Hatfield says. "I don't know what the answer is."
This is a question collectors ponder, but Hatfield is careful to note that he does not consider himself a collector. His wife will hide shoes from him to better keep them safe. Yes, he has an incredibly important collection of sneakers, but doesn't maintain them in any careful way—there are shoes spilling out of cupboards and random crannies in his home.
People who've pursued the rare Batman shoes through years have sought to restore them. The pair being auctioned by Propstore was refurbished to combat cracking in the midsoles, and the shin-length armor plate is a recreation of the original. For Faisal Al-Saud, a collector based in Saudi Arabia who owns a pair of the Air Jordan 6s made for Batman Returns, bringing the sneakers back to life was a years-long affair that demanded a private investigator.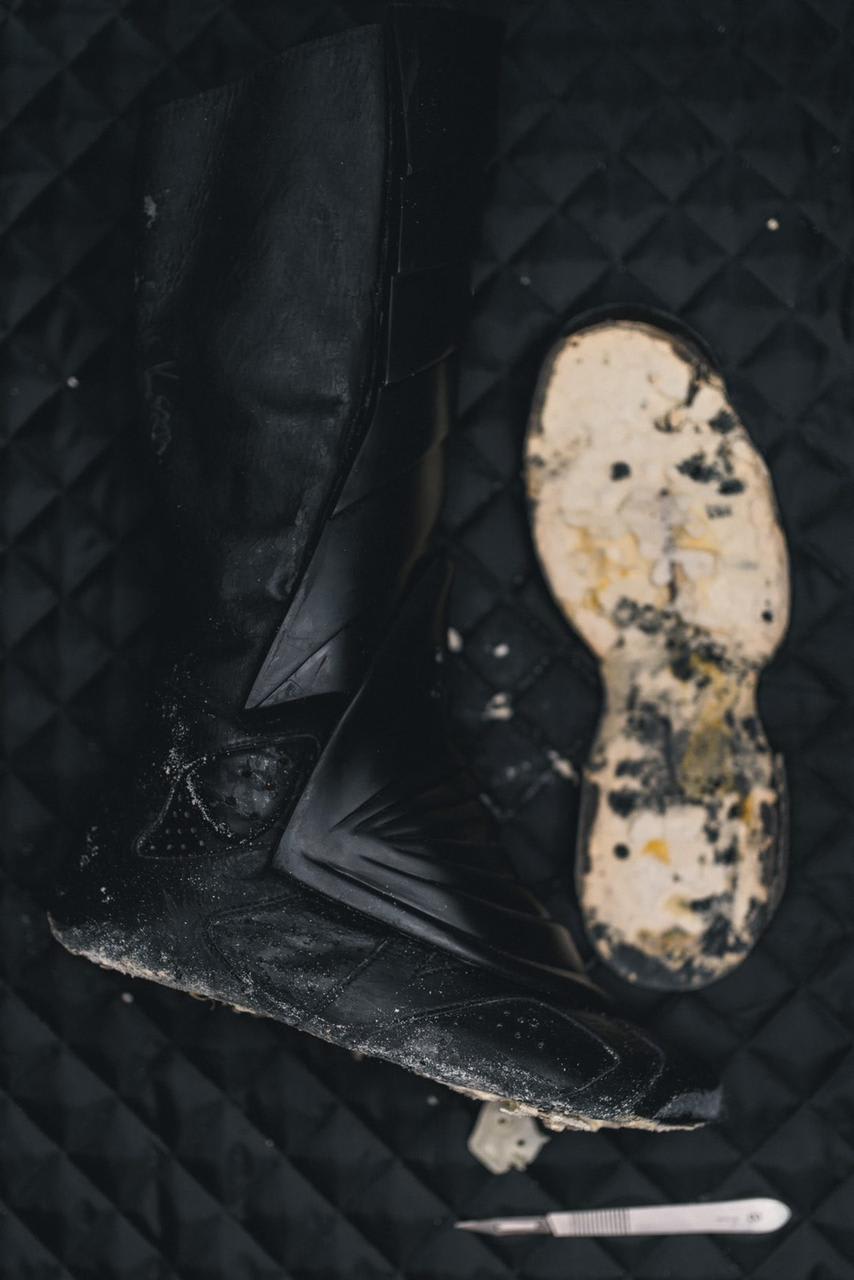 He bought his pair on eBay in late 2014 for around $7,500. The price looks low now—interest in sneaker collectibles has gone way up in the last decade, and the Batman Jordans are more sought after than the Air Trainer 3s. Al-Saud missed out on the auction, so he scooped the shoes from the seller by messaging them afterward with an offer higher than the final price. He only held onto the sneakers for a few days before sending them back out, and it wasn't until 2021 that he had the Batman Returns sneakers in his possession for good.
As is common with sneakers from the late '80s that have survived into the 21st century, his were crumbling. The eBay seller suggested he send them off to someone in the UK who could build back the sole and the armor pieces. Al-Saud agreed, put them in the post, and didn't see them for seven years. The person meant to restore them became unresponsive and appeared to have absconded with the sneakers.
"I had to hire an entire investigation team to track him down and reclaim them," Al-Saud says, explaining that this part cost him an extra £2,000. "But it was absolutely worth it."
He watched on FaceTime as the investigators, eight of them in total, confronted the would-be Batman sneaker thief outside his home.
"He knew exactly why they were there," Al-Saud says. (How Batman himself would appraise this exacting of justice is unclear, but the episode is fitting for a pair of shoes born of comic book lore.) From there, Al-Saud had to pay another person to actually finish the job of fixing the sneakers' cosmetic flaws.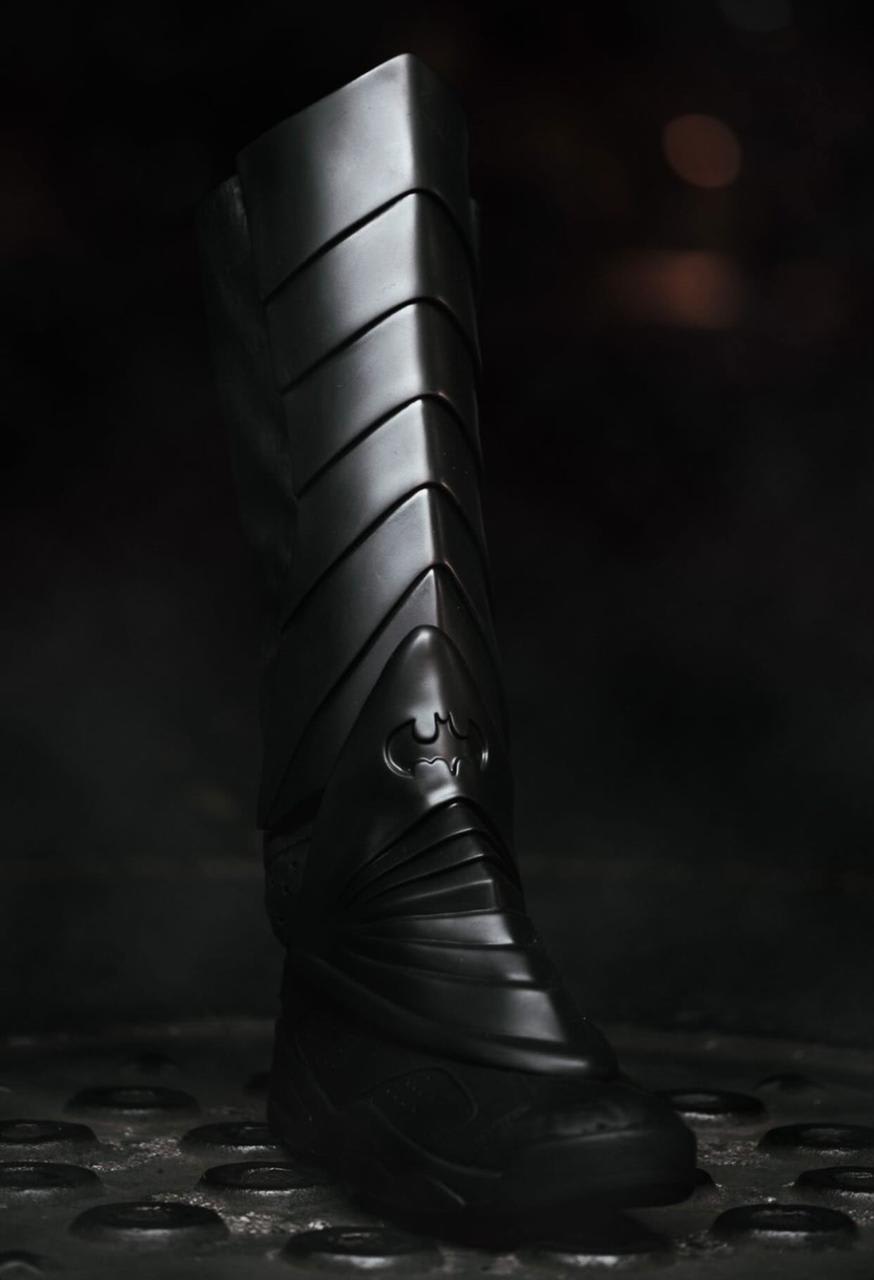 His decision to have them rebuilt was met with some blowback. When Gifted Kicks, the restorer that took on the Air Jordan 6 boot in its final stages, posted the shoes to Instagram, many commenters wondered why Al-Saud hadn't just left them in their original state.
"Apparently the entire sneaker community hates the fact I restored them," he jokes.
In the physical sense, the Batman Nike sneakers are beginning to fail the test of time. The pairs held privately, like Hatfield's, and those traded across global resale markets are fading. But the history behind the shoes holds up.
They helped transform Keaton, a slim man of average height whose physical stature didn't quite channel the gravitas of Batman, into a superhero. Before the machine of intellectual property for comic book characters really emerged, the designs established what Batman looked like to people who'd never read the comics. The Batman Air Trainer 3 and Air Jordan 6 show how Hatfield and Nike navigated Hollywood early on, advancing the brand's clout in an industry that dictates much of mainstream culture.
More than a set of props, more than pieces of a costume, the shoes are a node in a network. They linked a young Nike, a brand that understood how to harness the power of image better than most, with the grandest version of image making there is.