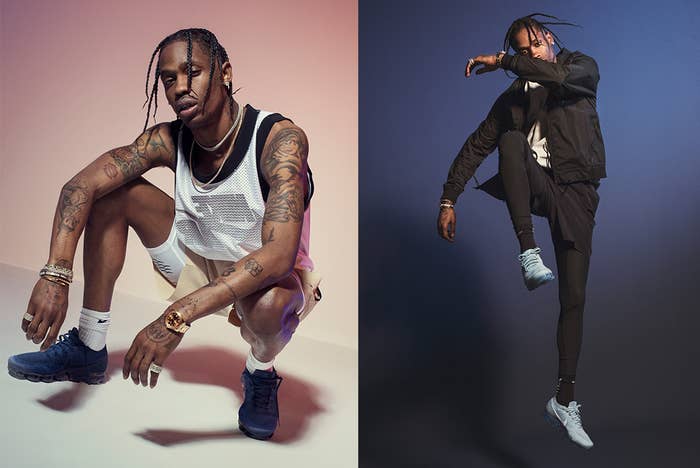 Tapped as the face of the latest Air VaporMax campaign, rapper Travis Scott is now part of the Nike family. These days, he's tagging his photos with the phrase "Nike Boyz" and even took a shot at rival company Adidas on Instagram last night.
In a video posted to his IG Stories, Travis showed off a stack of Air Jordan 1 boxes, before going into a pro-Nike mini-rant.
"You [expletive] ain't Nike Boyz. You [expletive] ain't Jordan Boyz. You [expletive] closets is weak. You [expletive] still in them weak ass 3-Stripes," said Scott. Jordan Brand's Reggie Saunders and Frank Cooker were briefly spotted in an earlier video on Scott's timeline.
Now, the question we're left with is how seriously we can take Scott's anti-Adidas stance? He's been a supporter of the brand's products in recent years and was a performer at James Harden's sneaker launch last October. Additionally, his recently released music video for "Way Back" is essentially a commercial for Harden and Adidas.
There's also some personal conflict here, considering he's an extended member of Kanye West's G.O.O.D. Music family and his girlfriend Kylie Jenner is the sister of Adidas' newest signee, Kendall.
Not to say there's anything wrong with being pro-Nike—Scott has always kept rare and limited Swoosh kicks in his rotation, but the anti-Adidas sentiment comes across as phony considering that he waited until Nike cut the check to truly stand behind it. Also, Nike replicating Adidas' marketing formula is a large part of the reason he's featured in those VaporMax ads.
As the landscape of celebrity footwear endorsements continues to change, expect to see more shots fired between rappers shilling for different brands. And even if they are a bit hypocritical at times, they're no different from just about anybody who's ever endorsed a product in any industry.