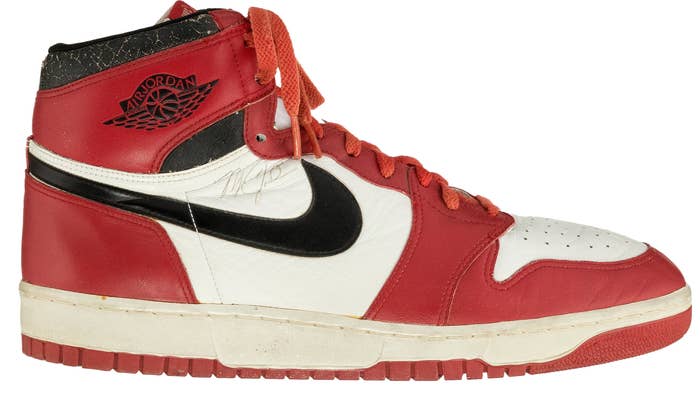 Another rare pair of Air Jordans game-worn by a young Michael Jordan has hit the auction block.
These "Chicago" Air Jordan 1s listed by Heritage Auctions are definitively photo-matched to a game against the Milwaukee Bucks on April 1, 1986. That date is significant because it's after Michael Jordan returned from the broken left foot he suffered earlier in the season. In part, experts were able to match this pair to that exact game by noticing a production defect—a missing third eyelet on the medial side of the right shoe, which resulted in Jordan skipping that same eyelet on the lateral side when he laced up.
More importantly, these Air Jordan 1s are tooled with the midsole and outsole you'll recognize from the Nike Dunk, rather than the standard Air Jordan 1 sole. When Jordan was recovering from his injury, Nike experimented with several different variations of the model to help him heal, including a pair locked in with a strap, another with an Air Jordan 2 sole that eventually released, and this Dunk-finished version.
Bidding for this pair currently sits at $310,000, but Heritage estimates its value at $1,000,000. In 2021, Jordan's game-worn Nike Air Ships from his rookie season sold for an auction record $1.47 million.