In celebration of Nike x Foot Locker's ongoing "Discover Your Air" platform, which pays homage to the Air Max and '90s hip-hop music, we present a two-part series highlighting the impact of both brands over the years. This is part 2 of 2.  
Air Max has been Nike's premier cushioning system for as long as most sneakerheads can remember. As most things at Nike did and still do, Air Max started as an innovation for athletes. The brand introduced Air to their shoes with 1979's Tailwind, and by 1987 the Air bag was too big for the midsole to contain it. Inspired by the Centre Georges Pompidou in Paris, Tinker Hatfield designed the original Air Max, leaving nothing hidden. Visible Air spread to Michael Jordan's Air Jordans and to Bo Jackson's Air Trainers, and that bubble became as symbolic of Nike as the Swoosh.
In the '90s, as sneakerheads lined up to cop their favorite colorways, stores like Foot Locker became a breeding ground for sneaker aficionados.
By the late '90s, Air Max didn't have much left to prove. After a series of revolutionary shoes like the Air Max 95, the Air Max 97, and the Air Max Plus (later retroed as the Air Max TN), Air Max had settled in as a cushy option for retro fiends and those looking for the plushest kicks they could find. A little more than a decade in, it was about nostalgia as much as it was about technological advancement. An entire generation of Nikeheads had grown up with Air Max, so it meant something more. Someone like Eminem, who'd become enamored with Air upon seeing Eazy-E in a pair of Air Jordan IIIs on the Eazy-Duz-It 12" cover, could now turn to the likes of the Air Max Wright and the Air Max LTD—retro-ish shoes designed not for sport, but for style.
It was this lifestyle component that helped fuel the popularity of the Air Max early on. In the '90s, as sneakerheads lined up to cop their favorite colorways, stores like Foot Locker became a breeding ground for sneaker aficionados. With each new drop or re-up of their favorite pair of Air Max, kids who loved kicks had a place to not only buy the shoes they wanted but talk about them with people who were just as fanatical about sneakers as they were. In essence, Foot Locker provided a foundation for the sneaker community to flourish and that relationship remains intact to this day.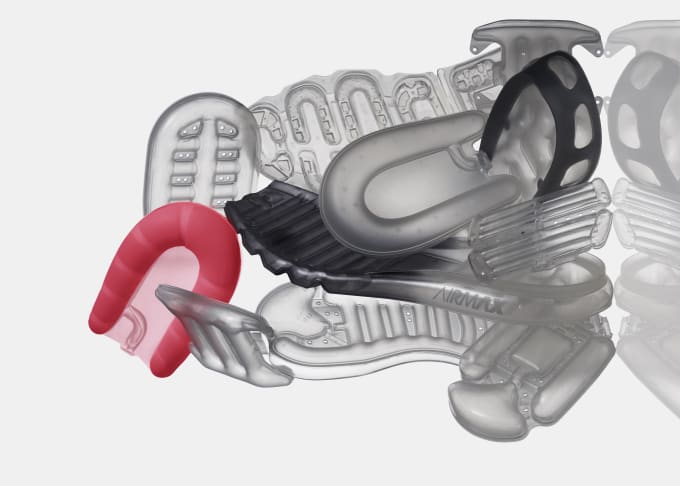 Just last month, Foot Locker launched the "Discover Your Air" campaign, which highlights two new Nike Air collections. The NIKE Air Origins pack and the Nike Air Frequency pack both feature sick retro-styled colorways of the Air Max Plus, Air Max 97, and Air Max 95. They're available now across the Foot Locker family of brands both in stores and online. 
In addition to its continued style influence, Air Max is still a pinnacle technology in the footwear space. Vapormax combined the pure Air cushioning of 360 Air with the near flexibility of Free, while the Air Max 270 and the upcoming Air Max 720 increased the volume of their Air bags to near cartoonish proportions. Meanwhile, pure retros of classics like the Air Max 95 and Air Max Plus share shelf space with hybrids that mix vintage uppers with Vapormax soles—combining the best of the past with the best of the present.
Today, Air Max has champions at all levels, from artists like Skepta who grew up on it and now puts his name on limited-edition hybrids, to retailers like Foot Locker who played a huge role in the initial success of Air Max and have released exclusive models and colorways ever since. When Nike first introduced Air Max back in 1987, they called it a revolution. Well, the revolution is over. And everyone knows who won.
The NIKE Air Origins and Nike Air Frequency packs are available now at Foot Locker.