The NBA Finals are now in full swing and that means we're going to have a lot of debate about whether LeBron James can win the series on his own, whether the Golden State Warriors are the greatest team ever, and we're going to probably see a lot Off-White x Nike sneakers. The latter isn't a bad thing. Virgil Abloh's collection with Nike is, in most regards, the best sneaker collaboration ever. The most ambitious and fulfilled undertaking that anyone has ever achieved in the cool-guy sneaker space. The resale values on the shoes have skyrocketed, and they've become status symbols in their own right. But does wearing Off-White actually make you cool?
The best part about Abloh's collection, other than the sneakers, was the way it was rolled out. Embracing the DIY aesthetic, he gave hand-signed pairs to his A-list friends: Beyonce, Michael Jordan, Drake, etc. It was a flex to have a pair of Off-Whites that were written on by Mr. Off-White himself. Loads of other celebrities, either pseudo or real, wanted to prove that they had a plug, too, even if Virgil didn't gift them their pairs. So they went out and bought the shoes, sometimes for sums of over $1,000. We live in a trickle down, copycapt world where this further encourages everyone that the only cool shoes to wear were any of the more than 10 ones designed by Abloh.
That's kind of boring, isn't it?
The cool thing about seeing someone in cool sneakers is that it's always unexpected. The bigger the surprise, the better. When you see someone wear something out of the blue -- ASAP Rocky wearing the Futura x Nike SB Paul Rodriguez from 2005 -- it makes you think, "Oh, snap, they're really clued into what's going on." It gives you faith in sneakers again. And at risk of sounding like an old, horrible, miserable bastard, which I probably am anyway, there was a time and place where wearing sneakers that nobody else even knew where to purchase was the highest badge of honor. It even prompted Bobbito Garcia to title his sneaker Bible "Where'd You Get Those?" in honor of the time-tested practice.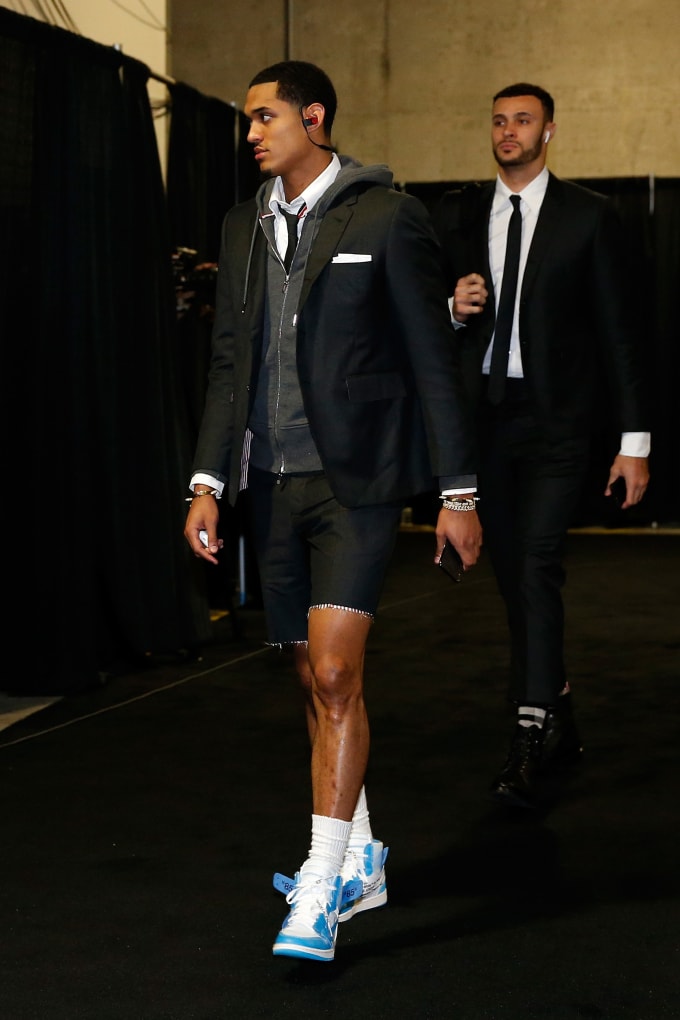 What brought me down this train of thought was watching the NBA Playoffs this year. The biggest spectacle isn't what players are going to wear on-court anymore, it's what they're going to lace up as they walk through the pregame tunnel, bag in hand, with exclusive sneakers on their feet.
I imagine there's nothing that these high-paid, high-level-of-access athletes couldn't get their hands, or feet, on. But they all have the same choice: Off-White x Nike.
It's had this weird cause and effect. Not only has it made NBA pregame a little bit boring -- come on, give us something to look forward to! -- but, like I mentioned earlier, it's made people who really aren't into sneakers go for the holy grail, the Off-White x Air Jordan 1, and think that they can buy their cool.
Listen, everyone, here's something you need to know: You can purchase instagram followers, you can't buy cool. And people can spot it from a mile away. Spending $2,000 at Flight Club doesn't make you legitimate. It just means you have $2,000 of disposable cash.
It's not just like this with Off-White. And I don't mean to pile it on, Virgil. I really think you do great work and shout out to the late, great Gary Warnett who provided background info for the initial project. But we've gotten to a place in the sneaker world where people are afraid to wear anything other than a few hyped models.
They got as such:
1. Off-White x Nike
2. Anything Kanye West x Adidas (can add Pharrell in there)
3. Air Jordan 1s
4. Throw in a few random shoes like Air Max 97s, Air Force 1s, and other limited collaborations.
And that's about it. It sucks. Those are really good shoes, but I want people to branch out and try different things, especially those with money and influence. I remember the days when you'd show up in the same sneakers as someone, and it was a disaster. Nowadays it's a laugh and an acknowledgement that everyone wears the same shit. I once saw three different people wear Black/Cement Air Jordan IIIs in the studio while shooting Full Size Run. It felt like inception.
I get it, though. In a day and age where sneaker culture is learned through the Internet rather than through real culture, these things are bound to happen. Sites only talk about a few shoes because they outperform the others in traffic. Been there, done that, admit I'm part of the problem, at least in my professional life.
I don't just want everyone to wear oddball sneakers all the time, although that would be interesting, but I want to live in a time where the really great stuff can be appreciate for being really great and not viewed as the case of, "Oh yeah, of course you're wearing those."
Go out there. Wearing something different for once. Or pass up the most hyped shoe and let a shop not crash its server on release day. Spend $120 on something that looks cool. Don't worry about what people are going to say or whether or not you're going to break Instagram that day. Do you, it might feel great for once.