Nike has unveiled their annual N7 collection, which raises awareness and helps strike down stereotypes about Native American culture and Aboriginal youth in North America. The 2018 collection launched today to coincide with National Aboriginal Day in Canada and is inspired by Canadian lacrosse player Jeremy Thompson.
Born and raised in Syracuse, New York, Thompson currently plays transition/defense with the Saskatchewan Rush. The Saskatoon-based lacrosse star is also a member of the Iroquois Onondaga Nation.
The summer 2018 N7 capsule collection for men and women includes footwear and apparel dominated by shades of indigo, inspired by the reflection of the sun setting into the water. A bold chevron print, a prominent design in Native American iconography, is featured prominently throughout the collection, particularly on the T-shirts.
Another prominent symbol appearing on 2018 N7 selections is the Standing Rock Sioux Tribe seal, which makes an appearance on the heel of the men's N7 Air Max Motion LW and Kyrie Irving's fourth signature model, the N7 Kyrie 4.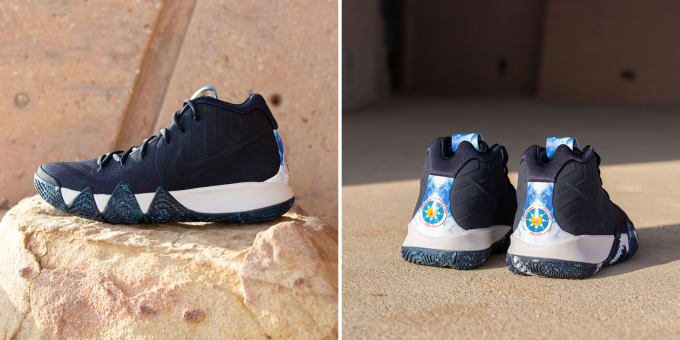 The Standing Rock Sioux Tribe's seal has special significance for Irving: The Boston Celtics point guard's late mother, Elizabeth Ann Larson, was an enrolled member of the Standing Rock Sioux nation.
"I'm proud of my personal history, so to have this opportunity to represent my family as well as the Standing Rock Sioux Tribe is an incredible honor," Irving said in a release.
The summer 2018 Nike N7 collection launches today at nike.com and at select retailers. As with each N7 drop, proceeds will go towards the N7 Fund, which helps Native American and Aboriginal youth sport programs across the country.