When the idea of a partnership comes about, it can't be forced — take it from Fabolous and Jadakiss. As legends in their own rights, the two have not only collaborated with each other as well as plenty of other artists in music, but have continued to be the faces of New York City hip-hop. While the world patiently waits on the rap duo's highly anticipated joint project, Freddy vs. Jason, the two linked up for a completely different kind of partnership: sneakers.
New Balance recently introduced its latest lifestyle silhouette, the 247. Designed with comfort, style, and an on-the-go lifestyle in mind, the two made the perfect fit for bringing the sneaker to the New York City streets.​ Much like Fab and Jada's style of hip-hop, the New Balance 247 transcends time by being contemporary while still remembering its roots.
We caught up with Fabolous (who was one of the early guests on Complex's Sneaker Shopping) and Jadakiss at the Foot Locker NYC33 space for the launch of the New Balance 247 "Luxe" Pack. Here's what they had to say about the sneaker game in 2017.
Fabolous, you're definitely more passionate about sneakers than most rappers, how deeply involved were you in the Ewing collab you did with Packer Shoes?
Fabolous: Very involved. I mean, they came to me with some ideas. I looked at the ideas, and I thought which ones would match me better, because I think that's what you want to do on a collab. You want it to embodied your style and what you stand for. Even if it's already formatted, you want those key details to connect it to you. That's really what it was. They already had a few colorways and formats, and I just put some little touches on it and went from there.
Jadakiss, last year you worked on the "A5" Question Mid with Reebok to honor the Allen Iverson commercials you were in. How involved were you in the design process?
Jadakiss: I designed the whole shoe. Then I brought friends over at Packer Shoes to help me with the finishing touches on it, so I wouldn't disappoint the hypebeasts by putting the wrong thing on it. I was going to put a Reebok Pump on there, but they told me the hypebeast dudes won't like that. I was able to remove that and just keep it good for the young generation.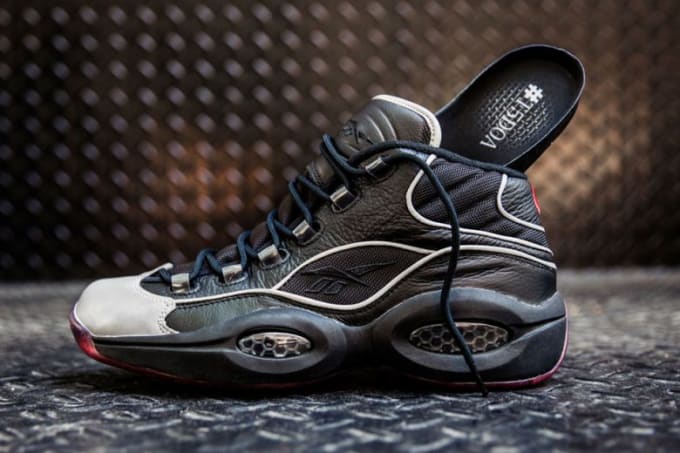 How did working on the commercials for the Reebok Answer 5 and Answer 6 originally come about?
Jadakiss: [Allen Iverson] called for me. Him, Steve Stout, Trackmasters. It started with A.I., though. He wanted me in the commercial. Him just being a fan of my work.
You two already worked on an Allen Iverson sneaker collaboration, now can we one more Jada and A.I. track?
Jadakiss: [Laughs] Whatever the future holds, we gotta leave it in God's hands baby! You know?
How did working with Villa for "Fabolous Week" come about?
Fabolous: That came about because I think they recognize the variety in my shoe collection. From New Balance to Reebok and Converse. They came to me with different themes and I thought it would be cool. Thanksgiving and Black Friday is a big shopping week and now in the later years it's become a big sneaker week, too. I thought it was a cool branding opportunity. It was some cool shoes that came out. I really loved the New Balance 999 "Boathouse Row." Some of them I didn't even take pictures in because I want to wear them without it getting connected to my name. Those I kind of just kept to myself for later, because I really love the fit and comfort of them. Everything else from the Converse to the Reeboks I wore.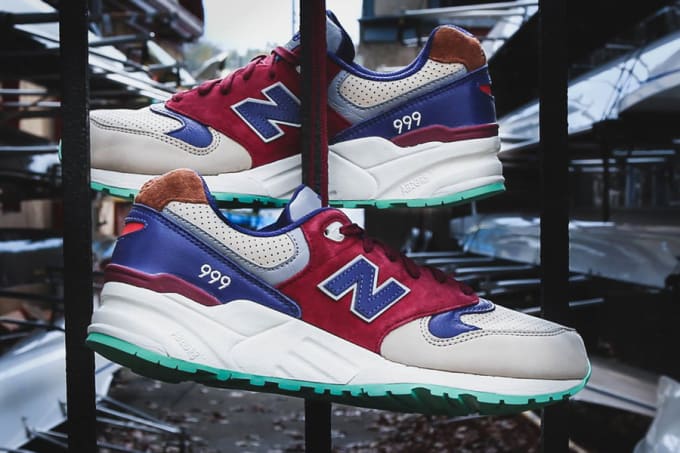 When can we expect to see another sneaker collab from each of you?
Jadakiss: I'm not sure, but it's gotta be right. It's gotta feel right, not just any shoe.
Fabolous: I don't know. Like you said, the word passionate. I try to do stuff that I'm more passionate about, more than just like being all over the place doing different sneakers. A lot of sneaker brands come to me, not even just designers. They come to me with ideas trying to push different things, and I want it to be stuff that I feel is organic. I don't want to attach myself to everything. Even though I am in the sneaker world, I am very diverse. I like different shoes with different themes for different reasons. Sometimes some people are pretty straight down the line: they'll only wear Jordans or New Balance or Adidas. If you look at my closet, there's all kinds of shoes, but at the same time I don't want to spread myself thin as far as designs and collabs. I try to just space in between the stuff I feel passionate about, so it's hard to say when. Sometimes they're fast, like this New Balance relationship. They had a shoe that they were releasing, the 247, and we have a project that we're working on so we came together on that.
Other rappers like Nas and Fat Joe have gotten into the sneaker business with stores of their own, is that something you eventually want to do?
Fabolous: I don't know, man. I definitely like sneakers and shopping at sneakers stores. Maybe it's something that could be in the future. Again, the keyword is passionate, so I would want to be involved and hands-on. Everything that I do, I try to put myself into it. With a sneaker store, I would turn myself into the shopper and figure out everything that would be cool to me when I walk into that store. I think it could happen, but I don't have it on my radar yet.
Jadakiss: Yeah, it would have to be right, though. Sneaker stores are very hard to build a brand and the clientele. It's hard to get an account where you can get all the sneakers. It's a lot of things that play into having a good sneaker store. That's why I never jumped into that field. If I open one, it's going to be a lot of expectations. I'll stay away from that until I'm able to really corner the market.
What do you think's the biggest sneaker trend for 2017?
Fabolous: I don't know if it's necessarily a 2017 trend, but the New Balance 247 is almost like a leather Flyknit. It's really soft and light. I think the comfort of sneakers is really coming back. Everybody wants a cool pair of shoes, but they want to be comfortable. I'm not going to bash anybody, but let's just say the shoes in the '90s. A lot of those shoes were cool and had celebrities connected to them, but they weren't really that comfortable. I'm a big fan of the shoes in the '90s because growing up a young teenager, but when I buy them now and put them on I'm like, "Yo, I don't know how I was wearing these." They're either heavy as shit or just different from when they first came out. So I would say the trend for 2017 is comfort. Looking good, but feeling good, too.
Jadakiss: I mean, whatever's hot. New Balance got a good run going, Adidas had a nice run last year. I think everybody is going to step it up in 2017. You see New Balance is kicking it off already with some fire, so they're setting the bar high to get things going.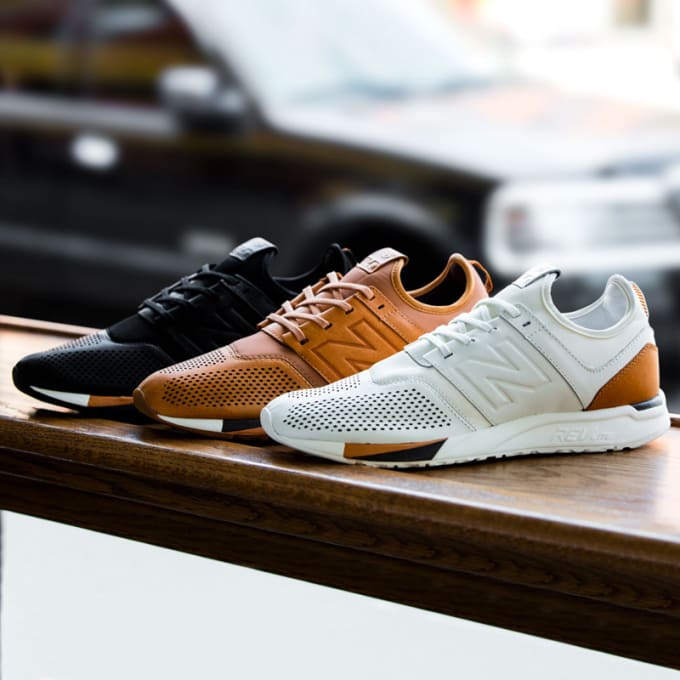 What's one sneaker trend you think needs to end?
Jadakiss: I don't know because I don't follow trends. I just do what I like and what I can.
Fabolous: I understand there's always going to be hype to stuff, but the reselling game has gotten extreme. I feel sorry for kids that have to go through that. They have to go to their parents and sometimes those prices are too much. As a parent, you want to get your kid those shoes, but you don't want to spend your whole check you worked two months for on a sneaker. Some of these shoes go for thousands, it's incredible. I thought in Kanye's venture to do shoes, he was going to make sneakers in bulk so that there wouldn't be such hype around getting the shoes.
In the past it was really hard to get a pair, but it has gotten a little bit easier with the few pairs of Yeezy Boost 350 V2s. It's just that the demand still exceeds the supply.
Fabolous: Yeah, those last few releases of the black pairs have been all over. For some people, that's not a good thing. Hypebeasts want shoes just to say other people don't have them.
How do you feel about custom sneakers?
Fabolous: I like customs. I like customs more than all these retro colorways. I believe custom is like putting your own little twist on a shoe. I also like how brands are coming with ID series, where you can create your own shoe, that's cool. I'm not a big fan of retro colors. Jordans have been coming back for 30 years, but I still will get the O.G. ones over turquoise and pink any day.
Jadakiss: When [customs] are dope, the people will tell you. When you get a good response, you got a good custom. All customs ain't dope because everything is not gonna be dope. When you get a good one, the people will let you know. We happen to have a good one. Mache did us right!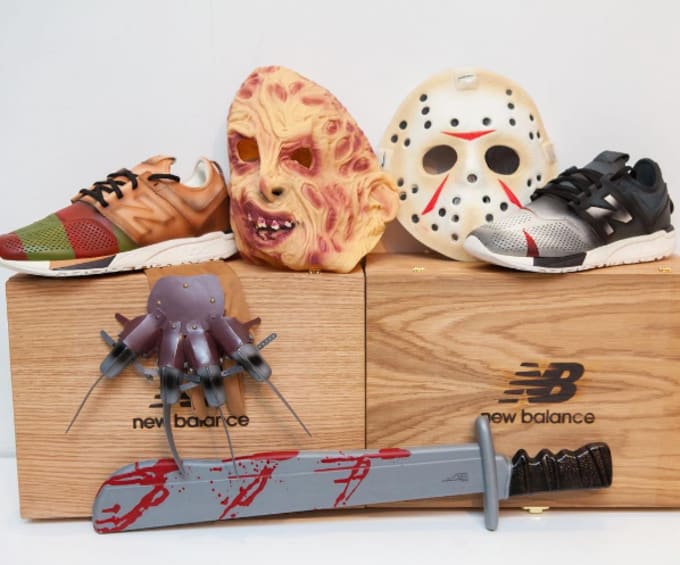 How did the New Balance 247 "Freddy vs. Jason" Mache Customs come about?
Fabolous: Well, the 24/7s, my nickname for the shoes, were coming and the project is on the way, so we thought it would be a cool way to cross promote both of them and bring a custom design to the shoe. Brown, black, and white are the O.G. colorways and these are the customs of it. I thought it would add a little pizzazz and give it an extra look. Sometimes you see a regular colorway and it blends into everyone else's shoes, because those are the primary colors, the ones they want to sell in bulks. Customs catch people's eye. Freddy and Jason are two big villains everybody knows, if you've seen the movies, so there's a lot of different elements that make the custom collaboration with Mache cool and fun.
You said the project is coming soon, but can you tell us how soon or a date?
Fabolous: Nope! [Laughs] But it's coming, though. We just take our time because we want it to be right because of the magnitude of the project means for hip-hop and New York City hip-hop. Also, we have samples that need to be cleared. Even the licensing thing with using the names Freddy and Jason. In this generation, soon as you say a project is coming, the people want it right away. We try to give people a little bit of the process through social media and Instagram. We'll show pictures of a studio session with producers like Just Blaze or Harry Fraud. I thought that would be cool because in the '90s there were big collaborations, but there was no social media. There's no pictures of Biggie in the studio with Bone Thugs and that's something you would've wanted to see. Now, we get to do that with social media.
That also adds to the hype, though. People see you guys in the studio with big names and they want to hear it.
Fabolous: Yeah, it's coming, though. You can microwave something and get it fast or you can get a home cooked meal. It takes a little while longer, but it's worth it when you get it.