Copping a new pair of sneakers can be anxiety inducing. For those who want to wager their bets at a store, there's long lines and camping out to do. And online? Much of that has gone to the bots. But this weekend, Kith hoped to fix that latter problem with the release of a new app.
Hours before the release of the Adidas Yeezy 750 "Light Brown" colorway, the sneaker and apparel shop posted about a new way of obtaining the sneakers. "Today at 4PM EST we'll be releasing the Yeezy 750 Brown via an all-new app called Frenzy," the brand wrote on Instagram. "Frenzy was designed to create a level playing field for customers." The app, which was shrouded in mystery all weekend, is one of the latest projects from Shopify, according to a product manager at the company. And according to users, it's arguably one of the fairest ways to get new releases.
"Every quarter, Shopify has a hack day, which is a two day period where everybody in the company takes off from doing what their day-to-day is and can work on a creative project," Tucker Schreiber, a product manager at Shopify, explained to Complex in a phone interview Monday. "That's where the idea of Frenzy came about this past June."
Since then, Schreiber and his team have been working on building the app out into a fully realized product for the company. "It was about taking all of the excitement that you often see in a retail space for these releases — thousands of people lining up for sneakers or hundreds of thousands of people, to get the latest iPhone — and figuring out how we can replicate that experience in a mobile app," he said.
Schreiber went on to call Kith, who has worked with Shopify before on first releases with the company's other services like UberRush, a natural first partner.
"[Sneakerheads] are probably the most passionate consumer base that we've probably ever witnessed," Schreiber confessed. He also indicated that the app has partners lined up for releases on Black Friday and Cyber Monday, but declined to give details about those projects. "It's fascinating to see people get so excited about a pair of shoes."
For users, Frenzy levels the playing field by allowing you to pre-fill credit card information so that purchasing at the time of release is as simple as tapping two buttons. "I heard about the app right after failing on Adidas.com," shopper Gregory Revollo said. "I downloaded the app and it asks you for your info like name, address, payment info, which is good, so you don't have to input it when the countdown ends."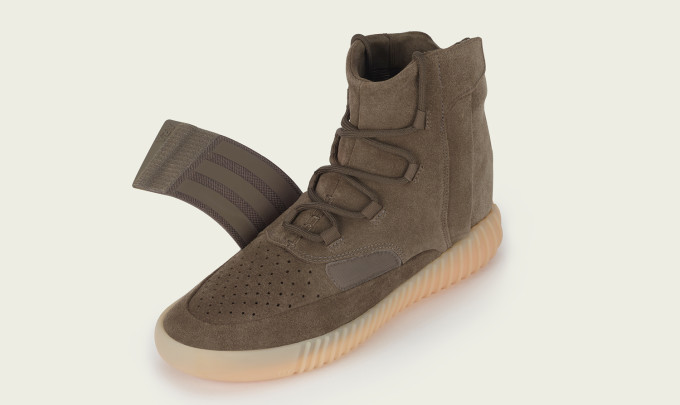 Revollo took us through his experience. "I went on the app with 3 minutes left on the countdown," he says. "I started tapping the little circle quickly at the bottom of the screen a few seconds before the countdown ended and I got right through, picked my size, [waited] like 10 to 15 seconds to make sure it was available, and that was it. I wasn't a believer until I got an email confirmation, and I sure did."
In the past Revollo says he's used similar apps like Adidas' Confirmed and NIke's SNKR but never lucked out. But, he did get a pair of the 750s this past Saturday. He said his shipping and tracking number were both delivered today.
Other users, like Dan Pitts, also got to choose sizes, but didn't luck out with a pair of Yeezys. "I would say that Frenzy is currently on the same level as Confirmed in terms of frustration," Pitts said. "I understand it was their first release, and I do hope they refine the problems that people encountered."
Amongst those problems, Pitts point to an unfriendly user interface (according to him, he wasn't clear on how to use it at first) and the app stalling, which costs valuable time when trying to get through to purchase shoes.
On social media, one of the most vocal complaints was about a 50 cent charge users saw on their accounts after inputting their information. According to Schreiber, that charge was simply to verify credit card information and would disappear within a day or two. For the other bugs, the project manager said: "We'll be definitely making some improvements; this was just a first release."
Related: Best Android Apps