Life is good for Lucas Puig: He was just in adidas' new skate video, Away Days, Euro 2016 is going on in his home country of France, and he has a new sneaker coming out. The Lucas Premiere ADV isn't just one of Puig's best shoes, it's one of the best-looking skate shoes on the market right now. And that's exactly what he wanted.
Puig is a stylish guy, and he wanted a shoe that he could skate in and wear when he's not on a board. His latest signature shoe is set to launch on July 1 on adidas' website for $75, and the debut colorway is something both skaters and non-skaters can appreciate. It's got a gumsole and off-white suede on the upper, with just a peach hit on the heel.
We had the opportunity to talk to Puig about his new shoe, and he told us why it looks the way it does, how many of his friends are asking for it—hint: It's a lot—and whether France is going to win Euro 2016.
How is this sneaker different from your previous ones?
There was more focus to make this a shoe I can wear all the time, not just when I'm skating. This is more of a lifestyle shoe. I was more focused on that than just making a regular skate shoe.
How involved were you in the design process?
I don't know how to design a shoe, but, from the beginning, there were so many emails, so they could know what I'm feeling and what I'm not feeling. So I can say that I was really involved. It took us a year. They did a great job and they're finally here.
Did you help pick out the first colorway of the shoe?
My main thing was that I wanted some pink or some really light color. They came out with this peach, and I was really feeling it. I was really psyched, because it's going to be perfect for the summer.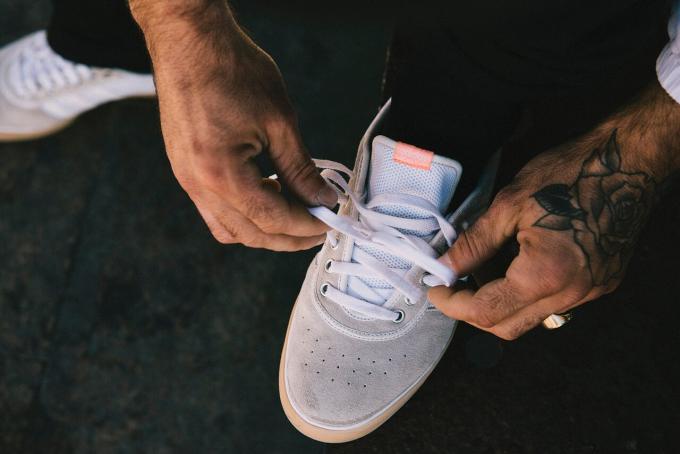 How was it been since Away Days came out. Has the reaction been crazy?
People are super psyched and hyped and really positive. I feel really lucky.
What was it like to travel around the world for the video?
I've been traveling like this for more than 15 years. It didn't feel like it was just for this project, it just felt like another trip. We tried to keep all the footage, because we knew it was for a full-length video.
What adidas shoes do you prefer when you're not wearing your own shoe?
I wear the Stan Smith because I'm used to it. It's comfy and I can make it look good with my shorts. After that, I'm into classic shoes like the Superstar and Gazelle. But I'm really a Stan Smith guy when I'm not skating.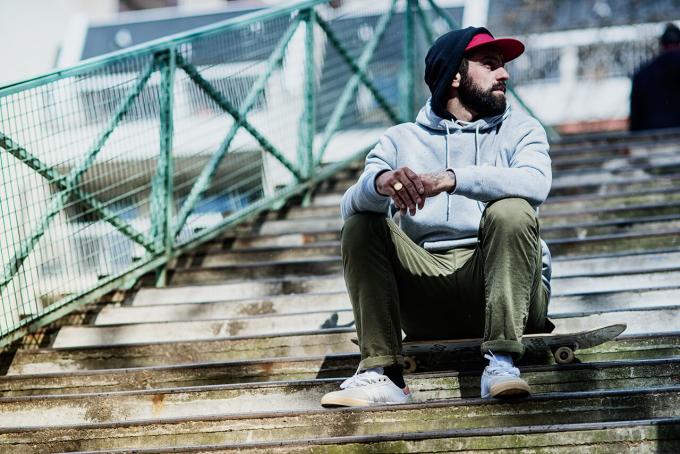 Did you skate in adidas shoes when you were on the brand?
I used to skate in the Superstar and the Stan Smith. I'd have a pair, and they'd get old. That's when I started to skate in them. They were so good. Back then there were just ugly skate shoes, and skating in these felt so good.
Adidas has been using a lot of its soccer history, are you excited that they're using that in the skateboarding stuff now?For sure. My first thought of adidas is that it was so big when they won the World Cup in 1998 and adidas was sponsoring their jerseys. So I'm psyched, because they've done so much good stuff with the football in the past.
Have you been watching the Euros, too?
Maybe I've been watching too many games.
Do you think France has a chance to win it all?
For sure, man. When it's in your country, you have an extra hype. It will be hard, but we have a chance.
How do you think your shoes are going to be received?
I'm always nervous. What if they come out and everyone says, "Ah, they hurt my feet, I can't skate in them." But now I think it's going to be good. We've been working hard on it. The people who try it seem to like it, so it should be fine, but that's the worst. When it first comes out, that's the worst, like, "Fuck, I hope it does well. Cross your fingers."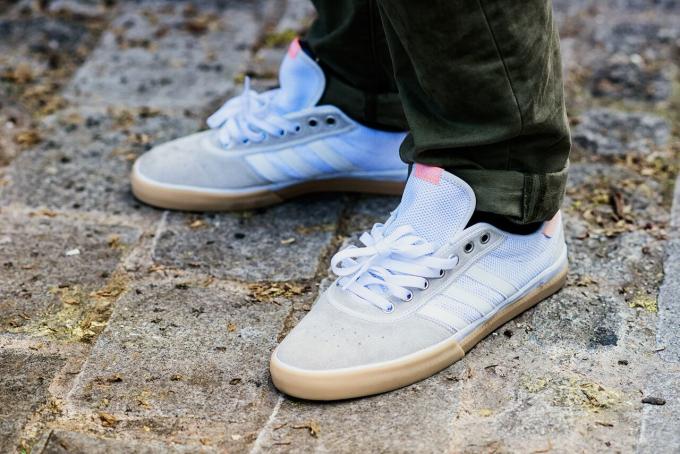 What do you look for most in a skate shoe?
When you look at your feet, it should look good. A lot of skate shoes look puffy from the top. So I wanted to get a shoe that looks good and made me want to go out and get busy in the street.
How many sneakers do you own?
I'm pretty bad with collecting. I get a lot of shoes, but I end up wearing them and going out, make them dirty. I have a bunch of shoes in my closet, for sure. I probably have 100 pairs.
Did you used to bring a pair of non-skate shoes with you when you'd go skating?
I always kept a fresh pair in my backpack. You'd wear your skate shoes to go skate, but you want to look good for the girls, so you'd have a clean pair to change into.
Are you friends asking you to get a pair?
All the time. Especially with these new shoes. They're like, "Come on, man, hook me up." I'm lucky because I'm a size 10, and not that many of my friends are that size. They're an 8 or 9, so it's hard to have the right size. Most of the time I'm saying, "Yeah, yeah, I'm looking for your size."