adidas' Futurecraft projects are some of the most fascinating things happening in sneakers right now, but they're also some of the most mysterious. The first glimpse of these technologies came in October 2015 with a 3D-printed sneaker, and the latest incarnation is Tailored Fibre, a combination of materials that can be individually tuned to a wearer's unique needs. However, as cool as these projects sound, their shadowy videos and lack of product in stores has made the whole thing somewhat confusing from an outsider's perspective. Thus far, we've only seen one shoe actually make it to retail—45 pairs of the $500 Futurecraft Leather Superstar were released last fall—but its extremely limited nature did little to help the average person understand what makes these innovations so special.
While we wait for adidas to put the finishing touches on Futurecraft Tailored Fibre, we decided to do some investigating and reached out to one of the people who's making the tech come to life behind the scenes. London-based industrial designer Alexander Taylor has been working with adidas since 2008 and created the brand's Primeknit technology, which is seen on the wildly popular Ultra Boost and NMD sneakers, along with working with adidas and Parley for the Oceans to make a sneaker out of recycled plastic from the ocean.
Previously, Taylor has done design work for contemporary furniture brands such as Zanotta, Established & Sons, ClassiCon, along with projects and consultation for the likes of Alexander McQueen and Hunter. Now, he's helping spearhead what could ultimately prove to be the future of footwear.
We caught up with Taylor during his recent visit to the States, and this is what he had to say.
How long have you been working in collaboration with adidas?
I was invited to work with adidas in 2008 on a special project for the Olympic Games in London in 2012. The brief was very clear: "To offer a totally new perspective on footwear construction," with the possibility of using technology from another industry such as furniture.
What was the first adidas sneaker you worked on?
I remember the first trip we had to adidas to have a meeting about the project, we were taken on a tour of the local production facility and taken through the regular process of building shoes at the time. It was explained to us that usually there would be 15-20 pieces required to make a shoe upper with prices cut and sewn and glued, etc.
I remember, at the time, my first conversation with the development team for my project was that we should try and build a single-piece upper, no extra parts and pieces. Knowing and understanding a little about knitting from office furniture, I proposed we worked on a knitted-construction upper. Therefore, the Primeknit shoe was born, and thus was my first project and technology I was involved in. We launched the red Primeknit 2012 shoes in London on the eve of the opening.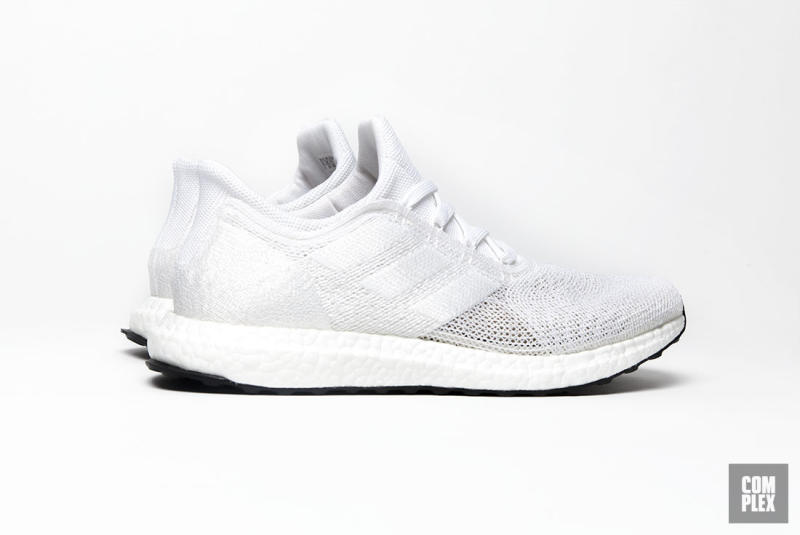 Where did the inspiration for the Tailored Fibre shoe come from?
My role for adidas is to constantly develop and propose new ways and technologies, which could be used for making performance shoes and sportswear. To identify and work up proof of concept models, which can be used eventually exist on the production line.

It was only natural that following our work on the Primeknit project we would continue to pursue all other possibilities within the textile arena. Tailored Fibre is one such technology which is, in essence, an evolution of embroidery. We first came across the technology whilst at a composite fair, as it is used for generations of highly technical and efficient industrial components, as well as more commonly associated with laying down heating coils in car seats.
Do you work with adidas in Germany?
I work from my studio in London, that is my base. However, we are really working very closely with adidas in Germany and in Portland on these projects and spend a lot of time in Germany on the making and development side working with the adidas developers and creative team to pull the projects together.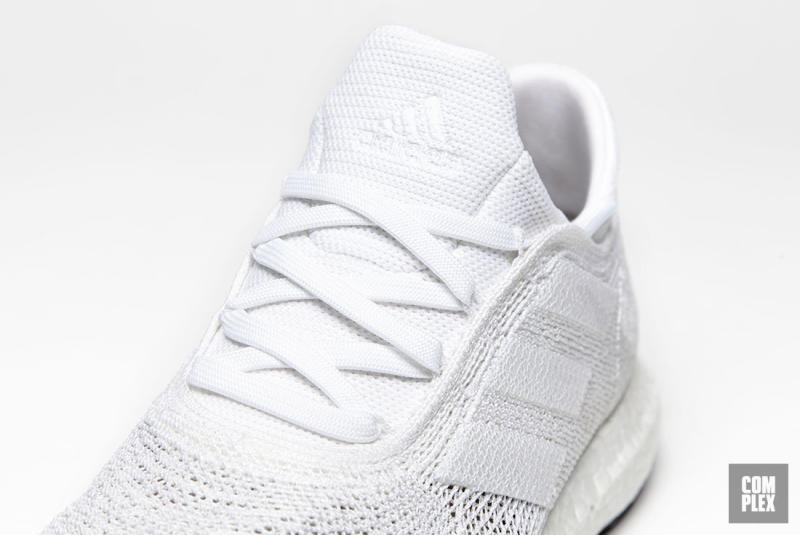 How difficult was the process to make the material?
In fact, the first prototypes we created were using carbon fibre/glass fibre and electrical cables, then naturally we had to start to engineer the materials which is actually the really exciting part of the story. We have a landscape ahead with endless possibilities due to the nature with which we can process and utilise material.
What's the most challenging aspect of designing a Futurecraft sneaker?
By the very nature of the beast, we are working with new technologies and with that new products and essentially new designs then all the same problems and unexpected material and fitting issues still happen however we are working at pace. This is the challenge, however the benefits make it all worth while, we are having the opportunity to create product, test product, and imagine new possibilities which are exciting and fresh.
What's the benefit of Tailored Fibre versus Primeknit?
It is not a technology which is to compete with or replace knitting, it is one to add to the portfolio/toolbox of knowledge, which allows adidas to explore, develop, and propose new solutions to make higher-quality performance product. It offers the possibility to engineer material and design in response to individual data and biomechanics, through support/ felt zones. These fibres provide the support a foot needs without using conventional materials or moulded components. Tailored Fibre allows for alternative ways in which you are able to develop and process materials, which in turn generates totally new possibilities and aesthetics.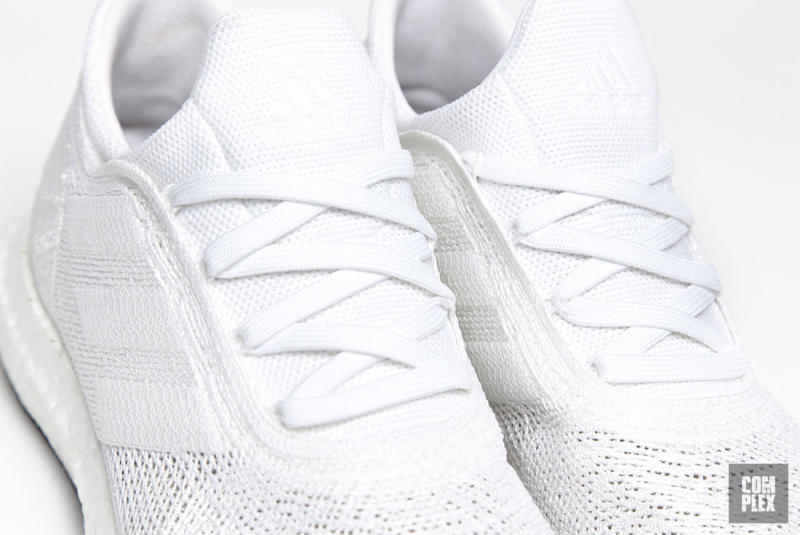 On average, how long does it take to produce a Futurecraft sneaker from start to finish?
Each of the Futurecraft series of projects are so different it is impossible to answer this question broadly. there is a huge investment of time and energy across very different processes, for the leather project and the Tailored Fibre project these have been in development for some two or three years, we work in a way as to prove the principle that a technology is suitable and then focus on creating shoes with the creative direction team which best illustrates the process. We are always working on a portfolio of projects, constantly developing new ideas and working with exciting industrial partners to bring them to life.
When can we expect the material to be seen in other adidas product?
As the Futurecraft series is designed to present new ways to offer an insight into the future, it is still very much a technology in its infancy, however one moving at pace, which is exciting. It is not for me to say what will come in the future, however we will continue working on new projects and I would just say stay tuned.