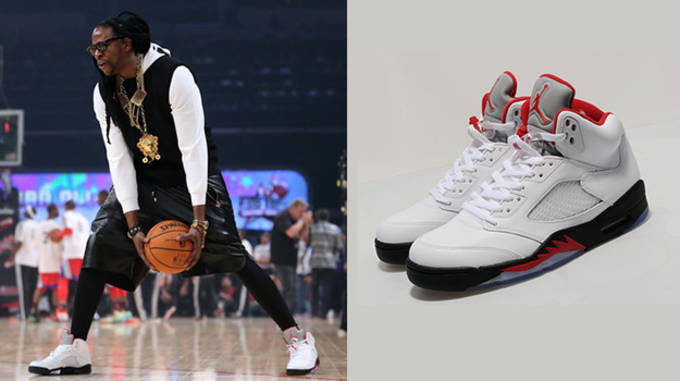 This week, Waka Flocka Flame reminded the world that some rappers should just stick to the mic.
But that won't stop rappers from wanting to hoop. Basketball and rap have a long and intertwined history. Rappers wanna ball, and ballers wanna rap. In the latter category, we have seen some truly horrendous offerings from the likes of Shaq, and some slightly better bars from guys like Iman Shumpert and Damian Lillard.
As Kanye showed us last week in Australia, it works the other way around as well. Yeezy made a splash wearing the adidas Pure Boost during his pick-up game, but he is hardly the only rapper who can take it to the hole and sink shots from outside. Guys like Snoop Dogg and Cam'ron have been balling out for years, and rocking some sweet gear in the process. For some rappers (ahem, Wale), their sneakers is the best thing they bring to the court, but some of these dudes have serious skills.
Jared Swedler is a student at Baruch College living in New York City and interning for Sneaker Report. He can be found cheering on the Knicks and hitting vintage stores in the East Village to find throwback gear from the '90s.
RELATED: Yeezy Balls So Hard in adidas Pure Boosts
RELATED: The 10 Best Basketball Shoes for Streetball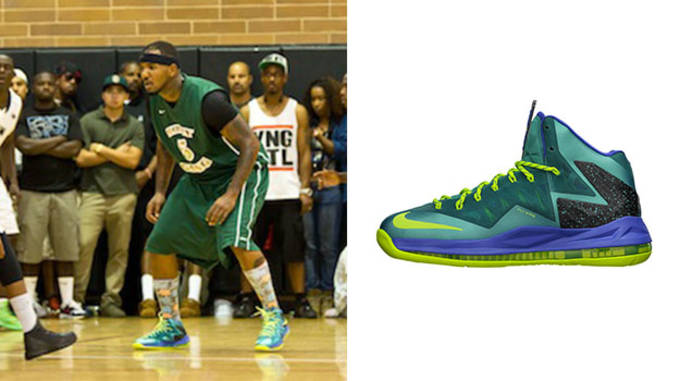 The Game in the Nike Lebron X PS Elite "Miami Dade"
When: Drew League 2013
Lyric: "Now the ball's in my court, never dribble out of bounds with it" - Why You Hate The Game
The Game is a legit basketball aficionado. Between teaching his kids to ball and getting buckets himself, he spends a lot of time on the court. During the summer he plays in the Drew League, a league based in LA that draws NBA players, street ball legends, and of course celebrities. Frankly, he makes some sweet plays. He always looks good doing it too, rocking the Lebron X Elite "Miami Dade" during a 2013 game.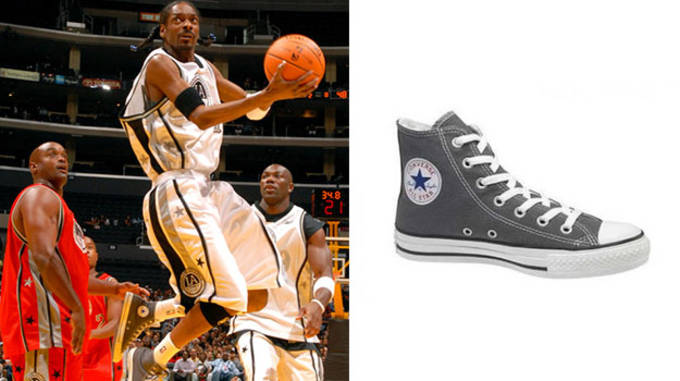 Snoop Dogg in the Converse Chuck Taylor All-Star
When: Midsummer Night's Dream Celebrity Game 2006
Lyric: "Can you imagine? Snoop Dogg in the NBA?" - Hoop Dreams
Snoop showed the world he could ball at last year's Celebrity All-Star Game, but he has been hooping for a long time. This is my favorite shoe on the list. One of the most classic sneakers ever, Chuck Taylors are always a dope look. Snoop doesn't need the flash of a high-tech sneaker when he's got all that game.
Kanye West in the adidas Pure Boost
When: 2014 pick-up game
Lyric: "But I be feelin' like Jordan when I'm recording', 'Cause every time I record, I duck to slap the boards" - Power Remix
Recent adidas signee Kanye West showed off his handles earlier this month in Perth while rocking the Pure Boost. The Pure Boosts are not technically basketball shoes, but you don't mess with Ye'. Seeing how much influence he has over pop culture, it wouldn't be a surprise to see him start a trend of playing in Pure Boosts.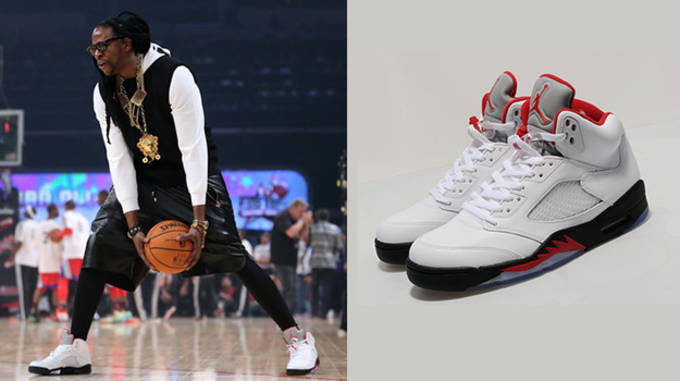 2 Chainz in the Air Jordan V "Fire Red"
When: 2013 Celebrity All-Star Game
Lyric: "Money tall like Jordan" - Mercy
2 Chainz ain't no joke. Coming out of high school, the rapper was a solid Division 1 recruit, and he played some college ball at Alabama State before dropping out. At 6"5 with a smooth stroke, its easy to see that he has skills. He didn't participate in last year's NBA Celebrity All-Star Game, but hopefully we see him out there this season.
Chris Brown in the Air Jordan XX8 "Red Camo"
When: Chris Brown
Lyric: "What you mean? Imma ball out" - First 48
Chris Brown has some serious moves. Frequently seen at charity and celebrity basketball games, we have had a chance to see his skills on display many times. Many rappers on this list like to lace up retros, but Brown kept it current with the XX8 "Red Camo" fully zipped up. That doesn't mean he dislikes the OG kicks, as he was spotted balling in the Air Jordan II "Candy Pack Yellow" as well.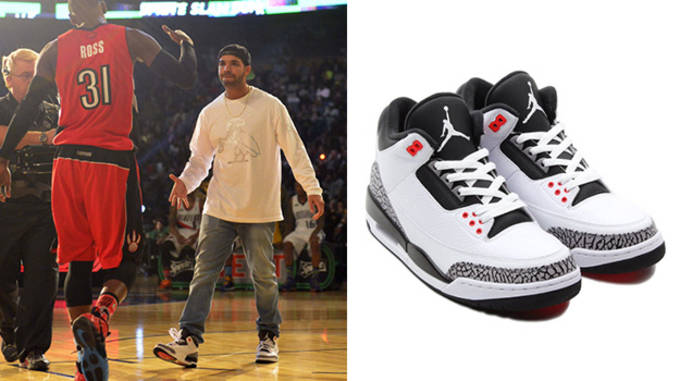 Drake in the Air Jordan III "White Cement Infrared"
When: 2013 Slam Dunk Contest
Lyric: "Damn I swear sports and music are synonymous, Cause we want to be them, and they want to be us" - Thank Me Now
If there is one thing we know about Drake, it's that he likes to be close to the game of basketball. Whether that means crashing the Kentucky Wildcats' locker room, being denied from the Heat's, or sitting court-side for his hometown Raptors, he yearns to be part of the culture. He looked like a kid in a candy store last year throwing Terrence Ross an alley-oop during the Slam Dunk Contest.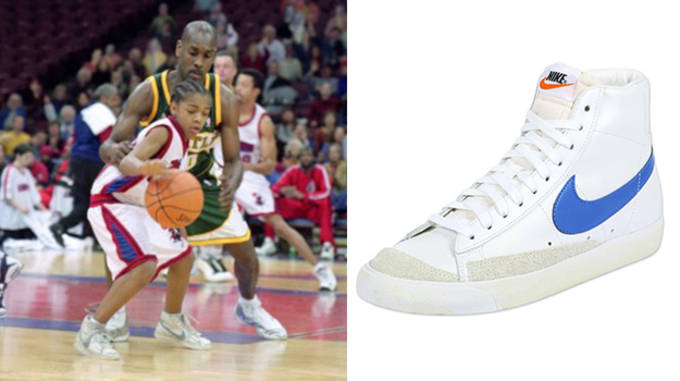 Bow Wow in the Nike Blazers
When: "Like Mike"
Lyric: "Now basketball is my favorite sport, I like the way they dribble up and down the court" - Basketball
Bow Wow is a baller. He's hooped in multiple Celebrity All-Star games, and famously broke Nelly's ankles big time. He's worn some sweet shoes, including Air Jordan 13s. But writing about him playing basketball, we gotta go with the beat-up Nike Blazers he found in "Like Mike". Those kicks took him to the highest level of the game, and even helped him school Jason Kidd.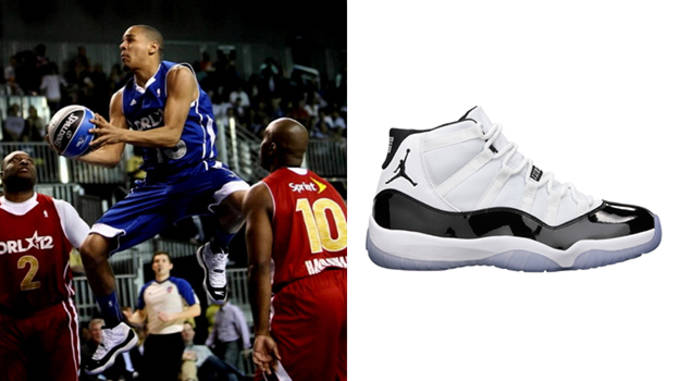 J. Cole in the Air Jordan XI "Concord"
When: 2012 Celebrity All-Star Game
Lyric: "Imma ball hard with the Roc, crossover hit the shot" - I'm On It
J. Cole is another rapper with some serious game. You don't see many dunks during the Celebrity All-Star Game, but J. Cole treated us to a sick alley-oop finish in 2012. He has real skills, evidenced by the fact that he almost made the St. Johns squad as a walk-on while in college.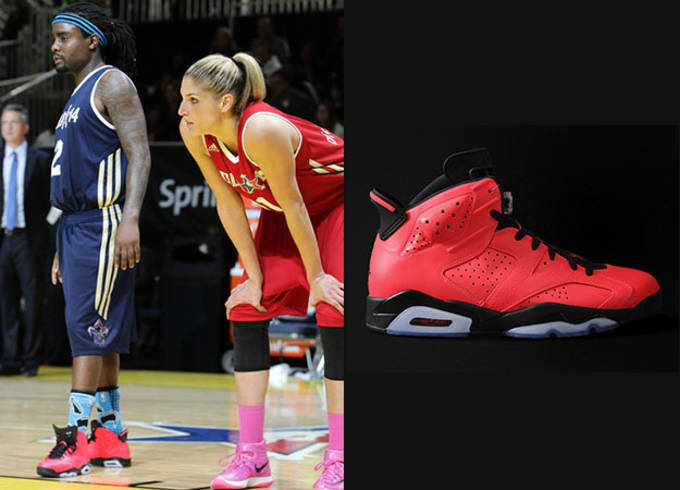 Wale in the Air Jordan VI "Infrared 23"
When: 2013 Celebrity All-Star Game
Lyric: "Even if I didn't I would ball like Arenas - swish" - Pretty Girls
Wale is one of those rappers who should stick to the mic. He didn't look comfortable at all on the court during the Celebrity All-Star Game, making multiple hilarious miscues. He is, however, a top-notch sneaker head, and he displayed some heat in the Jordan VI "Infrared 23".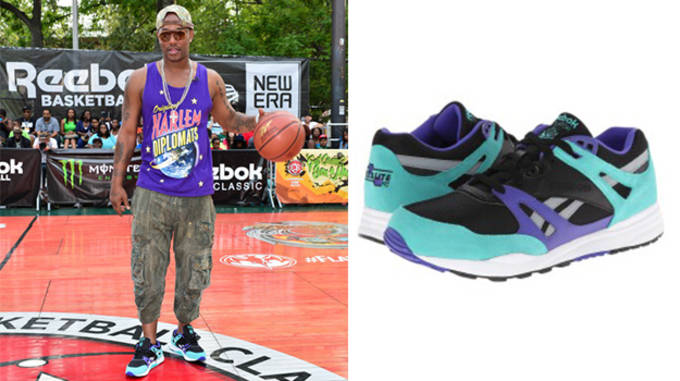 Cam'ron in the Reebok Ventilator
When: 2014 Reebok Classic Experience
Lyric: "Top balla in every state. In Chi I'm Mike, Boston I'm Kenny. In Miami Im Timmy, In Phoenix I'm Penny" - What Means The World To You
Cam'ron has his roots in the NYC basketball scene, and he still supports it even as it is dwindling. Killa Cam was a high school legend in Manhattan. Playing alongside fellow rapper Ma$e, Cam'ron helped take his squad to the Public School Athletic League Class A championship, where his 3 pointer at the buzzer rimmed out, and he lost a heartbreaker.
RELATED: Yeezy Balls So Hard in adidas Pure Boosts
RELATED: The 10 Best Basketball Shoes for Streetball