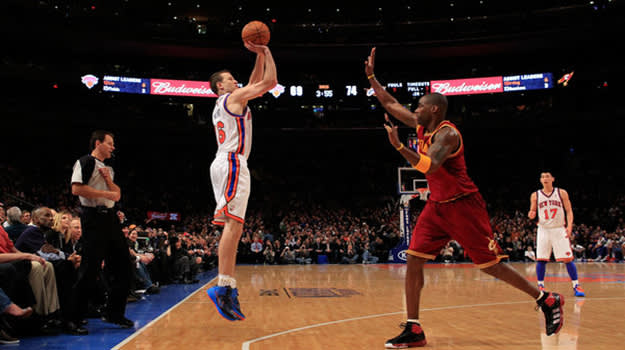 The ability to knock down a three-pointer in the NBA has become an ultimate must-have skill. Spacing has become one of the most significant aspects to running a successful offense and that's why there's always going to be a need for efficient shooters in the NBA. You might think that the leaders in three-point efficiency would be the big names and stars but you would be mistaken. Some of the best and well known shooters over the past ten seasons such as Stephen Curry, Ray Allen, Michael Redd, and Peja Stojakovic have failed to reach this goal. Here is a look at the Sneakers Worn by the NBA Player With the Best Three Point Percentage Each of the Past 10 Seasons.
Rafael Canton is a freelance writer from Queens, NY and contributor to Sneaker Report. Anytime there is a conversation about the NBA, music, or nutella, he can be found in the thick of the discussion. He can be found on Twitter @RafelitoC7.
RELATED: The Shoes Worn For the Most Memorable Moments in NBA All-Star Game History
RELATED: The Sneakers Worn by the Last 25 NBA Finals MVPs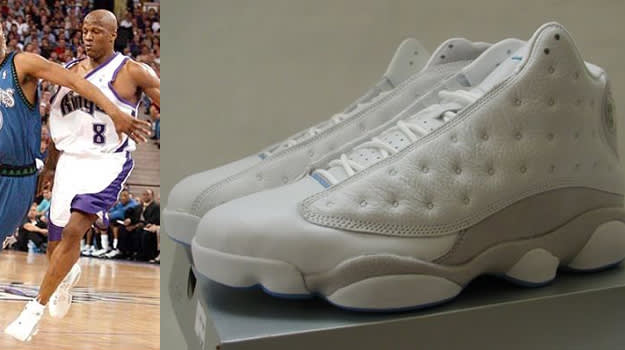 Jordan XIII
Player: Anthony Peeler
Season: 2003-04
3P%: 48.2
If you're going to knock down shots, you might as well knock them down in style. Anthony Peeler spent just one season with the Sacramento Kings but he made it work by leading the league in three-point percentage, and played a solid bench role for a 55-win Kings team in 2004. Besides leading the league in shooting beyond the arc and for wearing the Jordan XIII for the entire season, Peeler also became known for elbowing former teammate Kevin Garnett in a heated Semifinals matchup between Minnesota and Sacramento.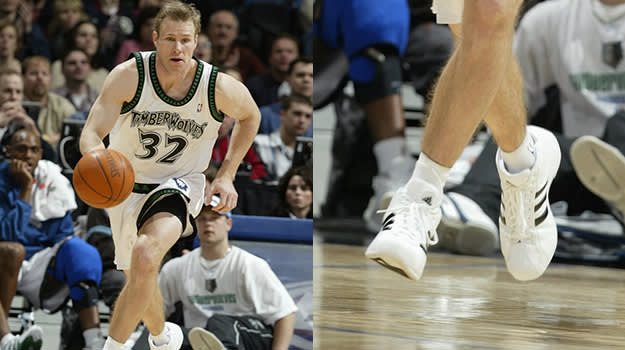 adidas SS 2G
Player: Fred Hoiberg
Season: 2004-05
3P%: 48.3
Fred Hoiberg's best year as a three-point shooter was unfortunately his last. He would retire after this season due to having heart surgery to correct an enlarged aortic root. In his last season, Hoiberg went with the adidas SS 2G for most of that season. The shoe hasn't seen the light of an NBA court since Arron Afflalo wore it during his days with the Denver Nuggets in 2011.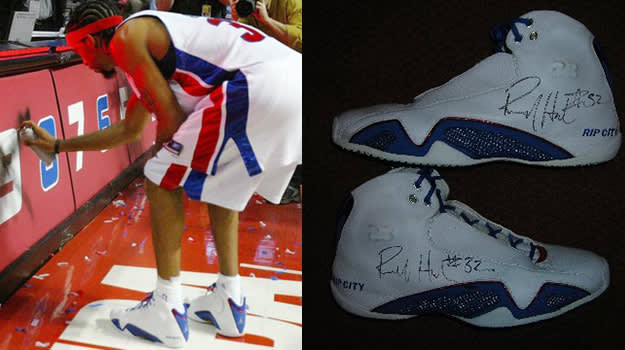 Jordan XXI "Detroit Pistons"
Player: Rip Hamilton
Season: 2005-06
3P%: 45.8
Never known as a great three-point shooter, Rip Hamilton built up respectability with his outside shot shortly after Detroit won an NBA championship in 2004. After never shooting better than 38.1 percent from beyond the arc in six previous seasons, Hamilton finally found consistency in his shot knocking down 55 of 120 three-point attempts during his seventh NBA season. Most of these attempts came in both corners rather than the longer deep threes from the top of the key.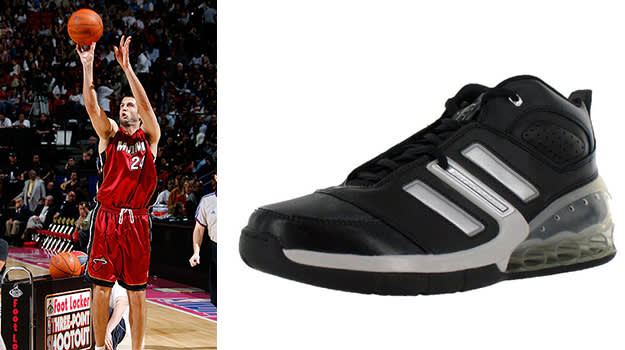 adidas Bounce Artillery II
Player: Jason Kapono
Season: 2006-07
3P%: 51.4
The Miami Heat had a rough follow-up to their first NBA championship in 2006. Both Dwyane Wade and Shaquille O'Neal missed significant time with injuries and the team limped to a first round exit at the hands of the Chicago Bulls. One bright spot, was the emergence of Jason Kapono as a high octane shooter. The UCLA product lit up the league in the Bounce Artillery II. He made 108 threes and averaged double figures (10.8 PPG) for the Heat which remained a career-high for him throughout his entire career.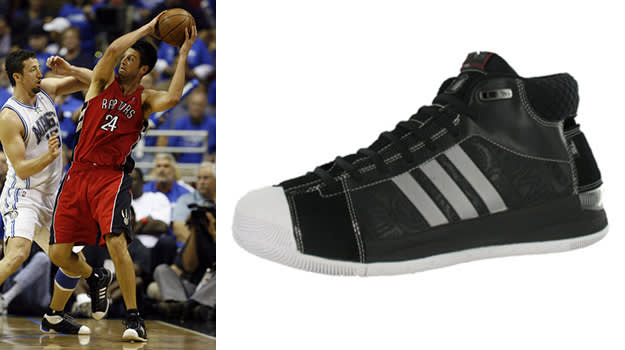 adidas TS Pro Model
Player: Jason Kapono
Season: 2007-08
3P%: 48.3
Jason Kapono switched teams but didn't switch brands as he stuck with adidas after moving to the Toronto Raptors. Kapono continued his dominance from beyond the arc. He missed on the 50 percent mark but did win another All-Star Weekend three-point contest in an All-Star colorway of the TS Pro Model.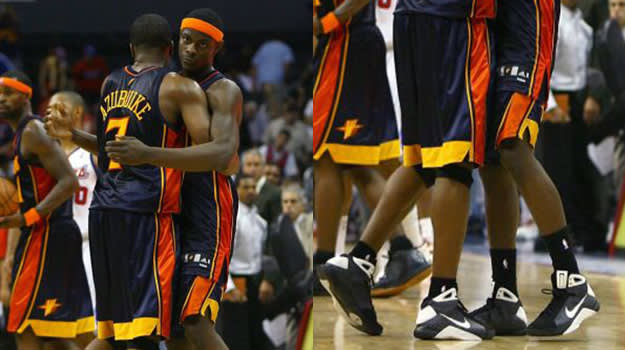 Nike Hyperdunk
Player: Anthony Morrow
Season: 2008-09
3P%: 46.7
Anthony Morrow had the best rookie season that and undrafted NBA rookie could ever possibly have. He became the first rookie and Golden State Warrior to lead the NBA in three-point percentage. That season also featured a 37-point explosion against the Los Angeles Clippers which was the most points ever scored in a game by an undrafted player in his rookie season. For some reason, Morrow has never been able to reclaim the magic that came with his rookie year in terms of efficiency. He has yet to surpass his three-point shooting from his rookie year in six seasons.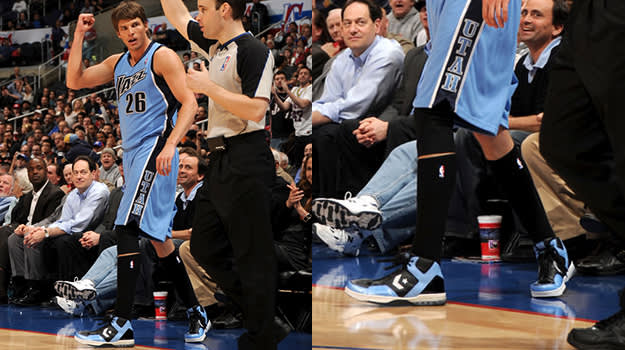 Converse Weapon EVO
Player: Kyle Korver
Season: 2009-10
3P%: 53.6
Three-point shooter extraordinaire Kyle Korver will go down as one of the best long range marksmen in NBA history. Just this season he broke Dana Barros' record of consecutive games with at least one three-pointer made. Five years ago, Korver complemented the Utah Jazz duo of Deron Williams and Carlos Boozer with the spacing and shooting that helped the Jazz to a 53-win season. Korver was wearing the Converse Weapon EVO which brings back memories of NBA players wearing Converse. There hasn't been an NBA player wearing Converse shoes in about two entire seasons.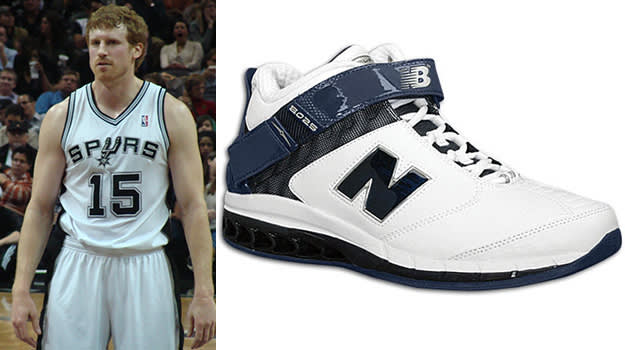 New Balance 8025
Player: Matt Bonner
Season: 2010-11
3P%: 45.6
The San Antonio Spurs have always been the model of consistency in the NBA. That makes the franchise the perfect fit for forward Matt Bonner. Although he recently made the switch to the adidas Crazy 8, Bonner wore New Balances for quite a few years. Bonner being the only NBA player to wear New Balances became a staple of the NBA just like his ability to knock down the long ball. While he's never shot as well as he did during the 2010-11 season, he still remains a great option off the bench for San Antonio to come in and knock down a trey.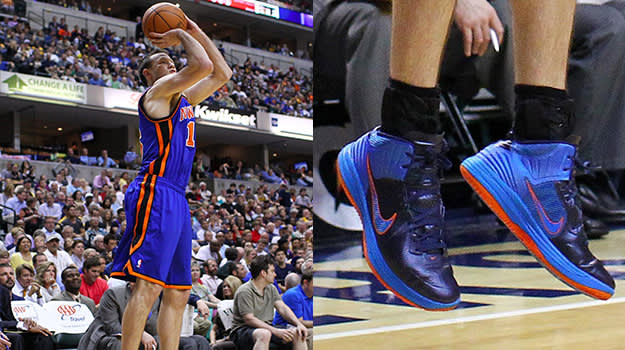 Nike Lunar Hypergamer
Player: Steve Novak
Season: 2011-12
3P%: 47.2
One of the underrated parts of Linsanity was the emergence of forward Steve Novak. His one-dimensional shooting ability was unearthed and he lit up the league on a regular basis. Novak had plenty of magical moments during the lockout season where he made more than five threes eight different times. After the great season, Novak struck gold with a four-year, $15 million deal after playing the role of fringe NBA player. As far as shoes go, Novak was wearing the Lunar Hypergamer for much of the season but he did wear the adidas TS Commander LT earlier in the same season.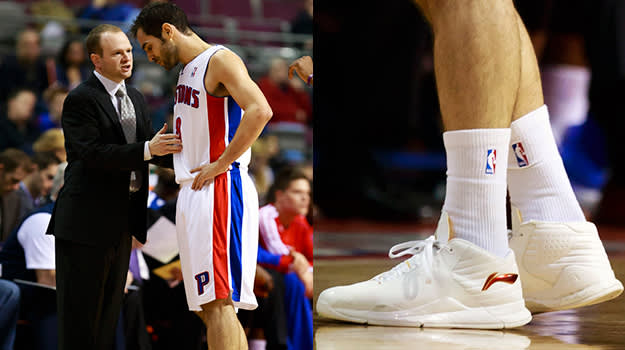 Li-Ning Yu Shuai VII TD
Player: Jose Calderon
Season: 2012-13
3P%: 46.1
After starting his NBA career in Toronto, Jose Calderon was dealt midseason to the Detroit Pistons in a three-team deal. The point guard managed to lead the league in three-point shooting despite adjusting to new surroundings. It was also Calderon's last year in Li-Ning. He made the switch this year to adidas after wearing Li-Ning for the majority of his NBA career.
Rafael Canton is a freelance writer from Queens, NY and contributor to Sneaker Report. Anytime there is a conversation about the NBA, music, or nutella, he can be found in the thick of the discussion. He can be found on Twitter @RafelitoC7.
RELATED: The Shoes Worn For the Most Memorable Moments in NBA All-Star Game History
RELATED: The Sneakers Worn by the Last 25 NBA Finals MVPs