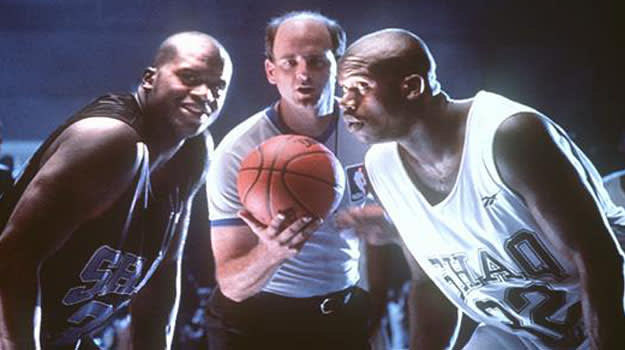 As futuristic, efficient, and advanced as basketball shoes have become, there's still an everlasting appeal for the styles of years past.
Whether on the NCAA or NBA courts, players of all levels are regularly spotted in models that were originally introduced in the 1990s. A lot of it stems from nostalgia, and the desire to emulate the players you used to watch growing up, hoping to possibly channel a little of their skill or flair. Of course, you can't forget about the marketing of the early-mid '90s, which was just as iconic as the sneakers themselves.
Although basketball sneakers have made incredible tech advancements over the last two decades, we can't help but feel that some of the modern day ads are lacking. Is it the nostalgic factor getting to us, or are these classic commercials far more entertaining than what we usually see nowadays? Check them out for yourself and let us know. These are Classic Basketball Ads from 1990-95.
Riley Jones is a freelance writer from Charlottesville, VA and a contributor to Sneaker Report. With an unshakable affinity for basketball and all things '90s, he can be found on Twitter @rchrstphr.
RELATED: 10 NBA Players That Deserve a Signature Shoe
RELATED: The 50 Most Influential Sneaker Sponsorships in Sports History
Chuck vs. Mike
Year: 1994
Brand: Nike
The Round Mound of the Rebound vs. His Airness. In this classic spot, Barkley and MJ compare their latest signature models, with Chuck boasting that his Air Force Max CB includes "more Air" than Jordan's AJIX.
Bobbito, dream hampton, and Penny Hit the Airwaves
Year: 1995
Brand: Nike
Before Penny Hardaway had his own mascot in Lil' Penny, and long before the resurgence of his Nike Air Foamposite signature line, he was better known by his government name, Anfernee. In this clip, he hits the radio station with basketball and hip-hop legend Bobbito Garcia and famed journalist dream hampton.
Bill Walton Co-Signs the Pump
Year: 1991
Brand: Reebok
In 1991, Reebok's Pump line began to gain steam in popularity. For those who weren't totally sold on the innovative tech, NBA legend Bill Walton gave them a famous endorsement and took a shot at the competition with the phrase "Pump up, and Air out."

Mutombo Goes Godzilla
Year: 1993
Brand: adidas
The adidas Mutombo signature model has recently been reintroduced to much fanfare, but one thing was missing: this 1993 commercial. Showcasing the "actual size" Mutombo model tearing through landscapes, this ad helped to add a touch ofpersonality to one of the most iconic big men sneakers of the '90s.
Grant Hill's Rookie Journal

Year: 1995
Brand: Fila
In this multi-spot ad for the recently-retrod Fila GH (renamed the 95), Grant Hill was fresh out of Duke University and a member of the Detroit Pistons. Instead of going with one of the usual "big 3" brands, Hill signed with Fila and they followed suit with this memorable series of commercials. Grant Hill retired last year, closing the book on a Hall of Fame caliber career.
Mike & Bugs
Year: 1993
Brand: Nike
Did you know that Bugs and Mike were partnering up long before they took on the Monstars in 1996's Space Jam? This 1993 spot gave birth to the now-famous "Bugs Bunny" nickname for the White/Black/True Red colorway of the Air Jordan VIII.
Dee Brown's King Kong Jam
Year: 1991
Brand: Reebok
After winning the 1991 NBA Slam Dunk Contest, Dee Brown became one of Reebok's most marketable endorsers. In this unforgettable commercial, Dee took to the streets of New York to attempt the impossible.
Mr. Robinson's Neighborhood
Year: 1990
Brand: Nike
This 1990 commercial starring "the Admiral" David Robinson embodies the War on Drugs attitude kicked off by George H. W. Bush. Unfortunately, while the message is great, it's kind of hard to take Robinson's corny acting seriously.
Shaq vs. Shaq(s)
Year: 1995
Brand: Reebok
During the mid-'90s, Shaquille O'Neal was one of the most marketable names in the NBA. After Michael Jordan's brief retirement, Shaq was THE MAN for a period, and Reebok went all-out with this 1995 spot for his signature model. Featuring O'Neal's own rap music in the background, Shaq took on the only person who could stand a chance against him: himself.
The Revolution
Year: 1995
Brand: Nike
In 1995, the Swoosh prepared for the future with a strong lineup of young stars including Jason Kidd, Kevin Garnett, Joe Smith, and Eddie Jones. Set to a track by KRS-One, this commercial effectively signaled the end of Nike's mid-'90s attitude and also foreshadowed some of the truly revolutionary breakthroughs they'd make in years to come, such as Zoom Air and Foamposite.
Riley Jones is a freelance writer from Charlottesville, VA and a contributor to Sneaker Report. With an unshakable affinity for basketball and all things '90s, he can be found on Twitter @rchrstphr.
RELATED: 10 NBA Players That Deserve a Signature Shoe
RELATED: The 50 Most Influential Sneaker Sponsorships in Sports History