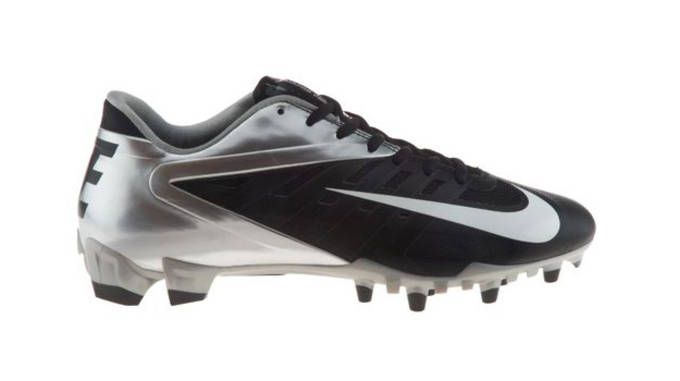 No. 10 - Nike Vapor Pro Low TD
Was: $90
Now: $80
Find It Here: Eastbay
A scaled down version of the Vapor Elite, the Pro Low TD still provides the same necessities for the game. No-sew engineered mesh is used throughout the upper, helping to shed weight and keep the cleats breathable. PU Foam and a forefoot Poron insert are included in the liner for extra comfort, while the outsole has been designed to be as light and quick as possible.
<!--nextpage-->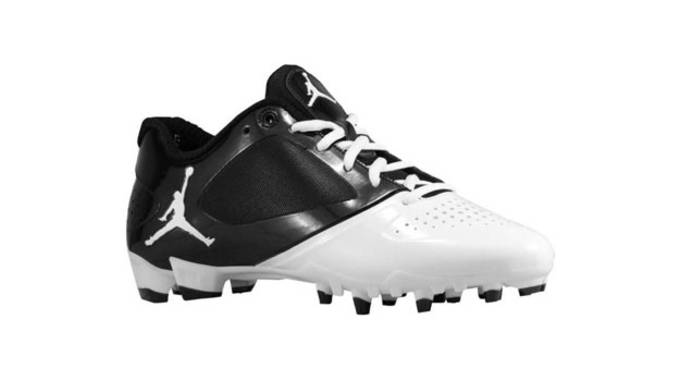 No. 9 - Jordan Speed Jet TD
Was: $100
Now: $80
Find It Here: Eastbay
At 11.0oz, these are lightweight but durable and rugged enough to go hard on the field. The upper utilizes patent leather and Cobec with micro-perforations, allowing for maximum breathability. A premium collar lining has been added for heel lockdown. The composite quarter panel on the upper allows even further airflow, making these very breathable on the field. Molded EVA and Poron are combined for the sockliner for comfort, and a grass/nylon shank will add stability with extra flex and propulsion. These are a suitable choice for speedy, quick players. Just remember that Eastbay recommends ordering a half size larger than your regular sneaker size.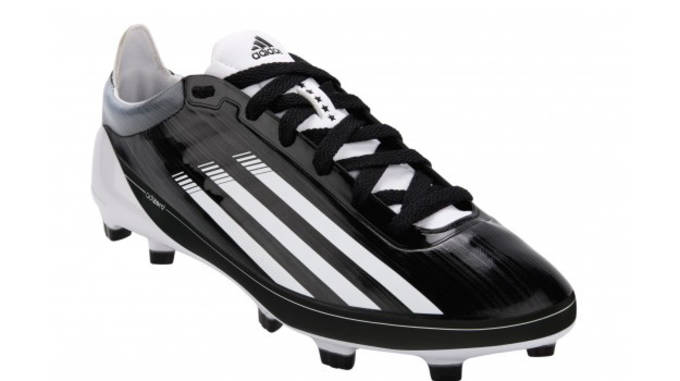 No. 8 - adidas adiZero 5-Star
Was: $100
Now: $80
Find It Here: Eastbay
These cleats weigh in at a feather-like 6.9 oz, so you know they're as quick as can be. However, strength and stability hasn't been overlooked on this model, as SprintSkin adds extra support for quick cuts, jukes, and acceleration. A TPU bottom frame is in place for increased durability, helping these cleats last throughout the season. Meanwhile, TraXion studs offer high acceleration and multidirectional traction, allowing players to shift their momentum at the drop of a dime. So, if you're looking to play as quickly as possible, check out the adiZero 5-Star today.
<!--nextpage-->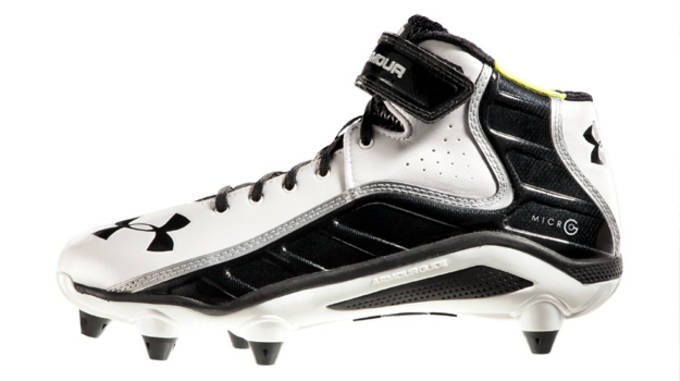 No. 7 - Under Armour Fierce Havoc Mid D
Was: $90
Now: $75
Find It Here: Eastbay
The Under Armour Fierce Havoc Mid was designed to be as durable and tough as necessary without eliminating comfort. Its engineered synthetic upper features a power strap which provides lockdown and support during big plays. The full-length molded mudguard offers further support for sudden movements and cuts. Meanwhile, the interior features both full-length Micro G cushioning and a 4D Foam footbed for premium comfort on the field. Its seven-stud TPU outsole has been enhanced with ArmourGlide for further support. These cleats are detachable and come with a wrench and set of half-inch poly cleats.
<!--nextpage-->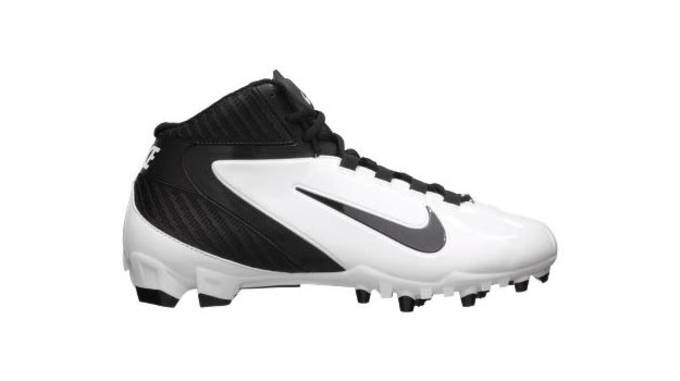 No. 6 - Nike Alpha Speed TD 3/4
Was: $90
Now: $75
Find It Here: Eastbay
The Nike Alpha Speed TD provides an ideal balance of form-fitting lockdown with lightweight performance features. The 3/4 height and synthetic leather upper provide a durable, flexible feel which will keep your feet protected in high-contact situations. Meanwhile, the cleats are further supported by a cast urethane design throughout the collar, offering extra stability and strength in the heel area. The EVA foam sockliner is matched with a Poron forefoot cushion for proper fit and comfort, while the molded TPU plate provides control at the highest speeds.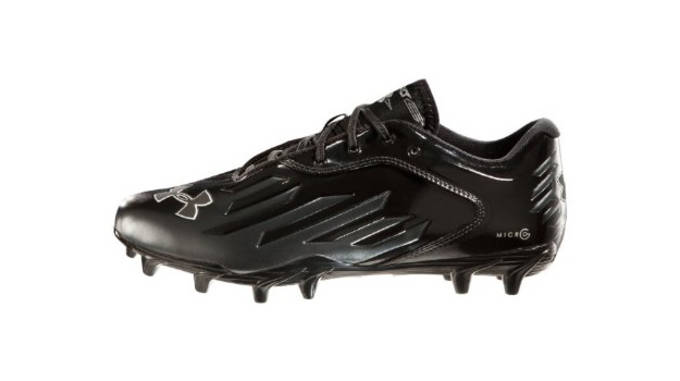 No. 5 - Under Armour Nitro Diablo Low MC
Was: $85
Now: $75
Find It Here: Eastbay
The Under Armour Nitro Diablo Low MC is equipped with a 4D Foam footbed, which forms to the player's foot and reduces cleat pressure during high impact. These sleek cleats were designed with speed in mind, and their translucent molded TPU plate offers lightweight traction on synthetic playing fields. Meanwhile, the outsole features secondary cleats which help to add further grip and control during acceleration. Weighing in at a mere 9.9 oz, these are a suitable choice for speedy players<!--nextpage-->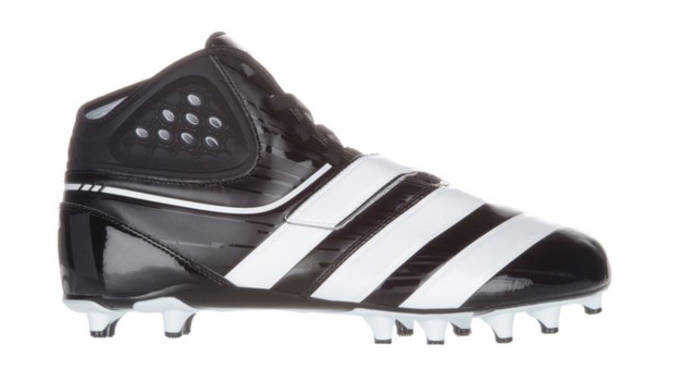 No. 4 - adidas Malice 2 D
Was: $95
Now: $70
Find It Here: Eastbay
The adidas Malice 2 D is battle-ready for intense players who show no mercy on the field. Its SprintFrame synthetic upper encapsulates the wearer's foot, while a contoured fit in the collar provides a snug fit around the ankle. Textile lining and molded EVA are combined on the insole for anatomical comfort. The midsole is equipped with EVA cushion for extra lightweight comfort. They also features detatchable SprintCleat studs which can be adjusted for different surfaces.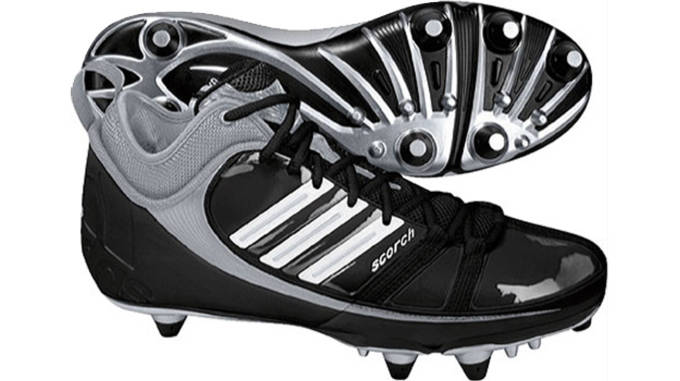 No. 3 - adidas Scorch 9 D Mid
Was: $85
Now: $30
Find It Here: Eastbay
The adidas Scorch 9 D is all about speed. Its lightweight synthetic upper is stable and durable enough for big-game situations. Non-slip textile lining is matched with FitFoam and an compression-molded EVA insert and offers a snug, anatomical fit. Includes a Pebax seven-stud detachable plate, with superior traction and grip for the quickest bursts of acceleration.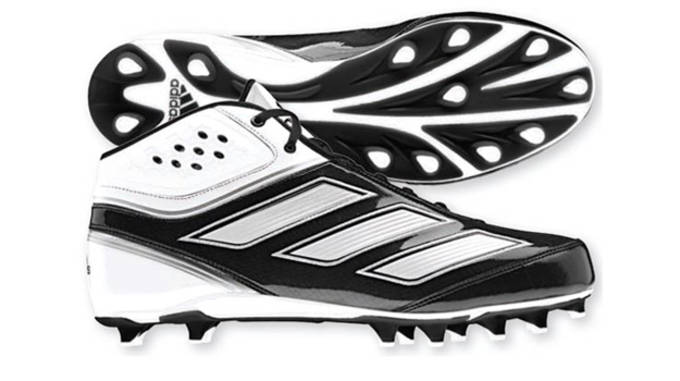 No. 2 - adidas Malice 2 Fly
Was: $95
Now: $70
Find It Here: Eastbay
A speedier version of the Malice 2 D, the Malice 2 Fly is ready for players who have both size and quickness. With a suitable amount of stability and ankle protection, there's not a lot these cleats can't withstand on the field. The lightweight synthetic leather upper features a contoured fit setup in the collar for optimum lockdown, while the liner features a textile and EVA insole for extra comfort and anatomical fit. A soft EVA midsole keeps things cushioned during impact, and the TPU plate on the outsole provides control.<!--nextpage-->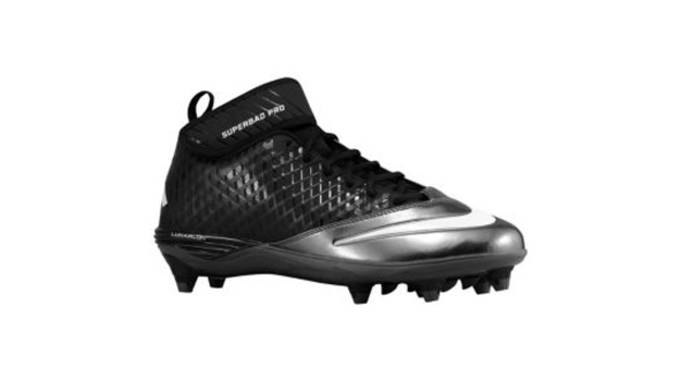 No. 1 - Nike Lunar Superbad Pro D
Was: $90
Now: $80
Find It Here: Eastbay
The final selection for this week's Bargain Buy football cleats is a truly MVP-worthy candidate. Just ask Joe Flacco, who wore them en route to his Super Bowl victory. With a synthetic leather upper and a integrated fit sleeve, the Lunar Superbad Pro is lightweight and form-fitting. A dual-density midsole features Lunarlon with zoned cushioning for soft, responsive comfort. Also features a seven-stud detachable Pebax plate which allows for proper traction on a variety of surfaces.