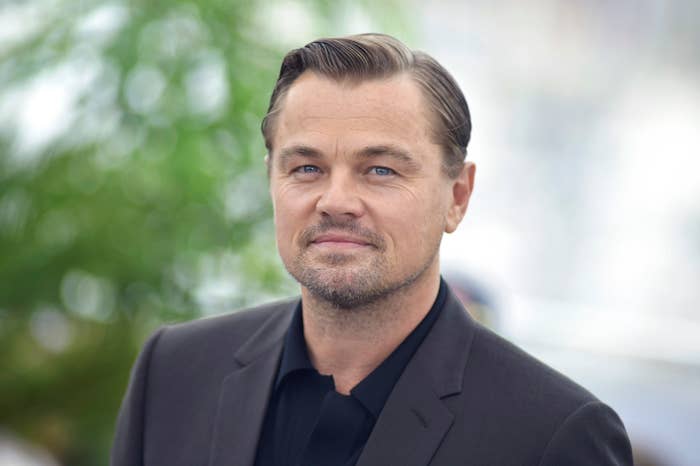 There's no denying that Leonardo DiCaprio is one of the greatest actors of our generation. Soft launching onto the big screen at only 15 years old, DiCaprio's 30-year long career has been nothing short of excellence with the actor assuming some of cinema's most memorable roles, banking up to six Oscar nominations and one win. But which of DiCaprio's performances is actually his best?
From playing a Wall Street top dog to a lost frontiersman surviving a grueling wilderness, DiCaprio has brought a kaleidoscope of characters to life onscreen. We've sifted through the actor's filmography and rounded up his most impressive work to date. Here are Leonardo DiCaprio's 10 best performances ranked, from Titanic all the way to Killers of the Flower Moon.
10. The Revenant (2015)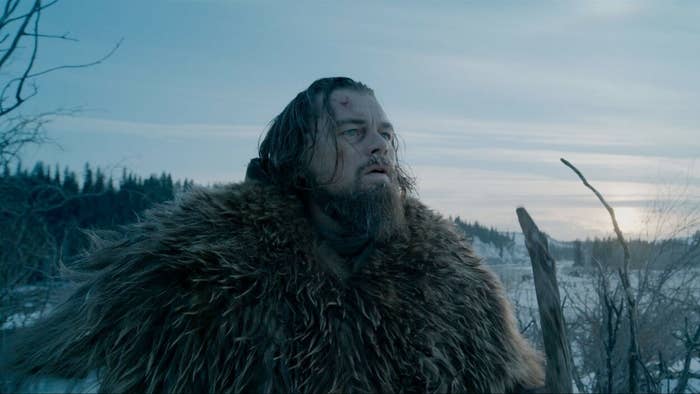 Director: Alejandro Iñárritu
Starring: Leonardo DiCaprio, Tom Hardy, Will Poulter, Domhnall Gleeson
How to Watch: The Revenant is streaming on Prime Video.
The Revenant's inclusion here is a necessary evil, as it's the role that finally garnered DiCaprio a long overdue Academy Award, but it's nowhere near the top of his best performances. Stunningly photographed by cinematographer Emmanuel Lubezki and brutally rendered by director Alejandro Iñárritu, The Revenant feels like the "DMV-of-movies" criticism recently levied against Martin Scorsese; a slog from start to finish as DiCaprio crawls through the snow for what feels like hours on end to survival. The entire movie feels like an over-commitment to the bit, but one made barely (no animal pun intended) watchable off the strength and conviction of what DiCaprio does. —William Goodman
9. Catch Me If You Can (2002)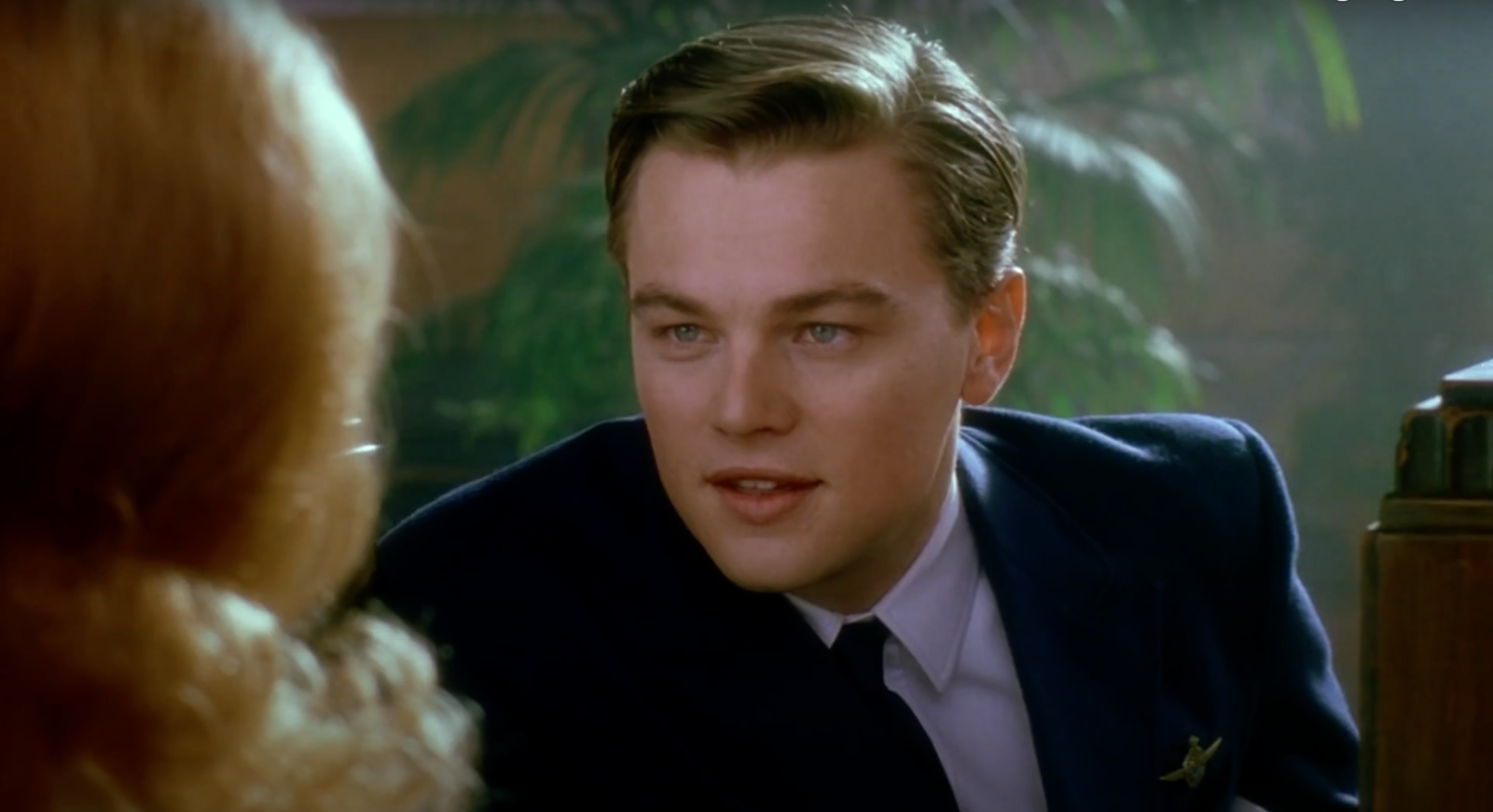 Director: Steven Spielberg
Starring: Leonardo DiCaprio, Tom Hanks, Christopher Walken, Martin Sheen
How to Watch: Catch Me If You Can is streaming on Netflix.
DiCaprio loves to work with cinema's best and brightest directors, so it remains slightly surprising that he and Steven Spielberg have only worked together once—so far, at least. DiCaprio's performance as con artist Frank Abagnale Jr. is one of Spielberg's more underappreciated directorial works. DiCaprio's having a ball playing Frank, conveying him with an effortless charm. You understand why it was so easy for him to con so many people throughout his life. It's the textbook definition of roguish charm. But what also stands out about it is that when the film does put DiCaprio in a position to be more vulnerable and scared, well, he nails that aspect with an equal amount of skill and deftness. Let's hope there's a reason for these two greats to work together again, preferably sooner rather than later. —William Goodman
8. Shutter Island (2010)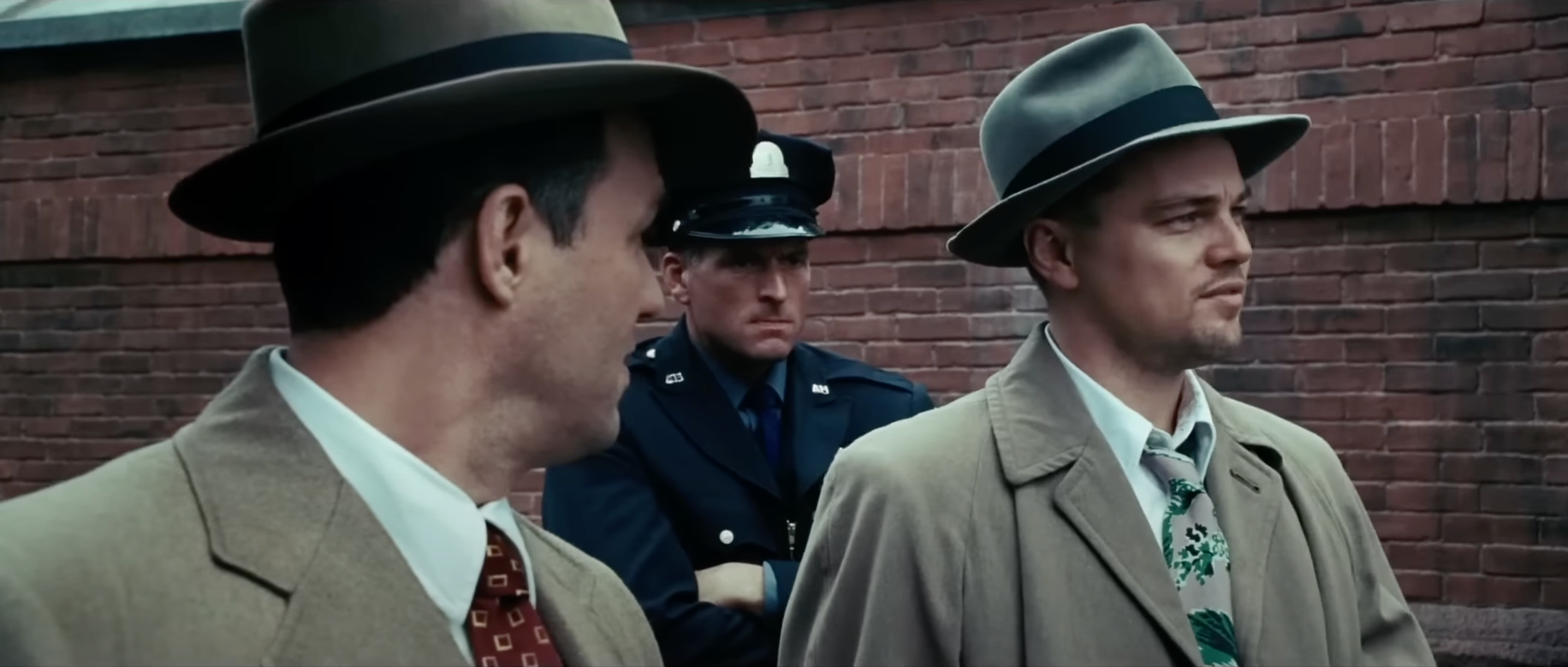 Director: Martin Scorsese
Starring: Leonardo DiCaprio, Mark Ruffalo, Michelle Williams, Ben Kingsley
How to Watch: Shutter Island is streaming on Hulu and Paramount+.
It's hard to discuss why DiCaprio's performance in Shutter Island is so memorable without spoiling the film's plot twist, but trust that he's performing on several levels in this one particularly. Another collaboration between the actor and Scorsese, Shutter Island follows U.S. Marshal Teddy Daniels (DiCaprio) and his partner Chuck Aule (Ruffalo) as they venture off to a hospital for the criminally insane to investigate the sinister disappearance of one of its patients. While Shutter Island may present itself as your standard whodunnit, the film's mystery is actually entangled within a larger spider web of secrecy, with DiCaprio's character nestled at its middle.
One of his most impressionable performances by far, DiCaprio takes on his character in Shutter Island from all corners, leaning into Teddy's denial and ignorance so believably that you'd think DiCaprio never read the script before filming. He plays Teddy with full courtesy to the audience, and lends a genuine authenticity to his every word that makes the film's plot twist even more surprising. And if there's one thing DiCaprio knows how to do, it's delivering a final line that completely blows his performance out of the park and makes sure that the film's final scene hauntingly lingers with you. He achieves this (and then some) in Shutter Island, making for a memorable performance that can be mined and nitpicked for its deftness to no end. —Yasmeen Hamadeh
7. Django Unchained (2012)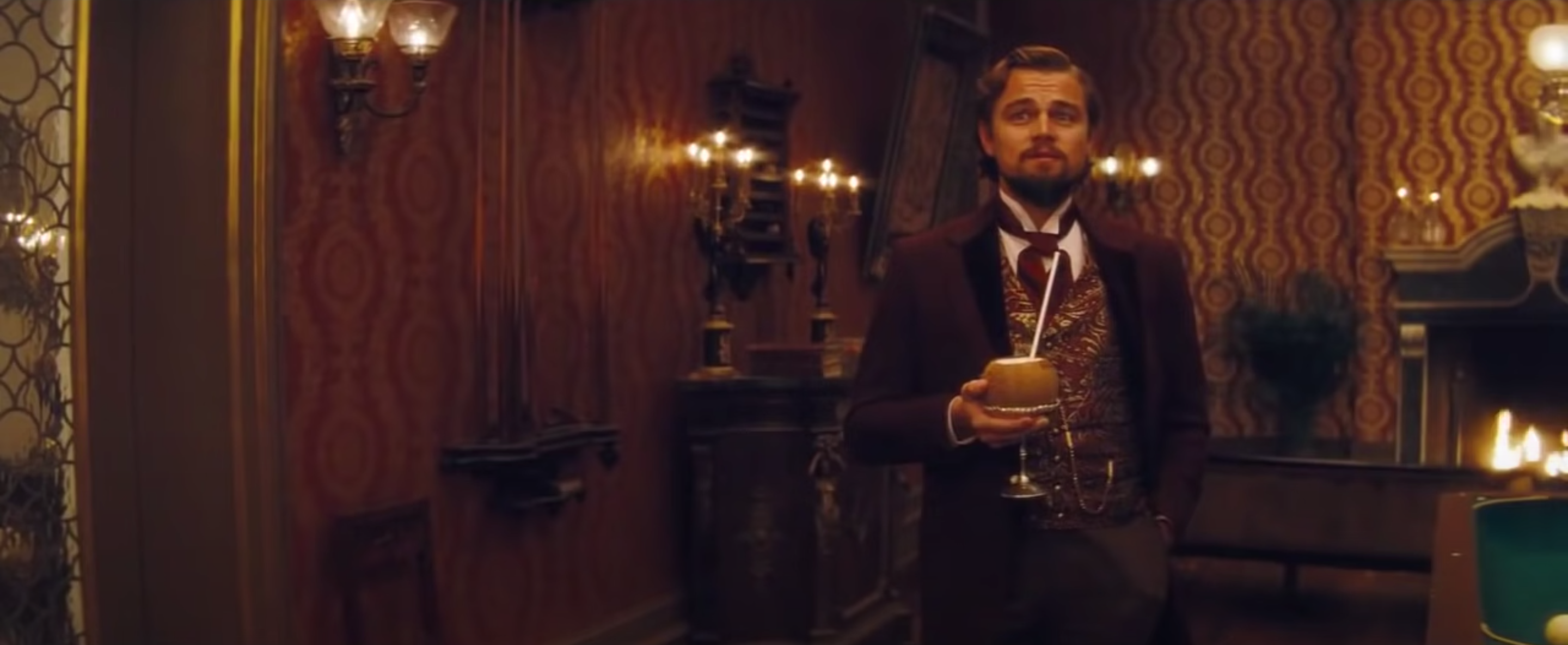 Director: Quentin Tarantino
Starring: Leonardo DiCaprio, Jamie Foxx, Kerry Washington, Christoph Waltz, Samuel L. Jackson
How to Watch: Django Unchained is streaming on AppleTV+.
Quentin Tarantino drafted quite a list of glorious bastards throughout his storied career, but few are as distinctly memorable and cartoonishly evil as DiCaprio is as Calvin Candie in Django Unchained. Although Candie doesn't appear until the film's final act, his appearance looms by and large over it, providing a suitable villain that's extraordinarily easy to dislike. DiCaprio, keen to sink his teeth into the role, is having an absolute ball. There's an intense energy to the performance that leaps off the screen—best exemplified by the now-famous story that he cut open his hand mid-performance and kept going like he meant to do it. —William Goodman
6. Once Upon a Time in Hollywood (2019)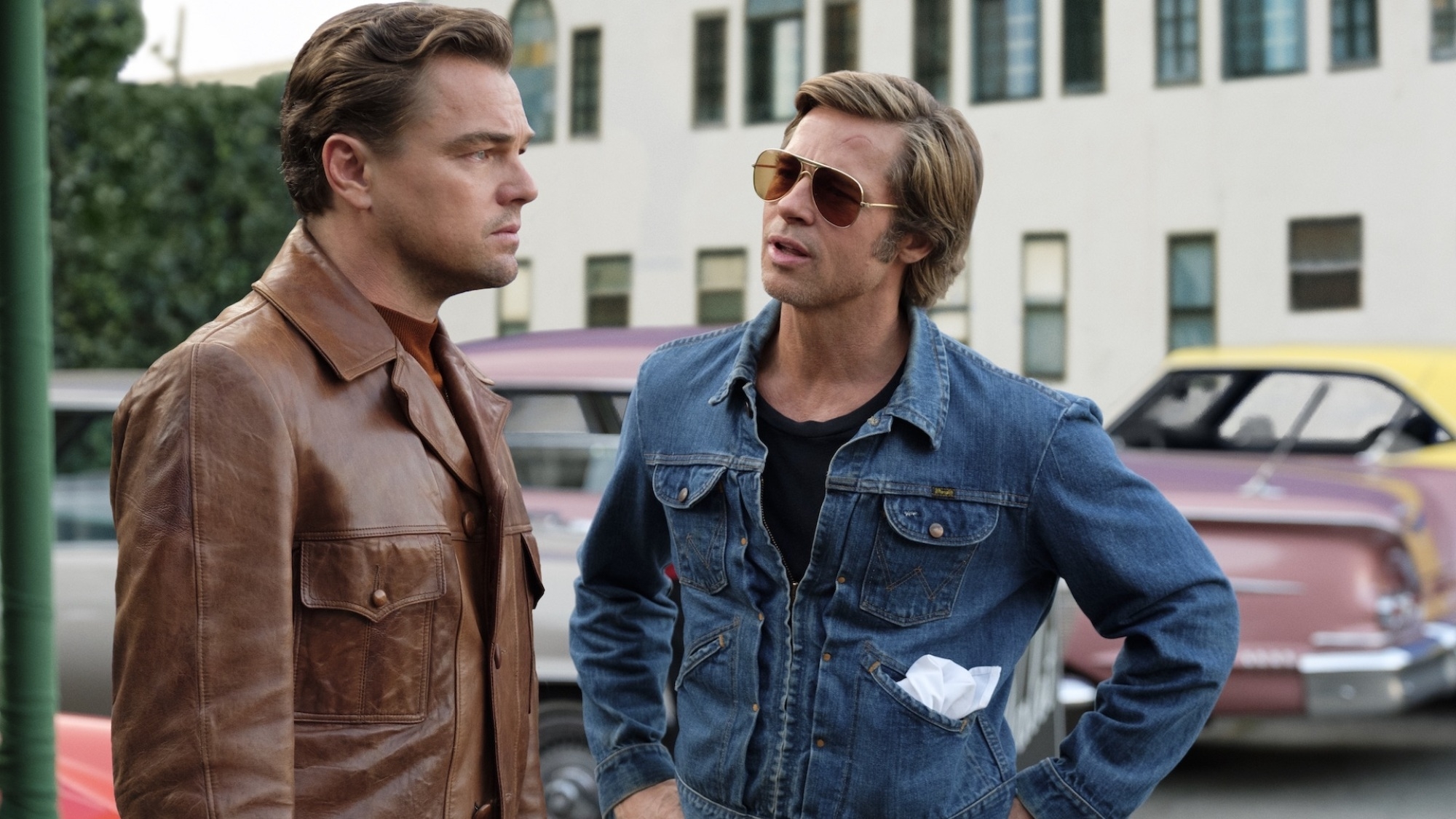 Director: Quentin Tarantino
Starring: Leonardo DiCaprio, Brad Pitt, Margot Robbie, Austin Butler
How to Watch: Once Upon a Time in Hollywood is streaming on Starz, Hulu, and Prime Video.
DiCaprio's performance in Once Upon a Time in Hollywood is by far one of his most underrated. In his sophomore collaboration with Tarantino, DiCaprio stars as Rick Dalton, a has-been actor struggling to find work as Hollywood's golden era slowly comes to an end. The film arguably marries the period piece with the slice of life, and brings forth different stories about different characters that find a unifying plot in its final act. Throughout it, we get to watch DiCaprio doing some of his most hilarious work onscreen, assuming the role of a man-child personified that's still surprisingly vulnerable.
One scene that's by far a standout in DiCaprio's entire filmography sees the actor throwing an absolute tantrum in a dressing room after his character forgets one of his lines while shooting his latest project. From kicking everything in the room around, to screaming into a mirror, to repeatedly hitting himself in the face, DiCaprio withers into a teenage girl in this scene and manages to throw a hissy fit that's both hilarious and remarkably impressive to watch. Emasculating a grown man into a puddle of insecurity is no easy feat, and yet DiCaprio manages to do just that and then some in Once Upon a Time in Hollywood that you almost begin to feel sorry for his character. He manages to weave in the fear of aging, the fear of not having the talent you thought you possessed, and more vulnerability into this performance, building a procured persona out of a character you wouldn't necessarily give the time of day otherwise. Oh, and he also plays around with a flamethrower in this one, just in case you weren't already convinced. —Yasmeen Hamadeh
5. Inception (2010)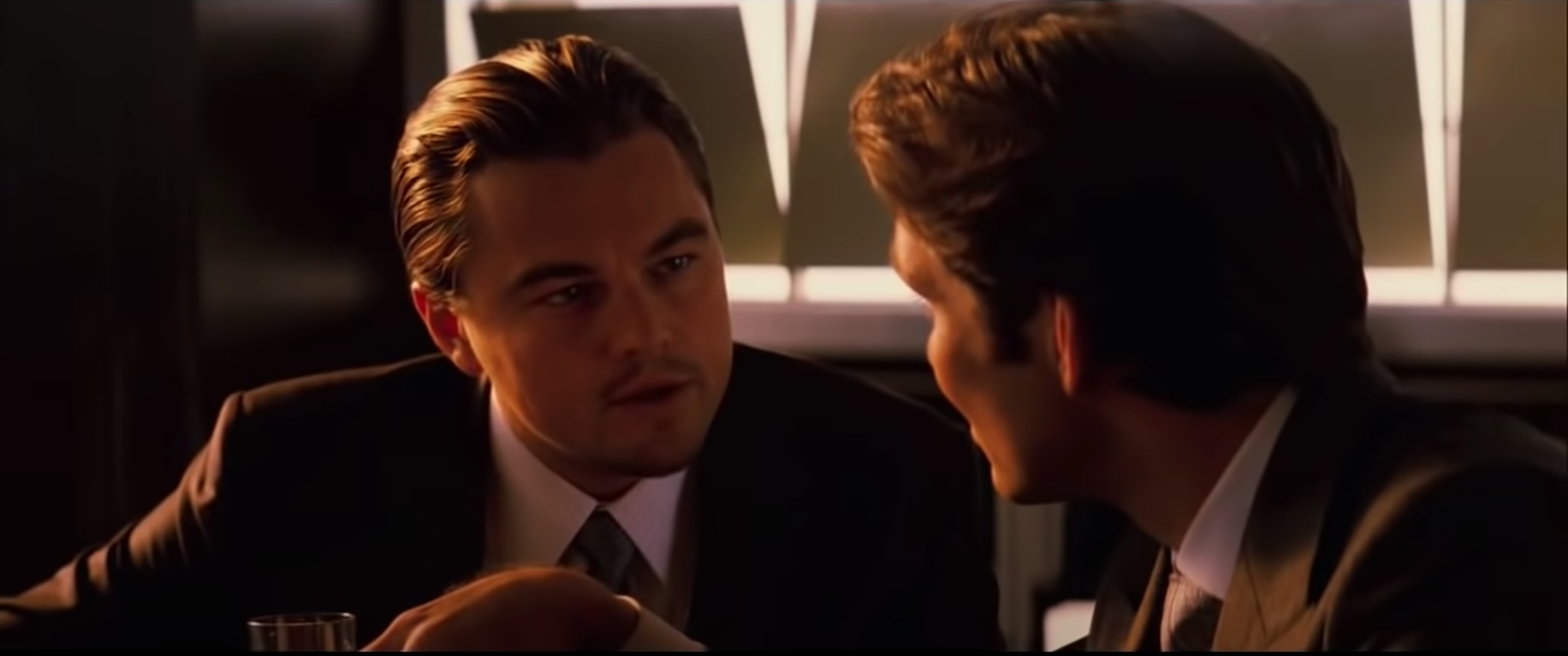 Director: Christopher Nolan
Starring: Leonardo DiCaprio, Tom Hardy, Cillian Murphy, Joseph Gordon-Levitt
How to Watch: Inception is streaming on Prime Video.
DiCaprio's done many roles throughout his career, but he rarely takes on action roles or movies that could be considered outright "blockbuster" projects. Sure, he's worked with an incredible cadre of directors, but those films are rarely massive box office slams—unless it's Inception. Christopher Nolan's action/thriller/meme generator still retains a memorable place within pop culture, not only due to Nolan's prowess but for how DiCaprio orients himself in it. It would be easy for his character's emotional plot to get lost in the showiness of Nolan's undeniable technical skillset. Still, his performance keeps the film undeniably grounded in its emotional, relationship-based stakes as Nolan introduces one crazy concept after another. It's a shame the two haven't found a way to work together again, as they're an extraordinarily well-suited pair; DiCaprio's intensity and dedication to the work make Dom Cobb one of the best—if not the best—protagonist-as-a-stand-in-for-Nolan in the director's entire output. —William Goodman
4. The Departed (2006)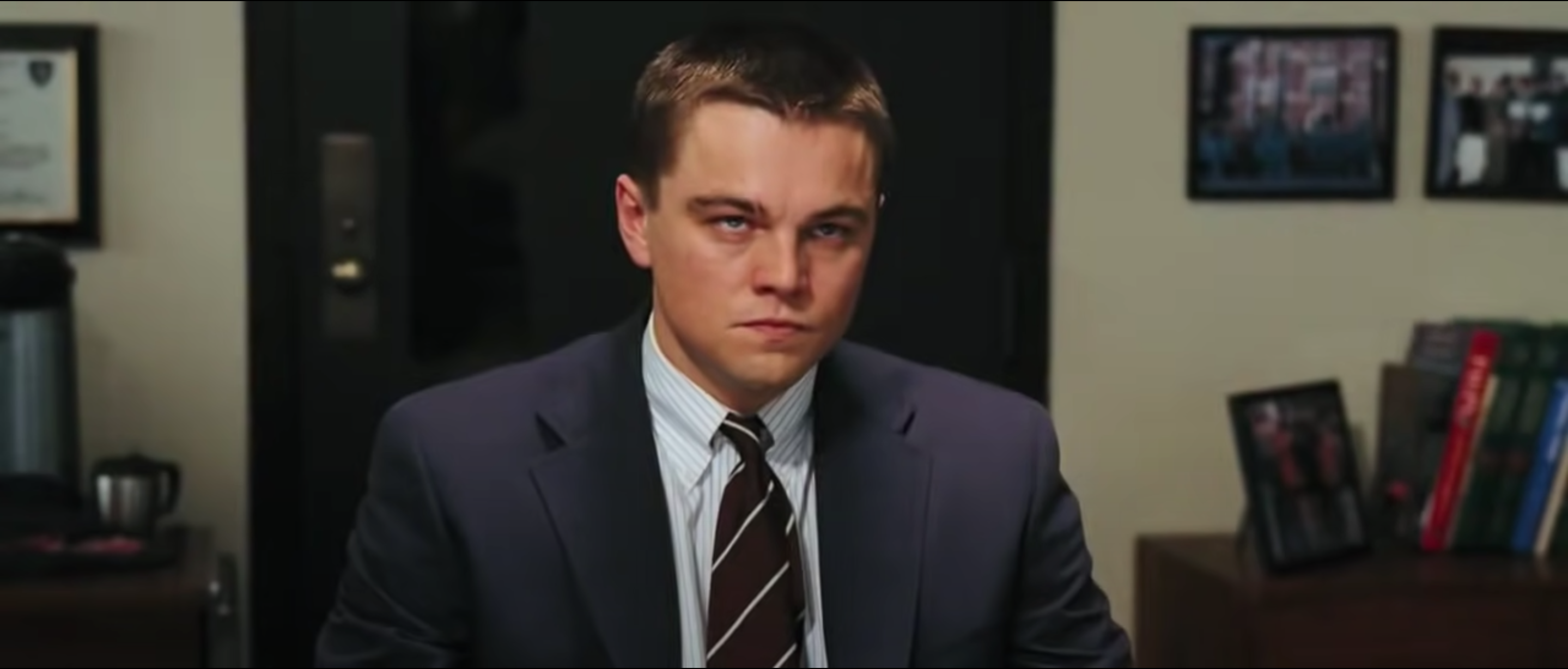 Director: Martin Scorsese
Starring: Leonardo DiCaprio, Jack Nicholson, Vera Farmiga, Matt Damon, Mark Wahlberg
How to Watch: The Departed is streaming on Prime Video.
As undercover officer Billy Costigan, DiCaprio plays the rookie like an absolute frayed nerve. As Billy—The Departed's only thing that even remotely resembles a moral center—descends deeper and deeper into hell, the capabilities of DiCaprio's talents expand broader and wider. You don't get to roles like Django Unchained, The Revenant, or Killers of the Flower Moon without this performance, which manages to be both heroic and dark in equal measure; to the point where you feel like it's almost about to rip Billy into two. In some regards, it does. He's the film's sacrificial lamb, a shock that still manages to surprise and captivate years later because you're in the depths of the darkness alongside him. —William Goodman
3. Titanic (1997)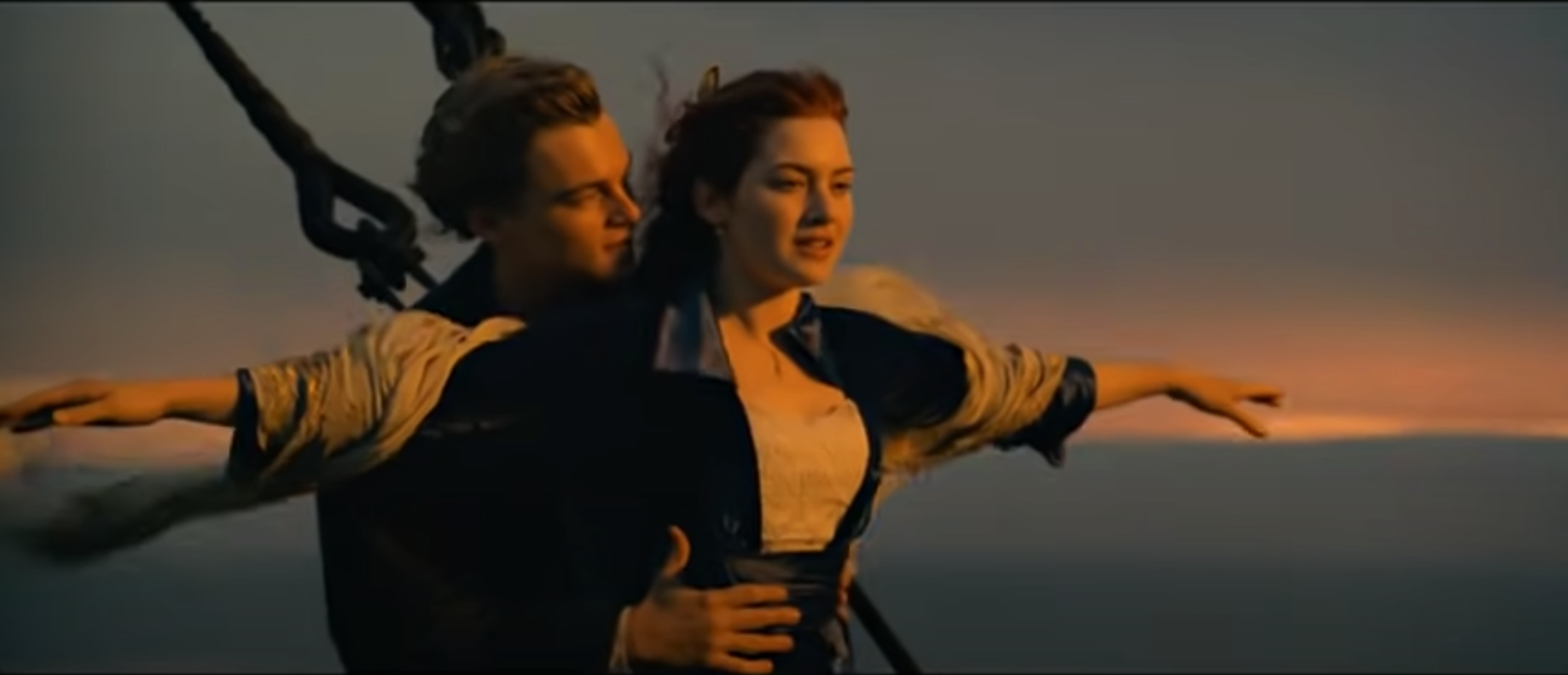 Director: James Cameron
Starring: Leonardo DiCaprio, Kate Winslet, Billy Zane, Kathy Bates
How to Watch: Titanic is streaming on Paramount+ and Prime Video.
The film that arguably made him a movie star, DiCaprio captured the hearts of many as the Titanic's lovable leading man with a fate that could have been all too avoided. While we're all familiar with James Cameron's Titanic and the accolades that precede it, we might often forget just how much this film catapulted DiCaprio into a Hollywood force to be reckoned with. Titanic was DiCaprio's first blockbuster hit, but it was also the first movie to ever gross a billion dollars at the box office, and we have to remember this was a pre-MCU era, and it comfortably sat atop the box office charts for a good 12 years.
But why does all of this matter? Well, DiCaprio's performance in the Titanic might not hold up enough against some of his other more demanding roles, but it did cement him as a face that could bring people to the movie theater. His performance as Jack was wildly charismatic and brimming with humanity so vast that we all remember where we were when we first saw the film's ending, and many people will likely always remember DiCaprio as Jack. It was his first major role that he made his own, and while DiCaprio went off to play more complex characters following Jack's wake, Titanic will always be the launchpad that set off his illustrious career and proved his force as a formidable actor people want to see more of. —Yasmeen Hamadeh
2. Killers of the Flower Moon (2023)
Director: Martin Scorsese
Starring: Leonardo DiCaprio, Lily Gladstone, Robert De Niro
How to Watch: Killers of the Flower Moon is now playing in theaters.
Although Killers of the Flower Moon is a new addition to DiCaprio's filmography, the actor's performance in the film is so magnetic that it easily claims a spot as one of his absolute best. Based on David Grann's novel Killers of the Flower Moon: The Osage Murders and the Birth of the FBI, Scorsese's recent epic untangles the real-life story of the Osage massacres that ripped through Oklahoma in the 1920s. In the film, DiCaprio shines as Ernest Burkhart—a white man married to an Osage woman named Mollie (Gladstone)—who's actively partaking in the murder of his wife's family, not to mention in the murder of Mollie herself.
Ultimately, DiCaprio's performance triumphs for its balance of purity and treacherous villainy. We know Ernest's in love with Mollie. But we can also see the gears turning in his head in real time as he rationalizes the promise of wealth over the trust of his wife. To capture Ernest's complexity or his complicity in the murders, is no easy feat—and yet—DiCaprio manages to sow in all the layers to weave a perfect portrait of a traitor who's unable to admit he's a traitor. In Killers of the Flower Moon, DiCaprio is unafraid to emasculate himself onscreen, slowly cracking Ernest's facade in each act to end the film with a shell of a man who could have been great. His last line in the film is only one word, and yet he delivers it with the utmost sincerity and genuine belief in what he's saying, that it speaks volumes about the film's larger themes on betrayal and race. Don't be surprised when the Oscar nominations roll in for this one. —Yasmeen Hamadeh
1. The Wolf of Wall Street (2013)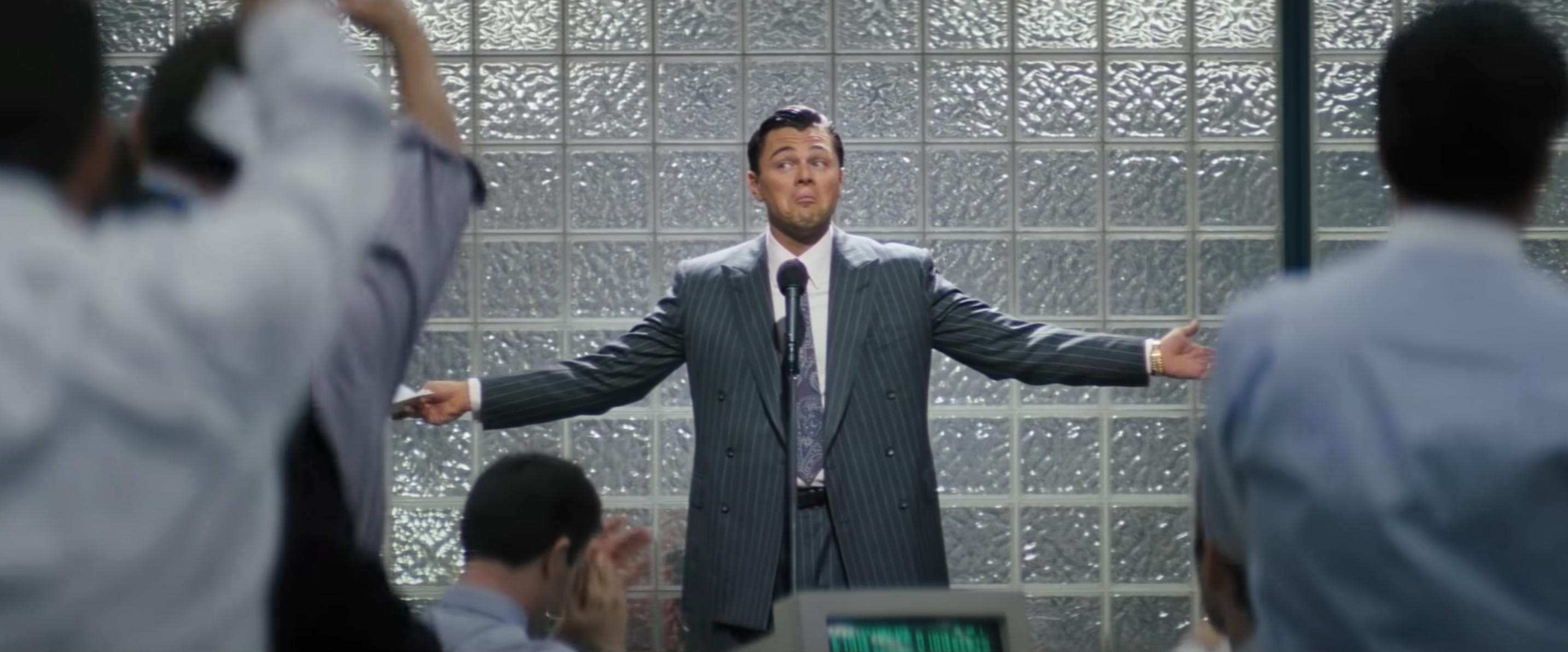 Director: Martin Scorsese
Starring: Leonardo DiCaprio, Margot Robbie, Jonah Hill, Matthew McConaughey
How to Watch: The Wolf of Wall Street is streaming on Netflix.
The Revenant may have gotten Leo the Oscar, but it was his performance in The Wolf of Wall Street that arguably remains his best. Teaming up with Scorsese for another epic, DiCaprio takes on the helm this time around as Jordan Belfort, Wall Street's most notorious stockbroker. Based on Belfort's memoir of the same name, the film is a biographical dark comedy that takes a look into Belfort's meteoric rise and the corruption and fraud that ultimately led to his arrest. While DiCaprio's performance in this film may not have the same obvious emotional complexity as some of his other roles, it takes a great amount of skill to play an over-the-top bad guy without falling into caricatured tropes and looking like a clown.
Throughout The Wolf of Wall Street, we see DiCaprio become a figurehead that rejoices at reckless capitalism, indulgence, and sheer narcissism to no end. There isn't a length he isn't willing to go to in this film, throwing himself into several scenes with all of his physicality from the Quaaludes morning-after mayhem to the candle scene. And we wholeheartedly believe that these outrageous scenarios are completely plausible because DiCaprio grounds a roller-coaster character into a tangible person dressed in a suit—so well, in fact, that it's hard to imagine any other actor playing that role. Could you even name another option? For the entirety of the film's three-hour runtime, DiCaprio is at 110 percent buzzing and bouncing through each scene, never letting the film's fast-paced adrenaline rush rest for even a second. And he even dares to make it look easy. —Yasmeen Hamadeh