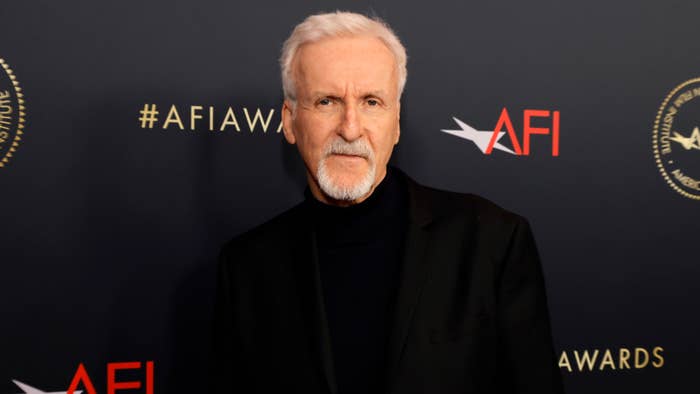 James Cameron is putting the Titanic debate to rest once and for all.
In honor of the film's 25th anniversary, the Avatar director conducted experiments to see if Jack truly could have survived on that floating board alongside Rose at the end of the film.
Per Good Morning America, the Avatar director was shown in a clip from his forthcoming Titanic: 25 Years Later with James Cameron anniversary special conducting a scientific study to reenact those highly-debated final moments between Leonardo DiCaprio and Kate Winslet's characters.
The team ran through four different scenarios with two stunt doubles to see if Jack could have potentially survived. The first scenario showed Jack and Rose laying flat atop the door, which likely would have submerged their bottom halves in freezing water due to the increased weight. In the second experiment, they are able to both get on the door, but Jack continues to shake violently from being exposed to the cold. Still, Cameron admitted that "He could've made it pretty long, like hours" before likely dying. 
However, Jack and Rose likely would have been deeply exhausted after having swam and fought their way out from the Titanic's debris, and so they tested the second scenario again but factored in exhaustion. Still, Cameron admitted that if Rose offered Jack her life jacket to help "stabilize" him, "he just might have made it until the lifeboat got there."
"Jack might've lived, but there's a lot of variables," Cameron said. "I think his thought process was, 'I'm not gonna do one thing that jeopardizes her.'"
The Titanic debate has consumed popular culture for decades and has continued to haunt not only Cameron but the film's fellow actors as well. During an interview for the film Once Upon a Time In Hollywood, MTV News raised the issue yet again to DiCaprio while he sat alongside his film co-stars Margot Robbie and Brad Pitt, but DiCaprio wouldn't budge on the topic.
"Could you, could you have squeezed in there? You could've, couldn't you?" Pitt asked.
"Did you mention it at the time?" Robbie needled. "Were you like, 'Should we make the door smaller–"
"Like I said, I have no comment," DiCaprio interrupted.
Billy Zane was also asked to comment on the scenario in a 2018 interview with People but simply said the film wouldn't have been as impactful if Jack hadn't died.
"Your hero had to die," he told People. "I don't know what else would have done it. It had to happen."
While James Cameron has potentially changed his stance, he initially echoed Zane's sentiment during a promo run for his blockbuster Avatar sequel last December.
"No, no. He needed to die," Cameron said to the Toronto Sun. "It's like Romeo and Juliet, right? … It's a movie about love and sacrifice and mortality. So the love is measured by the sacrifice. Now maybe I didn't do it in a way that everybody agrees with but Jack had to die. It's that simple."