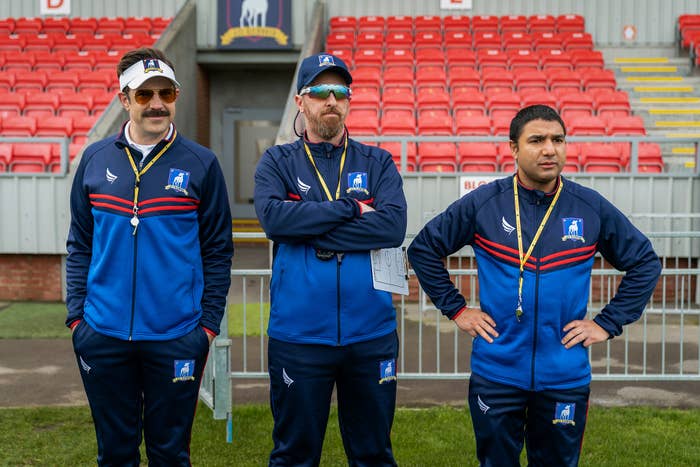 I arrived late to Ted Lasso. I didn't watch the Apple TV+ series until I devoured the series over a day in February of this year; I suddenly found myself with enough free time to sit and binge something without interruption and specifically chose the Jason Sudeikis-led series because of the admiration it'd received across my timeline. I didn't know specifics outside of its plot—American college football coach Ted Lasso (Sudeikis) is unexpectedly and inexplicably recruited to coach the fledgling English Premier League team, AFC Richmond—but otherwise dove in. 
Ted Lasso surprised me. After its 10-episode first season, I was shocked by how much the creative team (Bill Lawrence of Scrubs and Cougar Town fame, Sudeikis, Joe Kelly, and Brendan Hunt) cared about both the drama of European football and the relationship dynamics of the ensemble cast. Not unlike its titular character, Ted Lasso will disarm you through its endearing charm; the show is sweet without ever being saccharine, feeling like a welcome breath of fresh air or a warm hug. Even as conflicts in the series arose, of which there are plenty, Ted Lasso saw its characters approach these situations with logic, maturity, and grace. Oh, and it just so happens to be a fantastic sports drama too. So it's no wonder the show was lovingly embraced when it initially debuted in 2020, serving as a balm during a time in which so many needed a comforting break from reality.
This extraordinary tenderness at the core of Ted Lasso continues to blossom throughout its sophomore season, which debuts July 23 on Apple TV+ (I watched all six of the episodes Apple provided to critics). Considering the show ended with a crushing loss, subsequently knocking Richmond out of the Premier League, I anticipated the series would pick up at the start of the team's next season. Instead, we are dropped right into a holding pattern of sorts, with the Greyhounds of Richmond coming off of seven consecutive ties. A shocking incident prompts Ted, Beard (Brendan Hunt), Nate Shelley (Nick Mohammed), and Higgins (Jeremy Swift) to bring in a sports psychologist, Dr. Sharon Fieldstone (Sarah Niles), to help all of AFC Richmond address off-the-pitch concerns.
Ted Lasso smartly avoids a potential sophomore slump by going deeper on its fantastic ensemble. Season 2 provides more substantial plots upfront for supporting players like Higgins, Nate, and Sam Obisanya (Toheeb Jimoh). Jimoh, in particular, benefits greatly from the increased screentime, culminating in a plot during the show's third installment; without giving too much away, there's a wonderfully emotional moment between Sam and the rest of the team that culminates in a traditionally Ted Lasso kind of way: full of sincerity and comradery. In this same vein, Higgins and his family take center stage in the fourth episode for the show's spin on the traditional England Christmas special, painting a loving portrait of familial connection. It's an installment destined to be a holiday rewatchable. 
brk
The increased visibility on the supporting cast comes from a slight change in direction. Instead of having more of an overarching narrative like the first season, the show builds out smaller, two or three-episode arcs across these first six episodes. The smaller stories allow the audience to catch up on significant changes for major characters like Jamie Tartt (Phil Dunster) Roy Kent (Brett Goldstein), Keeley (Juno Temple), Nate, Rebecca (Hannah Waddingham), and Ted. Stretching things out gives time for these plots to breathe while never feeling like we're getting a series of setups. 
Speaking of Ted, Sudeikis is still front and center even as the show spotlights more of its cast. 
Instead of positioning Rebecca and Ted in conflict—insofar as a show like Ted Lasso can have conflict—Season 2 switched the dynamic to tension between Ted and Dr. Sharon. The pairing serves as a fascinating personification of the show's relationship with on and off-the-field dynamics, as the two work to figure one another out. Of course, there are still the patented dad jokes ("I loved Once so much, I saw it twice"), pop-cultural touchpoints, and heartwarming pep talks—as it wouldn't be Ted Lasso without them. 
It's hard to pull the same trick twice. Yet, Ted Lasso makes it seem effortless, as the show continues to surprise and delight in just how much it cares for and about its characters. The series is a joyous experience as a result, as it's delightful to spend time with this cast in this world to see how they lift one another up in pursuit of greatness—on and off the pitch. And so will the show, as those who admire its charm and warmth will find plenty to love as Ted Lasso just gets better and better.