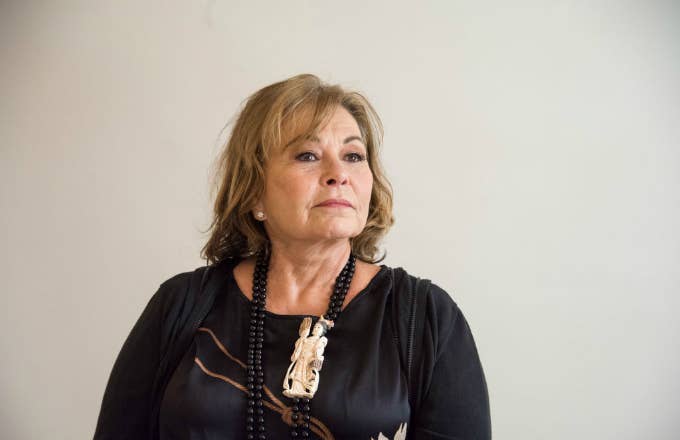 After Roseanne Barr apologized for her racist remarks against former Obama aide Valerie Jarrett, she blamed the sleeping pill Ambien for her behavior.
"Guys I did something unforgivable so do not defend me," read Barr's now-deleted tweet. "It was 2 in the morning and I was Ambien tweeting—it was Memorial Day too—I went 2 far & do not want it defended—it was egregious. Indefensible."
She continued: "I think Joe Rogan is right about Ambien. Not giving excuses for what I did (tweeted) but I've done weird stuff while on Ambien—cracked eggs on the wall at 2 a.m. etc."
But while Ambien has many side effects including allergic reaction, itching, hives, swelling, anxiety, depression, and nervousness...spewing racist remarks isn't one of them. Sanofi, the company that manufactures Ambien, came out to confirm this.
"People of all races, religions, and nationalities work at Sanofi every day to improve the lives of people around the world. While all pharmaceutical treatments have side effects, racism is not a known side effect of any Sanofi medication," read the company's tweet.
Someone even went to Ambien's Wikipedia page to add a now-deleted update in the side effects section, according to The Hollywood Reporter.
"In 2018, the American Roseanne Barr made the public aware of a number of previously undisclosed side effects to Zolpidem (aka Ambien) including: racism, Trump-tweeting, anthem-spitting, unpatriotic crotch grabbing, public irritation, political agitation, sore losing, sore winning, special election upsets, butt-hurt, hate, avalanches, and loss of sitcom."
Tweeters have also been chiming in about the side effects of Ambien, causing the drug's name to trend on the social media site. Check them out below.