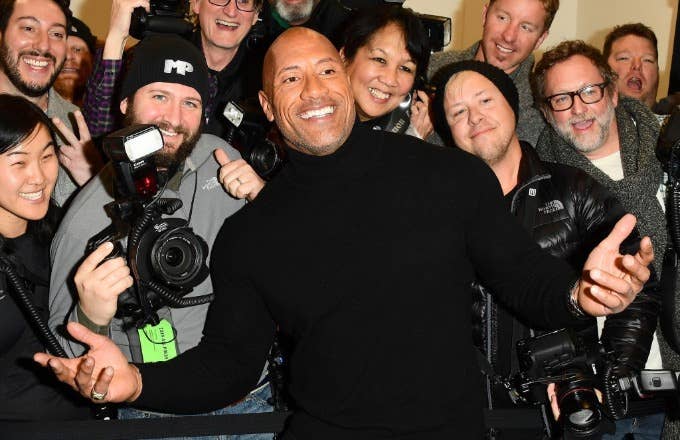 The success of Shazam! bodes well for the eventual arrival of Dwayne "The Rock" Johnson as Black Adam. So well, in fact, that Johnson is now letting fans in on a rough production window.
"This is a very big package of gratitude being delivered to you guys," Johnson told fans via a video update on Instagram Sunday. "I'm always saying thank you for something, but I truly am very grateful today." Specifically, Johnson is stoked about the box office and critical success of Shazam! and what it means for his and Dany Garcia's Seven Bucks Productions team moving forward.
"We took a risk and that risk is, as we were developing this a few years ago, the challenges and the struggles that we were having and that was gnawing at my gut is that we were trying to tell two origin stories in one script," Johnson explained. "So, for those who know the comic books and the mythology of the comics of Shazam! knows that Shazam is connected to Black Adam. Black Adam is an antihero or villain who I cannot wait to play. I've been developing this and it's been with me in my DNA for over 10 years now."
Noting that he and his team plan to begin shooting a Black Adam movie "in about a year," Johnson further detailed the difficulties of writing side-by-side genesis tales that ultimately inspired him to reach out to Warner Bros. about splitting them into two projects. The Powers That Be were excited by this prospect, ultimately giving the greenlight when Johnson presented the idea of two movies instead of one that tries to bring together "vastly different" beginnings for each respective character.
"So we rolled the dice because you never know with these things," Johnson said.
See Johnson's full update, which also includes a shout-out to cheat meals, below.
Talks of Johnson portraying the Shazam! villain have been going on for some time now, notably predating the addition of Zachary Levi in the title role for this month's hit. If this 2020 shooting window holds, we could possibly see a Black Adam project in theaters by 2021. Next up for the Rock is the Fast & Furious spinoff Hobbs & Shaw.