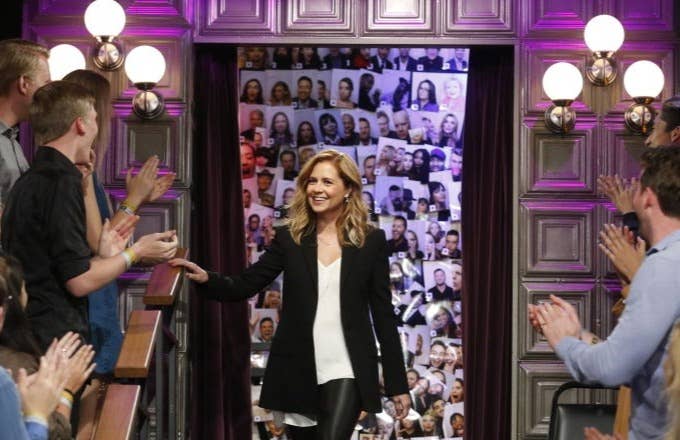 Chrissy Teigen recently unveiled a theory about The Office characters Jim and Pam in which it was posited, with an admittedly strong vibe of conviction, that they would totally be divorced by now.
Mathematically, Teigen said amid multiple tweets on the topic, "someone has to be divorced" and "it's Jim and Pam." Makes sense.
However, The Office star Jenna Fischer (who played Pam on the series) has a different take on the couple's fate.
"I have words," Fischer said whilst bothered by lifeless paparazzi earlier this week. "She'll hear my words." As for the likelihood of Jim and Pam's still-togetherness, Fischer seemingly doesn't subscribe to the notion that stats would have claimed their relationship as it does so many others.
"Of course they are [still together]," she offered. "That's right, Chrissy."

All this comes the same week Jenna Fischer and fellow Office star Angela Kinsey launched their new podcast Office Ladies, the 50-minute inaugural episode of which sees them detail their audition process and how key elements of the NBC pilot came together.
A key moment in the first episode of the podcast, as spotted by The A.V. Club, is the revelation that fans should be extra thankful for original Office co-creator (with Ricky Gervais) Stephen Merchant. As Fischer and Kinsey explained, he advised the American adaptation team early on that it would be wise to focus the show's larger narrative on Jim and Pam's relationship.
Fischer also addressed what Pam and Jim's life might look like now in a recent interview with Entertainment Weekly. "I just hope that Pam and Jim are living out their lives happily, and that Jim is really fulfilled in his new job and that he's taken that to new places and their kids are well," she said. "And my hope for Pam is that she's doing something artistic, that she's artistically expressed, because I think that's the one thing that didn't quite get tied up for her. We show her doing the mural, but we don't know exactly where she lands artistically at the end of the series, so that's the one thing I always imagine, that she's doing something like that."