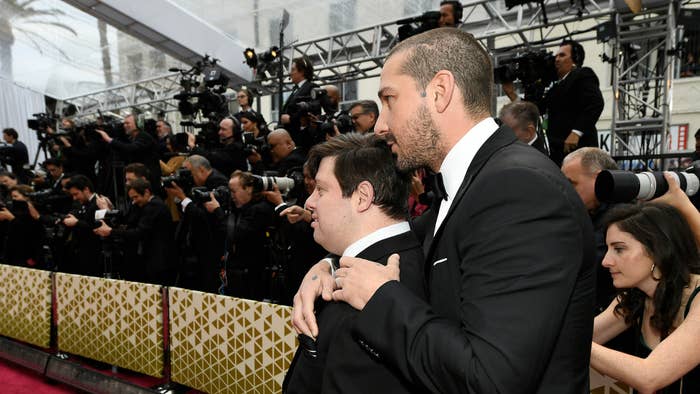 For some reason, a few people still have their proverbial knives out for Shia LaBeouf, whose recent creative output has seen the proven multi-hyphenate reach new levels of artistic triumph by way of an inspiring dedication to vulnerability.
The most recent example of this is some detractors' assessment of LaBeouf's Oscars presenting moment on Sunday, which saw the Honey Boy writer and star joined by his Peanut Butter Falcon collaborator Zack Gottsagen:
While there is nothing in that clip to signal anything but mutual love and admiration between the two, some still decided to purport that LaBeouf was laughing at Gottsagen, whose presenting of the award for Best Live Action Short Film gave him the history-making distinction of being the first presenter with Down syndrome in the show's history.
Now, Zack's mother Shelley Gottsagen has stepped into the fold with some words of praise and defense for Shia.
"I would hate to see any misconception out there," she said, per Too Fab. "I mean, you know, Shia is just wonderful, you know, we really love him. If anything, I think they were grinning because it was hard to get the envelope open." Shelley added that the two have a "really beautiful" friendship, which is why it upset her so much to see that anyone would think Shia "could have ever had a kind of negative attitude" toward her son.
"They love each other [and] really encourage each other," she said. "Shia's been very supportive of Zack as an actor, his professionalism. [He] did a lot with promoting the movie, you know, which, Shia always doesn't—that's not really his thing, but he did it for Zack."
Honey Boy director, Alma Har'el also defended LaBeouf. "Shia was offered to present an Oscar," she tweeted. "He said he would do it if he can share that moment with his beloved co-star Zack Gottsagen who we all adore," she continued. "It's stressful up there..."
LaBeouf and Gottsagen's performances in Peanut Butter Falcon garnered top-tier enthusiasm from critics and audiences alike last year. While the film (and LaBeouf's Honey Boy) was ignored by the Academy, it did pick up honors at South by Southwest and the Palm Springs International Film Festival, among others.