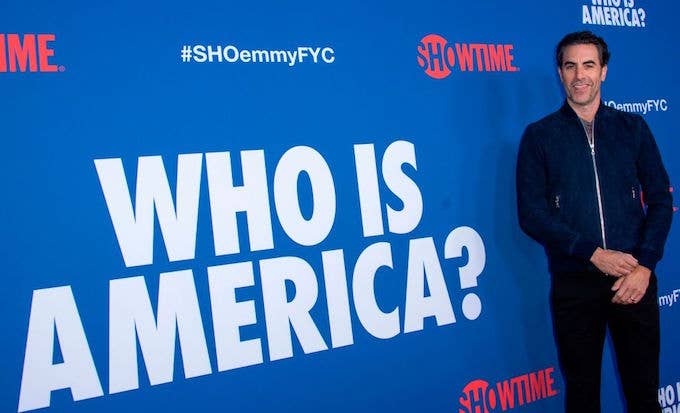 Waterboarding enthusiast Dick Cheney received a delightfully tongue-in-cheek shout-out from Who Is America? star/creator Sacha Baron Cohen, a move inspired by the series' multiple Emmy nominations.
After a more traditional thank you message to his Showtime team, including a special nod to researchers that was coupled with a factual jab at 45, Cohen got down to brass tacks.
"While I am flattered at these nods, it is a shame that my co-stars were not recognized," Cohen said Tuesday, within hours of the 2019 Emmys nominations announcement. "Particularly Dick Cheney, who I had hoped would come across on camera as someone who'd gleefully sent hundreds of thousands to their pointless death—and boy did he deliver."
Cheney's captured "look of vacuous evil in his eyes" whilst inking a waterboard kit, Cohen added, would "put Daniel Day Lewis to shame."
Sarah Palin, who nearly made it into the series, also received an inspired message of mockery.
See the entire series of Emmys-inspired tweets below, then once again ask yourself who IS America while penning both a new National Anthem and an impassioned letter to the TV Powers That Be requesting a lifetime's worth of new episodes of Cohen's series.