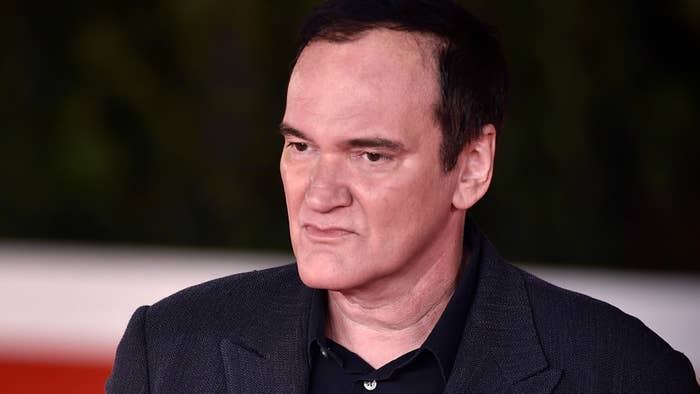 Quentin Tarantino says the underperformance of his half of the 2007 double featureGrindhouse was "a shock to my confidence."
The writer and director, currently still on a promo run in support of his first-ever nonfiction book Cinema Speculation, reflected on the box office haul of his and Robert Rodriguez's project in a recent interview with the Barcelona-headquartered publication Ara.
Grindhouse, which marked the 16th anniversary of its theatrical release just last week, was an exploitation films-inspired theatrical experience featuring Rodriguez's Planet Terror and Tarantino's Death Proof. Domestically, the double feature earned just $25 million at the box office against a reported budget of more than $60 million.
As Tarantino told Ara, he's been "lucky enough" to write films that have almost always connected with a wide audience. This success, he noted, gives him the privilege to be an artist who can usually ignore the "restrictions" placed on most people in his position. Death Proof, however, temporarily changed the kind of offers that were coming his way.
"But after Death Proof, which didn't do well at the box office and was a bit of a shock to my confidence, I started getting proposals again," Tarantino said. "They must have thought, 'Perhaps now he's touched and his temper has gone down, now is the time.' And there's nothing wrong with making commissioned movies for Hollywood. In addition, they always offered me interesting projects. But I preferred to reinvest in myself and made Inglourious Basterds."
In the same interview, Tarantino also addressed another topic that's often discussed in connection with his work: sex scenes. As fans will note, QT-directed films don't typically feature sex scenes, with the director explaining here this is due to a combination of factors.
Per Tarantino, "it's a pain to shoot sex scenes" for all involved; additionally, the director said, it's "even more" problematic now than in the past. Still, he's not opposed to it when a story calls for it.
"If there had ever been a sex scene that was essential to the story, I would have," he said. "But so far it hasn't been necessary."
Next for Tarantino, potentially, is a project that has been widely referred to as his final feature-length film. There have also been talks of Quentin doing more work in the TV realm, as well.