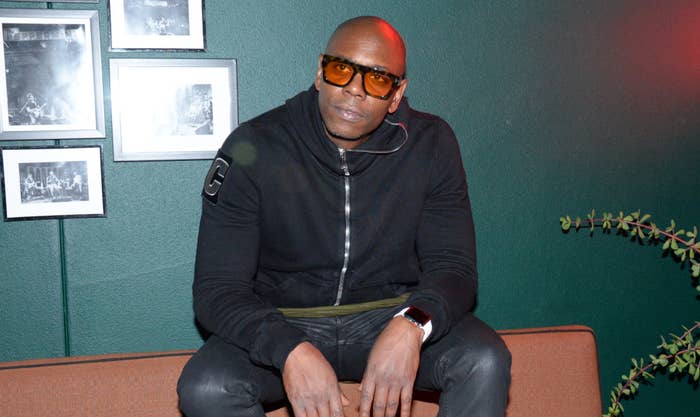 UPDATED 10/13, 7:21 p.m. ET: Trans Netflix employees, as well as allies, are planning to stage a walk-out to protest Dave Chappelle's The Closer special and comments made by CEO Ted Sarandos regarding the backlash the set has received, Varietyreports.
The walk-out is scheduled to happen on Wednesday, Oct. 20.
UPDATED 10/13, 10:20 a.m. ET: Netflix reinstated Terra Field, the trans employee who was suspended after tweeting her disapproval with Netflix and attending a meeting she was not permitted to attend. Two other employees who were suspended for attending the meeting were also reinstated, the Hollywood Reporterreports.
Per THR, Field tweeted that she was reinstated, which a Netflix spokesperson later confirmed. "Netflix has reinstated me after finding that there was no ill-intent in my attending the QBR meeting… At the very least, I feel vindicated," Field wrote in a protected tweet. 

"Our investigation did not find that you joined the QBR meeting with any ill intent and that you genuinely didn't think there was anything wrong with seeking access to this meeting. Additionally when a director shared the link it further supported that this was a meeting that you could attend," read a portion of a letter from Netflix brass that Field also shared. 

"We will be distributing broader guidance about meetings and clarifying which are for which people," the Netflix spokesperson told THR.
See original story below.
Ted Sarandos, co-CEO at Netflix, has addressed the ongoing criticism of Dave Chappelle's most recent stand-up special on the streaming platform.
In a company memo sent Friday, as first reported byVariety, Sarandos said Netflix has determined that Chappelle's The Closer isn't "designed to incite hate or violence" and shared his thoughts on how—in his view—"artistic freedom" is measured by a different standard in the world of stand-up.
"Several of you have also asked where we draw the line on hate," Sarandos wrote in the memo, available to read in full here. "We don't allow titles Netflix that are designed to incite hate or violence, and we don't believe The Closer crosses that line. I recognize, however, that distinguishing between commentary and harm is hard, especially with stand-up comedy which exists to push boundaries. Some people find the art of stand-up to be mean-spirited but our members enjoy it, and it's an important part of our content offering."
Elsewhere, Sarandos mentioned talent and "third parties" who may call for the removal of the special from the platform. A removal of the special, Sarandos clarified, is something "we are not going to do."
Meanwhile, the Verge reported Monday that Netflix had allegedly suspended a trans employee who tweeted about the special, which has drawn widespread criticism in recent days.
The employee in question shared a thread about The Closer on Oct. 6 (see below) and was later suspended for allegedly trying to attend "a meeting she wasn't invited to," the Verge reported. The report also states that another trans employee is exiting the company, citing both Chappelle's special and the company reaction to Terra Field's comments as reasons.
A separate Variety report claims that multiple employees—a total of three, by their count—were suspended for "crashing" a meeting comprised of top company execs. The report also reiterates the aforementioned claim that the suspension of Field was because of the alleged meeting-crashing itself, not the tweets.
Complex has reached out to Netflix for comment.
Last week, Dear White People's Jaclyn Moore spoke at length with the Hollywood Reporter after previously announcing that she would not work with Netflix as long as they continue backing "blatantly and dangerously transphobic content" like The Closer.
In the special, Chappelle—among other things—declares himself "team TERF." The special also sees Chappelle attempting to defend past jokes, all under the guise of the so-called "cancel culture" argument.