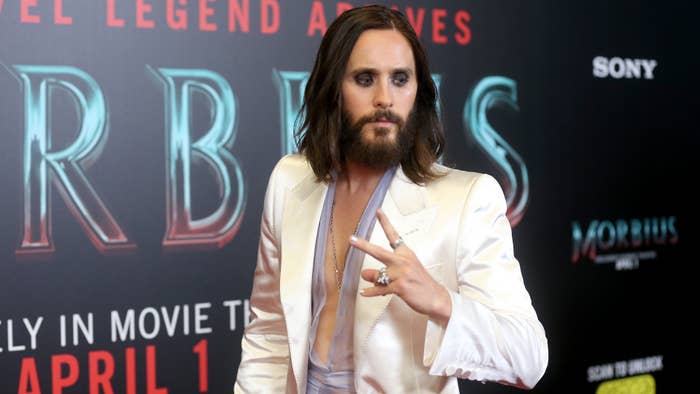 Despite the ubiquity of the swarm of memes Morbiushas inspired, the weekend's theatrical return of the Jared Leto-starring entry in Sony's Spider-Man Universe did not result in an about-face at the box office.
Per a report from Forbes, the return saw the critically maligned film bringing in an estimated $300,000. The film originally opened at the top of April, with its total domestic haul (per Box Office Mojo) currently standing at around $73 million.
The film (as noted in a recent tweet from Exhibitor Relations) returned to just over 1,000 theaters over the weekend. This gave it a per-theater average of around $289 for the re-release. By comparison, newer tentpole releases—like the still-going-strong critical and commercial megahit Top Gun: Maverick—routinely play in at least three times as many screens. Morbius itself opened on more than 4,000 screens for its initial run.
For further comparison, A24's Everything Everywhere All at Once—which originally opened back in late March—was playing on 1,434 screens this weekend and managed a per-theater average of $1,409. In other words, it's unlikely Morbius' box office return tally is what the team behind the Leto vehicle was hoping for.
As for the issue of whether or not it is indeed Morbin' time, Leto himself addressed the memery on Friday, asking his Instagram and Twitter followers "What time is it?" and revealing via video a certainly-not-real script for Morbius 2: It's Morbin' Time.