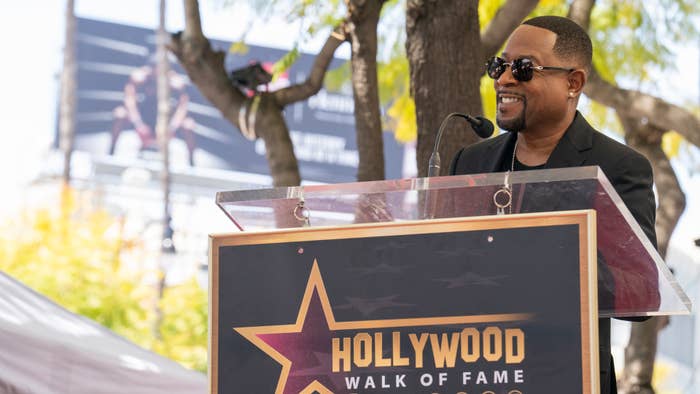 Martin Lawrence advised young artists to "board your dream bus with confidence, grace, and humility" when accepting the honor of a star on the Hollywood Walk of Fame on Thursday.
With the honor, which the actor and comedian was bestowed with in the television category, Lawrence became the recipient of the 2,753rd star on the Walk of Fame. On hand for the ceremony were Steve Harvey, Tracy Morgan, and Lynn Whitfield.
"First, I would like to give honor to God, in which all things are possible," Lawrence told those gathered to watch the star be formally launched into existence. "Thank you to the Hollywood Walk of fame, the Hollywood Chamber of Commerce, and BET for recognizing my extensive body of work and making this possible. Thank you to Steve Harvey, Lynn Whitfield, and Tracy Morgan for presenting me with this prestigious honor."
The 58-year-old included a special message for his late mother, whose influence he says has shaped his entire career.
"As I stand here very gracious and humble, I would like to give honor to my mom whose continual guidance from above has molded me into the man I am today," he said. "She instilled the importance of being true to myself and by doing that I have been able to bring laughter to so many."
Lawrence also thanked his three daughters, the cast and crew of Martin, other family and friends, and more. Speaking directly to fans, he made a point to shout out both his longtime supporters and those who are new to his work.
"Without your loyal love and support, this moment would not be possible," he said. "You all have supported my career without wavering. I appreciate the new generation of Martin fans who push me to strive for continued excellence. The blessing of my extraordinary gift of humor has and continued to help me and many others."
In closing, Lawrence shared some inspiring advice for those first embarking on their own creative journey.
"If I can pass one thing on to those coming after me, it would be to board your dream bus with confidence, grace, and humility—and ride it till the wheels off," he said. "Let the doubters runteldat."
See the full ceremony below.
In January, Lawrence and Will Smith announced that a fourth Bad Boys filmwas on the horizon. The most recent entry in the franchise, Bad Boys for Life, was released in 2020 and went on to critical and commercial success. In fact, the film now stands as the highest-grossing film in the series.