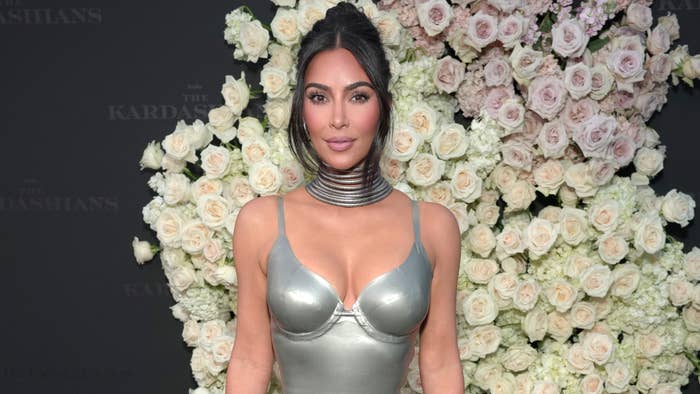 When Kim Kardashian hosted Saturday Night Live last October, her monologue featured swiftly-headlined mentions of her family and the artist formerly known as Kanye West. As detailed in the latest entry of Hulu's The Kardashians, however, the Kim-hosted edition of SNL could have seen even more relatives-centered jokes.
"Dave Chappelle suggested that I work with Michelle Wolf, who's, like, the funniest comedian and she's really helping me write my monologue," Kim explained in the latest Kardashians, which follows the recent conclusion of Keeping Up with the Kardashians on the E! network.
Kim is also seen speaking with recent Oscars co-host Amy Schumer about her monologue-in-process. During her conversation with Schumer, Kardashian said she didn't want "too many Kanye jokes," with the comedian advising that just including one would be a "great" choice.
Toward the end of the episode, viewers see Kim reading through a potential joke idea which would have seen a divorce mention from a depiction of Ye by SNL's Chris Redd. "I'm always afraid of hurting people's feeling and I would never go in there making fun of especially, like, the father of my kids," she said of such jokes. "And it doesn't mean that because we didn't work out that we don't have like a great love and respect for each other."
From there, Kim explained the topic of divorce is a "sensitive" one and noted she had already included a joke about it in her monologue. She also suggested that Ye would "love it" if he himself were to be made part of such a joke, though this ultimately didn't happen. Seemingly, as already pointed out by E! News and others, the proposed joke in question involving Redd would have been part of the "People's Kourt" sketch.
Elsewhere in the latest Kardashians, fans are given a glimpse at a joke about Khloé and Tristan Thompson that was ultimately left on the cutting room floor. Kim previously spoke about excising a Khloé and Tristan joke from her monologue, telling i-D it would have been "really funny" without offering additional details. 
"Khloé, you have the biggest heart," Kim said on The Kardashians, revealing the would-be monologue joke. "It's so big it has room for Tristan and all of his side pieces."
For more, consult the latest Kardashians episode on Hulu. The new series made headlines last week thanks to a clip of Kim addressingSNL-related questioning from Debra Messing. "I don't comment to tear people down, especially another female," Kim said in the clip. "If that's what you think, dude, then cool, tune in."