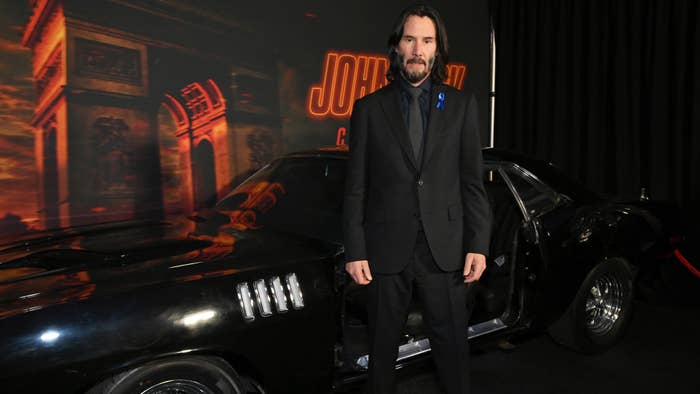 Keanu Reeves once "cut a gentleman's head open" while engaging in decidedly Wickian activities on the set of a John Wick film.
This revelation comes amid the rollout of the fourth entry in the increasingly unparalleled John Wick franchise, which is in theaters now via Lionsgate.
"So in terms of accidents, I made a mistake once and I cut a gentleman's head open," Reeves said in a new interview with the folks over at ComicBook.com. "So that really fucking sucked. Excuse my language. But other than—well, one guy got hit by a car. He was in the car. He had to go to the hospital but he was okay."
Reeves did not clarify which Wick entry included the gentleman having his head cut open. However, the actor did praise all involved with the franchise for always taking care of each other despite being pushed to their limits in pursuit of top-tier action filmmaking.
"It's great that everyone is watching out for each other," he said. "So there's some bruising and some aches and pains but no humans were harmed in the filming of this motion picture."
Reeves also gave a demonstration of how best to take a cinematic punch, as seen below.

The Chad Stahelski-directed John Wick: Chapter 4 also stars Donnie Yen, Bill Skarsgård, Laurence Fishburne, Hiroyuki Sanada, Shamier Anderson, Ian McShane, Rina Sawayama, Scott Adkins, and the late Lance Reddick. The latter, also known for playing Cedric Daniels in The Wire, died earlier this month at the age of 60 due to natural causes. Both Reeves and McShane are among the many collaborators to have paid tribute to the actor in recent weeks. Per Reeves and Stahelski, who released a joint statement last week, the latest Wick film is dedicated "to his loving memory."