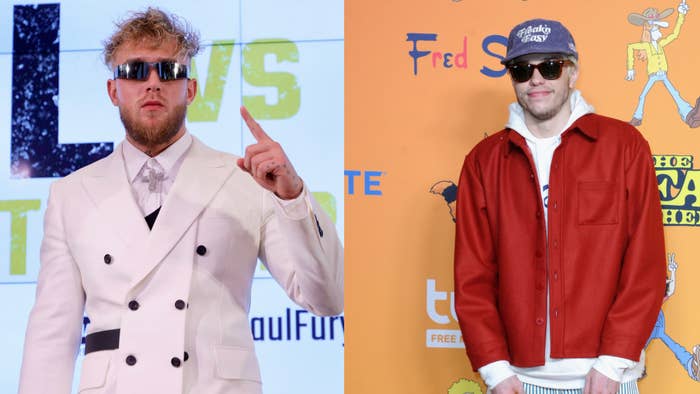 Jake Paul, who previously made headlines for his comments about Pete Davidson's preferred style of sports commentating, has now shared some brief thoughts in response to a tabloid-originating report about the Bodies, Bodies, Bodies star's recent appearance in the lyrics of a Ye song.
In a tweet shared earlier this week, notably in response to likely questionable claims stemming from a Radar report, Paul said he and the artist formerly known as Kanye West were "on [Davidson's] ass now." As seen below, Paul also added that Davidson is "soon to get slapped."
Back in April of last year, Paul shared a number of thoughts in response to the Saturday Night Live comedian's hilarity-filled commentating of a boxing match between Paul and Ben Askren. Among other things, Davidson said during the event that it marked "a really wild day" for boxing because it showed "how low it's truly sunk."
When addressing Davidson's roasting in a subsequent Impaulsive discussion, Paul had harsh words for the King of Staten Island writer and actor. "Fuck that guy," he said in an April-shared episode, as seen below. "He won't do shit. He won't ever be a part of one of those ever again. He fucked this shit up, bro."
As for the lyrics that inadvertently spurred the latest Paul comments, they exist on the Game and Ye's recently released track "Eazy," which has been the source of numerous headlines in recent days.