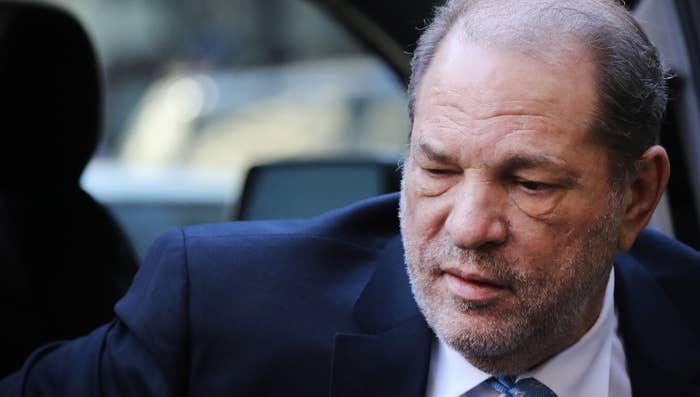 Harvey Weinstein has been sentenced to 23 years behind bars for rape and sexual assault.
The disgraced movie executive was convicted in February of raping a woman in a hotel room in NYC in 2013 and forcibly performing oral sex on another woman in 2006, per the Associated Press. Weinstein, who faced a maximum sentence of 29 years, was sentenced to 23 years on Wednesday.
"I believe that if Harvey Weinstein was not convicted by this jury, it would happen again and again and again," former production assistant Mimi Haley, whose 2006 interaction with Weinstein saw him forcibly performing oral sex on her, said.
During trial proceedings, Weinstein is quoted as saying he was "genuinely confused" by the legal action. "Men are confused about this issue," he said at one point. 
All told, Weinstein has been accused of sexual assault and/or harassment by more than 90 women, including actresses Uma Thurman and Gwyneth Paltrow.
Meanwhile, Weinstein has also been charged in the state of California with the rape of a woman at a hotel in Los Angeles on Feb. 18, 2013, as well as with sexually assaulting a woman at a Beverly Hills-area hotel on the following night. 
Weinstein was convicted in New York last month on the specific charges of third-degree rape and criminal sexual act in the first degree, with the former landing him 20 years of the sentence announced on Wednesday, while the latter resulted in the addition of three years.