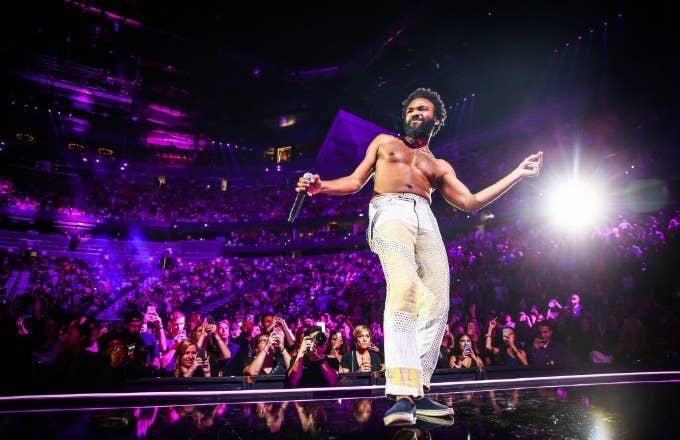 As the dissection continues of Guava Island, Donald Glover's new under-an-hour feature that's streamable via Amazon, fans looking to craft some music-driven cinema of their own are surely in search of even more insight on the film's journey from unique idea to equally unique execution.
A new Rolling Stonepiece provides exactly that, pulling from discussions with the Royalty collective. As with Glover's critical darling Atlanta, the beginnings of the Rihanna-starring film can be loosely traced back to the 2013 short Clapping for the Wrong Reasons.
"We didn't handle it in a mature way, in terms of the way we developed it," producer/screenwriter Jamal "Swank" Olori of Royalty said. "So we talked for years about we're going to do that again, and having the same kind of energy and bringing the same things we brought to it. This one, we want to all fully be able to own after we've finished it."
Guava Island is an expansion of an initial idea from Donald Glover, described by his brother and Atlanta collaborator (and Guava Island writer!) Stephen Glover as being for a "movie that kind of felt like City of God in this tropical setting." With the script, the aim was to incorporate "black royalty" into the plights of the characters. As for the writing that went into Kofi, played by Rihanna in the film, Stephen wasn't working with her in mind. "There some things that were tweaked afterwards, but for the most part, it wasn't written specifically," he revealed.
An arguable highlight of the resulting 56-minute film is a reworked take on Gambino's ubiquitous 2018 single "This Is America," the original video for which was also helmed by Guava Island and Atlanta director Hiro Murai. In the film, the song's central ideas on the contradictory concept of America are pinpointed with greater specificity, utilizing a factory setting to posit the song as a wake up call for characters who are busy American dreaming.
Speaking on their exploration of that topic with Rolling Stone, Stephen Glover mentioned the late Nipsey Hussle, who also got a tribute shout-out during Childish Gambino's headlining set at Coachella Friday night. "I think it's something that we as a crew, Royalty, talk about a lot," he said. "I think a lot of people, like Nipsey Hussle, it's this idea of capitalism in America and how it's left people out over the years. But at the same time, it has the power to empower you if you can wield it. The idea of capitalism and the relation that black people especially have to capitalism is something that's interesting to us."
Following a limited free viewing window that the Royalty team credited as crucial to their release strategy, Guava Island is now available on Amazon Prime.