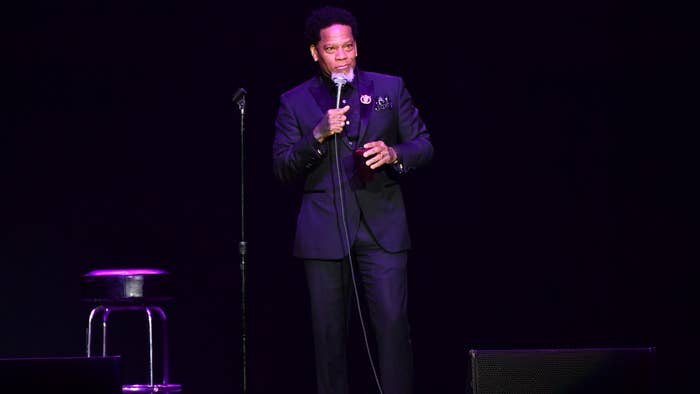 D.L. Hughley has delivered what he says are his "final thoughts" on the Oscars slap, sharing with his Instagram followers a clip in which he offered an apology to Chris Rock for not giving "equal measures" when it comes to compassion.
In the clip, Hughley—who has previously spoken out about the slap—said that while there is "no doubt" that Will Smith has faced "a level of incrimination" and has been derided over the slap, the Oscar-winning King Richard actor also received a wave of "love and support." According to Hughley, Rock was simultaneously left "alone" in the immediate moments after the televised slap.
"[Will Smith] got to be celebrated," Hughley said in the clip. "He got a standing ovation, he got to go to the after parties and get jiggy with it, and then he got to go home and write an apology. I don't begrudge him that. But I'll tell you this, I don't think the offense was worth a lifetime of this."
The latter saw Hughley introducing the point that Rock could—in his words—"forever" be associated with the 2022 Oscars moment, adding that audiences will never forget it.
"Chris Rock will forever be the man who got slapped at the Oscars. Forever," he said. "I don't think the offense matches the punishment. I do not at all. But it has happened and it will be indelible. We will forget what he said but never that he got slapped. There may well be a cure for alopecia but we'll still remember this. We're gonna always remember it."
Hughley, who recently made headlines amid a back-and-forth with the artist formerly known as Kanye West, then addressed the talk surrounding the reported ticket sales boost for Rock's stand-up tour. Disputing the assumption that the surge equaled an automatic showing of support, Hughley theorized that "most" new ticket buyers are "coming for the spectacle" instead.
"He cannot get on stage for the foreseeable future and not relive the fact that he was slapped in front of the world and that makes me sad," he added.
Specifically offering an apology to Rock toward the end of the clip, Hughley spoke on the "compassion and grace" he holds in his heart for Smith, and how he should have been extending the same to Rock.
"I'm sorry that I didn't say 'I'm sorry' earlier," Hughley said. "I'm sorry for what your children must be going through. I'm sorry for what must be in your head. I'm sorry that it seemed to me that you were alone. I am sorry that at almost 60 years old you were slapped in front of the world. I can hold in my heart a level of compassion and grace for what Will must have gone through and I am sorry that I didn't give equal measures to you. I'm very sorry that that happened and I'm even sorrier that I wasn't sorry soon enough."
Friday morning, Good Morning Americarolled out an interview with Oscars producer Will Packer, who claimed (among other things) that Rock did not want Smith removed from the ceremony. A subsequent Deadline report, however, cited sources as disputing whether Rock was ever asked about a removal.
Smith issued an apology to IG this week, while Rock very briefly addressed the slap at a stand-up show. Jada Pinkett Smith hasn't directly addressed the slap, although she did recently share a short message about "a season of healing."