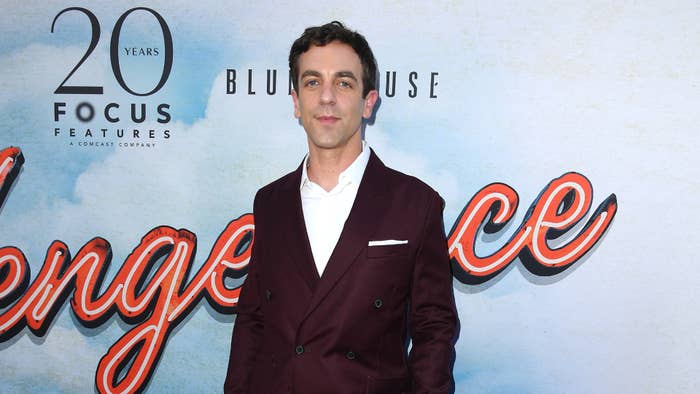 B.J. Novak, who's currently out on the promo circuit in support of his feature-length directorial debut Vengeance, has shared some insight regarding the current likelihood of The Office returning in some capacity.
During a recent appearance on Deadline's Crew Call podcast, which is available to stream in full here, Novak—who wrote, directed, and stars in the aforementioned Vengeance—was asked to reveal what it would take "for a reboot" of the beloved American adaptation of the Ricky Gervais and Stephen Merchant BBC comedy to happen. Specifically, he was asked if this came down to a decision from producer and director Greg Daniels.
"I think, I don't know contractually but I know spiritually, it's a Greg Daniels thing. Pure Greg Daniels," Novak said. "I think everyone knows that he is the person who controls the rights to The Office—spiritually, creatively, the American Office. Again, I don't know the law of it but we all know that it's a Greg Daniels question."
Asked for clarity on whether, at this point, getting everyone back together for an Office revisit was even a realistic idea anymore, Novak suggested it was not. Instead, he advised that any such impetus for returning to the world of the show should be a purely artistic decision, not  a money-inspired one. This approach, Novak explained, would honor the original intention of the series.
"Definitely you wouldn't get everyone back together. I mean, that ship, I'm sure, has sailed," Novak, who was a writer on the NBC hit and also starred as Ryan Howard, said. "I think it's more about, is there anything to mine creatively that's fresh? I just think it needs to be approached as an artistic decision not as a financial decision. And I worry that there's so much financial pressure, understandably, to mine this precious metal in the ground called The Office reboot or spinoff or whatever. I worry because The Office originally was done for the opposite of money."
Hear the full discussion here.
While it's been nearly a decade since The Office wrapped its nine-season run with a wedding-focused finale, the series has continued to be a source of speculation with regards to reboots and spinoffs and other possible return projects. It's also continued to generate headlines of the behind-the-scenes variety, including Bryan Cranston's recent recollection of Jenna Fischer having "saved everyone's life" during an episode he directed that's since been referred to as "Death Bus."