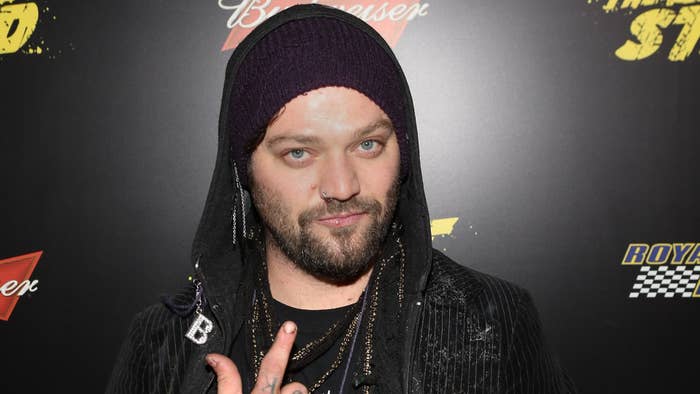 An arrest warrant has been issued for Bam Margera in connection with what's been described as an alleged "physical confrontation" in the Pocopson Township area of Pennsylvania.
As first reported by TMZ, the alleged incident took place on Sunday and sees Margera being accused on multiple counts including terroristic threats and simple assault. The report adds that the charges against Margera, which also includes a count for alleged harassment, are misdemeanors.
When reached for comment by Complex on Monday, a Pennsylvania State Police spokesperson shared a press release detailing the alleged incident. According to the statement, troopers first responded to the scene on a disturbance call at around 11:00 a.m. local time on Sunday.
The alleged victim in the altercation, who was not initially identified, is reported to have sustained "minor injuries" in the ordeal. Margera, meanwhile, is said to have "fled into a wooded area" before troopers arrived at the scene.
In an update shared later on Monday, TMZ revealed that the alleged altercation involved members of Margera's family, including older brother Jess Margera of CKY. 
A criminal complaint has since been released, revealing that Bam Margera is alleged to have gotten into a "physical altercation" with Jesse Margera after first showing up at a residence and "banging and kicking his locked bedroom door." Per an affidavit, Jesse is alleged to have exited the bedroom and found a handwritten note that read, "If you even fucking think of calling the police on me I will officially fuck you up."
The note was allegedly signed by Bam Margera, who is also alleged to have told his brother, "I'll kill you. I'll put a bullet in your head." Additionally, he's alleged to have threatened to "kill everyone in the house," including—as listed in the complaint—his father and two women.
The Jackass and Viva La Bam star has publicly dealt with substance abuse issues for some time now. In a recent podcast interview with Steve-O, Margera spoke candidly about his struggles with alcohol and Adderall, specifically, while also opening up about his path toward recovery.