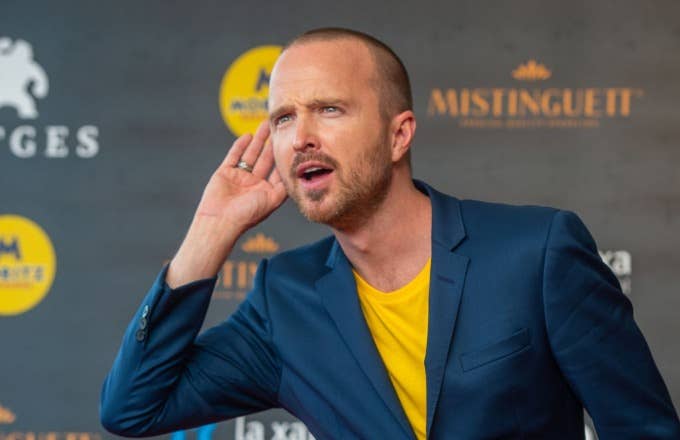 Surely, you've had plenty of time now to have consumed El Camino: A Breaking Bad Movie via Netflix. That being said, just know that some of what's included in this article does indeed constitute full-on spoilers for Vince Gilligan's latest move of Breaking Bad universe expansion.
Speaking with Entertainment Weekly for a feature published Sunday, star Aaron Paul gave his thoughts on reuniting with several beloved characters for the filmed-in-secret production, as well as addressed the likelihood of revisiting Jesse Pinkman again.
In terms of spoilers, Paul did indeed talk a bit about how it felt to bring Jesse Pinkman back into contact with Walter White by way of the movie's flashback diner scene. The level of secrecy required to pull off shooting that scene, as fans now know, included private plane travel and Star Wars-esque cloaks.
"One hundred percent of those people were crew members or family of crew members," Paul said of shooting the scene with Bryan Cranston. "We needed that diner to be filled with people who we could trust to not leak this information. And also just to be a part of it, you know? We wanted to be surrounded by loved ones, to be a part of this really cool day. The day Bryan came on set with that bald cap and those loafers and that classic Mr. White outfit. I mean, the faces that showed up, the people who flew in just to see this moment, they thought, 'Well, look, if I'm going to visit one time, it's gotta be during this time.' It was pretty cool to be a part of that."
On the film's ending, which sees a reunion with Krysten Ritter's character, Paul said "it was such a beautiful way to end the film." The advice Jane gives him in that scene, Paul added, is indicative of Jesse's journey in the film. "Just take control of your own destiny and run with it," he said.
As for more Jesse Pinkman in the future, Paul is only up for it if it makes sense and stays true to what fans have come to expect from the Breaking Bad projects in terms of quality.
"If Vince asked me to jump onto Saul, I would do it in a heartbeat," he said. "And I would know it's for very good reasons. So we'll see. Look, we talk about it all the time, we really do, and we want to do it for the right reasons. We don't want to just throw you in a scene that doesn't make sense."
Catch the full interview here, preferably followed by a rewatch of El Camino in lieu of whatever you originally had planned for your day.
Cranston himself also spoke on his big El Camino moment, which The Hollywood Reporternotes was the result of a hectic window of merely 36 hours of Cranston availability due to his Broadway obligations at the time.
For Cranston, he also had no interest in reviving the character if it were to be done in a hackneyed way, which was never really a possibility for Vince Gilligan and company. 
"What he wrote for the conclusion of the series is, to me, perfect," he toldRolling Stone Monday. "So I think that would be a problem if he wanted to [bring Walt back to life]. But I know he doesn't. This [movie] was strictly created by the open-ended question of what happened to Jesse . . . There was enough interest that I think Vince realized that he was such a beloved character, beautifully played by Aaron Paul, that the story wasn't complete, and he wanted to complete the story. So he did. And I think it's wonderful."
For prep, Cranston looked back to the Breaking Bad episode "4 Days Out," i.e. the era of Walt and Jesse that's the root of the El Camino flashback sequence.
"It was literally 10 years ago that I had last seen that episode, so it was extremely helpful," he said.
Recent El Camino chats have also seen a revelation from Vince Gilligan regarding the movie's ending. Though he never fully fleshed the idea out in writing form, the series creator originally had eyes on giving Jesse Pinkman a less hopeful slice of closure.
"Because he's such an innately heroic character in my mind, he saves someone at the end of the movie and he willfully gets himself caught knowing that it'll save this other person," he toldVulture. "At the end of the movie, he'd be locked in a jail cell somewhere in Montana or someplace. And he would be at peace with it. It was all this very interior, emo-type, very dramatic stuff."
Ultimately, some feedback from his girlfriend Holly and the Better Call Saul writing team helped Gilligan realize this wasn't the path to take.
Aaron Paul also let loose another would-be ending. Though not a full-blown "alternate ending" in the traditional sense, it would have given fans some specifics regarding a certain letter that's crucial to the movie's final minutes.
"That letter to Brock was the very first thing that Vince wrote when writing this script," Paul toldEntertainment Weekly. "Once he completed that letter, he started the script. Originally the voiceover of that letter was how the movie ended—just driving through Alaska and you could hear what was inside of that letter…. It's heartbreaking, it's beautiful, just honest."
Paul agreed with Gilligan's ultimate decision to not let the audience in on the contents of the letter, saying it's "best left unknown."