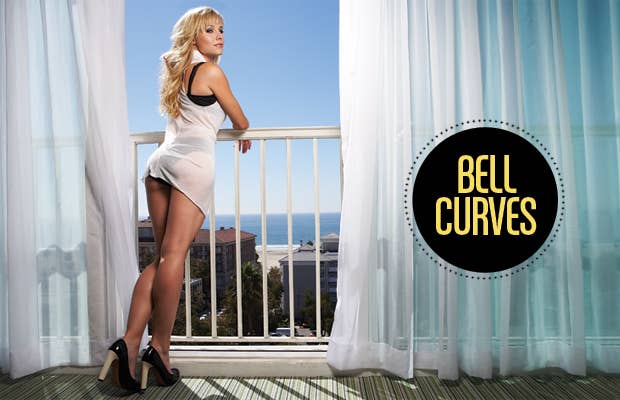 With a new dark-side TV persona and a move to match, Kristen Bell is finally growing up. It's about time, we say. 
This feature originally appeared in Complex's December 2007/January 2008 issue. 
Kristen Bell is a bit of a rarity in Hollywood—a tantalizing actress who's actually smart. And funny. And down-to-earth, which means no flashing her bits to the paparazzi (trust us, we Googled it). The 27-year-old burst onto the scene in 2004, starring in Veronica Mars as the eponymous heroine1, and won the hearts of fanboys (and us) faster than you could say "Nancy Drew who?" Yet she still managed to fly under most people's radar.
After a flurry of work, though, the diminutive Bell2 is looming large in the spotlight: This past fall, she joined the hit show Heroes as supercharged vixen Elle, taking over as the reigning hot hero (sorry, Hayden3). And in January she puts her hyperdrive quick wit to use in Fanboys4, a flick about a group of friends plotting to steal an early print of Star Wars: Episode I. She also stars opposite Jason Segel in the upcoming Judd Apatow–produced Forgetting Sarah Marshall—a comedy about a TV starlet who breaks up with her average-Joe boyfriend. While Hollywood worshipped divas who were as fake as their racks, Bell was keeping things real. Trifeys, listen and learn: Hollywood's about to be saved by the Bell.
So we've all heard that nerdy is the new cool.
It is. Geek chic.
And that's something that's definitely been associated with you.
I'm flattered. [Laughs.]
How do people know you're not a poser?
They don't. Here's what I like about it: For the longest time trying to be cool was cool, and then trying to be cool became annoying. And what was previously perceived as nerdy is now viewed as original. What I like about nerdiness, geekiness, is it doesn't really matter what you're into—it just means you're not a follower. People who like what they like and don't apologize for it just because it's not mainstream.
Such as?
I ordered walkie-talkie watches from the Sharper Image catalog because sometimes I want to talk to someone who's in a different room in my house. And I make my roommate wear one, and sometimes I'll just be like, "Hey, bring the orange juice upstairs!" or whatever. That may not be what you'd think a typical 27-year-old woman would be into. [Laughs.] I have fierce running charade parties - full-contact running charades. You can move furniture, you can use the dogs as booby traps. There is clotheslining. Pretty much anything goes. I have no furniture in my front living room because I like to have dance parties or headstand contests.
Are you concerned about your "new celebrity" status?
Not really, 'cause no one ever recognizes me anyway...
...yet. I mean, is that something you talk about or worry about? Especially with paparazzi coming on so hard now?
I hang out with Hayden [Panettiere] quite a bit—they never take pictures of me. I just step to the side, and I push myself in front of her when she wants to get out of it, or put her in the car.
I'm 27 and it's great to feel sexy, but it's funny to have womanly assets that I'm still tapping into.
Does the fact you're both smart and funny make it weird to be lumped in this category of poster girl?
The fact that I'm smart and funny?
Yes. Because I don't believe you can say the same thing about some people that are on pinup covers.
Oh, that's such a nice compliment, thank you.
Well, not to the other pinup people.
[Laughs.] True. I  was always a hard-headed child and was kind of a tomboy, and I think that's sort of what formed my personality. I very recently stepped into my body as a woman. Before, it was, "Hey, you can wear a bathing suit in a photo shoot and that would be cute and everyone will like it." And I was like, "Me? I should be in overalls or something cool like that." Um, thank God for airbrushing. [Eats cookie.]
How do you see yourself?
I've never really considered myself very womanly, partly because I always play and look and act 10 years younger than I am. Something magical happened when I turned 25—I looked in the mirror and was like, You might not get carded for an R-rated movie anymore. Like I didn't have a little stick figure anymore. It's weird to come into your own and realize that people look at me and think "woman," because that's never been my gimmick.
You didn't think people were thinking of you in that way before?
Hell, no! My character on Heroes is very Lolita-ish in a much more adult way…wait, that didn't make any sense. She's very flirtatious. Sometimes I laugh when I'm trying to deliver a line, because I'm trying to be sexy and I'll catch myself in the mirror and I'm just like, What are you doing? Because that's not how I view myself.
I think legions of viewers would disagree.
Well, fair enough. I guess because I always played tomboys. Fanboys, I am a tomboy; Veronica Mars is kind of a tomboy. I've never played the pretty girl. One thing I had to fight in my career is hearing that I'm not homely enough to play the nerdy girl and not nearly pretty enough to play the pretty girl.
I love that feedback.
Right. "You're just some mish-mash in between, but good job! It's mainly just your face that's standing in the way!" [Laughs.]
So how does it feel doing shoots like this, then? Is this awkward?
A little bit. It's fun. 'Cause obviously I'm a 27-year-old woman and it's great to feel sexy, but it's funny to have womanly assets that I'm still tapping into. That I certainly hope I will never abuse.
OK, let's jump into Fanboys. What was that set like, with all those guys around?
How dirty is this magazine?
It's pretty dirty. Hit me.
I was the only girl on the set, which was fine, but it got really raunchy. We would, um…do you know how to play "Two in the pink, one in the stink"? [She demonstrates "The Shocker."]
The idea of dating makes me want to vomit. And not out of grossness—OK, a little bit out of grossness, but just nerves. I've always been a serial monogamist.
Such as?
I don't even know if I can even give those to you.
C'mon, give it a shot.
Two in the whale eye, one in the mud pie.
[Laughs.]
Don't ever try it. Paul Rudd's unbelievable at it, and Jason Segel came up with "two in estrogen's womb, one in digestion's tomb."
[Laughs.] Speaking of shockers, you recently got out of a five-year relationship. [Ed. note—in the journalism biz, that's what we call a "smooth transition."] Are you seeing someone now?
I am not.
I would imagine our readers would like to know what you're looking for in a guy.
Line 'em up! The idea of dating makes me want to vomit. And not out of grossness—OK, a little bit out of grossness, but just nerves. I've always been a serial monogamist. If someone can make me laugh, you're in like Flynn. I like to laugh; that's the number-one for me. Also, the old rule of thumb: If you're not nice to the waiter, you're out. And you're not just out—I might kick your ass.
Is celebrity dating weird?
Totally weird.
Because you're at a much different level than you were five years ago.
I'm probably never going to date again. I don't want anyone to talk about it because I'm way too nervous, and it's weird to know other people watch you do it. I might never leave the house again, I'm not going to lie. Thank God I have those walkie-talkie watches.
WATCH KRISTEN'S BEHIND-THE-SCENES VIDEO:

FOOTNOTES: 
1. The series, with its crack writing and supremely underrated ensemble cast, was arguably the UPN's best show of all time. Except maybe Homeboys in Outer Space. Man, how did that one elude the Emmy voters? [BACK]
2. At 5'1", Bell is taller than Rhea Perlman but a hair shorter than Yao Ming. She was also voted PETA's "World's Sexiest Vegetarian" for 2006! That has nothing to do with height, we just wanted to mention it. [BACK]
3. Bell and Heroes' Penettiere have been friends for years. And now that Hayden is 18 years old, it's OK to think about a sexy, sarcastic spy and indestructible cheerleader together. You know ... together. [BACK]
4. At one point in Fanboys, Bell wears the Princess-Leia-in-Jedi bikini. Did we mention that we're going to go see Fanboys? But not because she's in a Princess Leia bikini. Nope, it's because the, uh, cinematography. [BACK]
ADDITIONAL CREDITS: (STYLING) Jewels for the Wall Group. (HAIR) Jenny Cho for the Wall Group. (MAKEUP) Monika Blunder for the Wall Group. FIRST, TWELFTH, AND THIRTEENTH IMAGES: Shirt by Sharon Wauchob / shoes by Nicole Brundage / lingerie by Agent Provocateur. SECOND, NINTEENTH, COVER, AND ALTERNATE COVER IMAGES: Skirt by Stylist's own / bra by Agent Provocateur / bracelet by Bochic / bracelet by Le vian. THIRD, SEVENTEENTH, AND EIGHTEENTH IMAGES: Shirt by Sass & Bide / shoes by Jimmy Choo. FOURTH, FIFTH, FOURTEENTH, FIFTEENTH, AND SIXTEENTH IMAGES: Jumper by American Apparel / bra by Agent Provocateur / shoes by Stella McCartney.