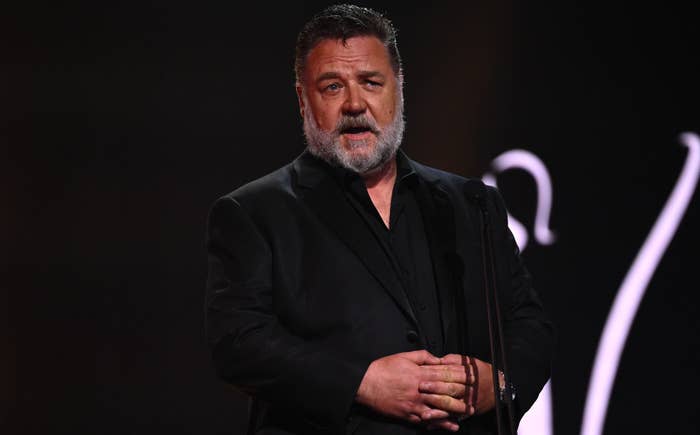 UPDATED 4/24, 10 p.m. ET: Russell Crowe looked back on his time as Gladiator lead actor in an interview with Vanity Fair. The 59-year-old recalled when he almost walked away from the box-office hit due to the script.
"What I wasn't confident about with Gladiator was the world that was surrounding me," Crowe said. "At the core of what we were doing was a great concept, but the script, it was rubbish, absolute rubbish. And it had all these sort of strange sequences."
He continued, "You know, one of them was about chariots, and how famous gladiators—and this is all true, right—used certain types of chariots, and some famous gladiators had endorsement deals with products for olive oil and things like that, and that's all true, but it's just not gonna ring right to a modern audience. They're gonna go, 'What the fuck is all this?' The energy around what we were doing was very fractured."
Crowe admitted that during the filming, he thought about exiting the movie. "I did think a couple times, maybe my best option is just to get on a plane and get out of here, you know?"
Conversations with director Ridley Scott ultimately gave Crowe "faith" to stay. See the 59-year-old's full Gladiator rundown for Vanity Fair above at the 4:54 mark, or read more here.
See original story below.
A sequel to Ridley Scott's 2000 box office hit Gladiator is underway, and OG star Russell Crowe has a few words about it.
In an interview with Collider, Crowe was asked if there's "anything that you, as a key part of the original film, are hoping to see in another installment."
"I don't really know where they're going to go with it," the 59-year-old answered. "I'm sure that [there have] been things on [Scott's] mind for the last 24 years that he thinks he can probably do better, or something. I think that's one of the positives about it, for sure, that it is Ridley, because he's going to want to go back into that world and create something [on] the same level of spectacle as the first one."
As for his personal feelings, Crowe—who won an Oscar for his performance—continued, "I mean, look, the only thing that I really feel about it is slightly jealous, you know? Because I was a much younger man, obviously, and it was a huge experience in my life. It's something that changed my life, really."
Crowe teamed four more times with Scott, on A Good Year in 2006, cult favorite American Gangster (2007), Body of Lies ('08), and Robin Hood (2010). Lately he's been seen in Thor: Love and Thunder and Poker Face. Scott, busy as ever at age 85, directed House of Gucci and The Last Duel both in 2021.
The actor went into more detail on the impact Gladiator had on him, telling Collider, "It changed the way people regarded me and what I do for a living, and, you know, I've been very lucky to be involved in lots of big movies, but the legs on that film are incredible. Here it is, it's 2023, and we made that film in 1999. I guarantee you, somewhere around the world tonight, Gladiator is going to be showing on primetime TV. And you don't always get that kind of longevity with every film you do, so it obviously holds a special place in my heart." 
Gladiator 2 (which it almost certainly won't be called) is set to premiere Nov. 22, 2024. It will star Oscar nominee Paul Mescal (Aftersun, Normal People) as Lucius. Legendary actor and American Gangster alum Denzel Washington is looking to reunite with Ridley Scott for the project. Washington's potential role is under wraps, along with the plot. Academy Award nominee Barry Keoghan (The Killing of a Sacred Deer, The Banshees of Inisherin) is rumored to star as well. 
The original Gladiator grossed over $460 million at the global box office, with $187.7M coming from U.S. theaters. It was nominated for 12 Academy Awards and won five, including Best Picture.